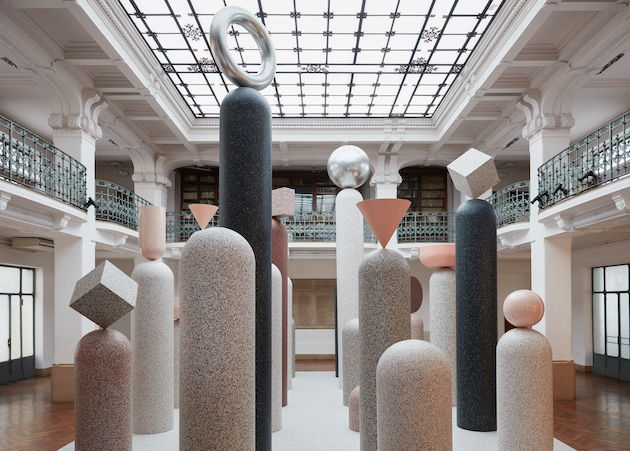 Formations by Note Studio and Tarkett at Milan Design Week. All images courtesy Tarkett
One of Milan Design Week's most popular installations transformed a traditionally utilitarian material using fantastical forms and a striking, art nouveau school
For Tarkett's first major installation at Milan Design Week, the flooring manufacturer collaborated with Note Studio to deliver an Ettore Sottsass-referencing Alice in Wonderland experience in an art nouveau school. At Formations, visitors walked beneath a cityscape of giant finger-like forms and towered over a library full of playful miniature building archetypes.
Both displays intended to spotlight the potential of a traditionally unglamorous material: the kind of hardwearing vinyl surface usually reserved for hospital floors. Stockholm-based Note worked with Tarkett to develop the new iQ Surface, which goes beyond the basic by nodding to multicoloured terrazzo – a resurgent architectural favourite, currently lining everything from floors to kitchen surfaces and baths.
At the Circolo Filologico, a language school where children big and small still charge around, a double height central hall hosted two dozen rounded columns, balancing gravity-defying geometric forms. Many Milan visitors will have first seen the installation on Instagram, where the material appeared almost to be a digital rendering, while up close it looks stone-like. But Tarkett has samples on hand to reveal the surface is in fact bendy linoleum-like vinyl, less than a centimetre in depth.
My Degerth, interior architect at Note, and Florian Bougault, art director at Tarkett, pointed to the cocktail bar they had installed in one of the school's side rooms to demonstrate the goal of developing a new type of 'skin', a cladding with which it is possible to dress an entire room.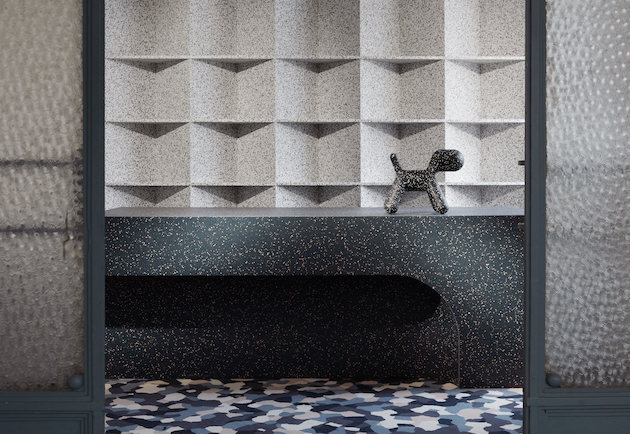 A detail of the bar – clad in iQ, with a specially made rug to match
In the library, which housed a collection of toy-like buildings during Milan Design Week, which ran from 9 – 14 April, Degerth said the two pushed each other to imagine the ways the surface could be used that went beyond flat flooring:
'For us it was about: "how do you do something that you're kind of uncomfortable with?" Because when it's scary, you know you're onto something good,' she explains. The answer they settled on was to wrap the material in unexpected shapes and plaster it across walls and furniture where few vinyl surfaces had very been before.
'This is basically shaking the perception of what we're selling,' adds Bougault.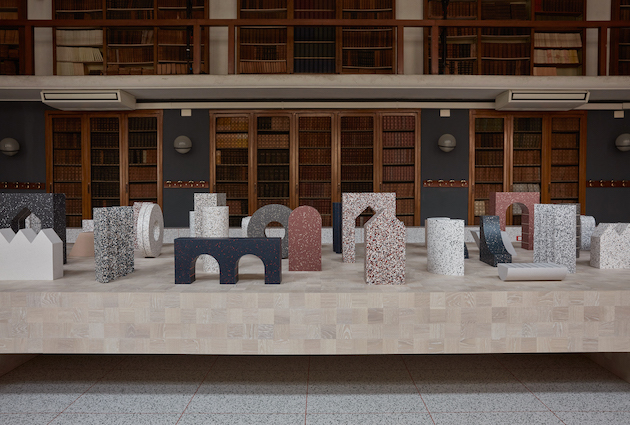 Miniature arches, roofs and columns in the library
This is not the first collaboration between the pair this year. At Stockholm Design Week in February, Note and Tarkett collaborated on an artificial snowscape, installed on the roof of Stockholm hotel At Six. Named Snowtopped, the polystyrene mounds were trimmed with Tarkett's vinyl covering to create an indoor mirror of the icy mounds outside.
---