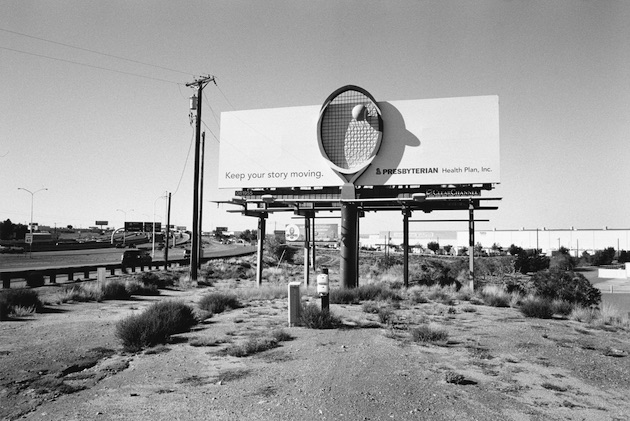 All images from Stephan Würth Tennis Fan, published by Damiani. Copyright Stephan Würth
Photographer Stephan Würth has captured the order and the chaos of his beloved sport for his new book Tennis Fan
From the clean lines of court markings on terracotta clay, to the cut of a tennis dress' pleat, tennis is a sport defined by its refined design.
Watching Wimbledon or the US Open, we see a well-oiled machine wrought from iterative improvement, whether in the precise cross-court diagonal punch of the service game or the clockwork rotation of trained ball boys and girls. We see the sport's history in those arcane rules – that count games 15-30-40 – and equally in strange, functionally distinctive paraphernalia like players' sweatbands or an umpire's raised chair.
The joy of tennis is watching athletes unleash brutality on this politely ordered chess board. Misplaced forehands crash against net, grass stains splash tennis whites, and ruler-straight paint lines are smeared by with sliding footprints.
Stephan Würth has captured it all for his new book Tennis Fan, published in April by Damiani. In photographs from the pro circuit and neighbourhood courts, the German photographer teases out the interplay of corporeal, design and landscape. We see Roger Federer and superfans, narrow New York rooftop courts and amateurs playing beneath palm trees and mountain peaks. He explains how his fanaticism for the sport has led him to capture every part.
ICON: Was it about the space of the tennis court that makes it such as strong arena for photography?
Stephan Würth: For me, everything that reminds me of tennis gets my blood flowing. Photographically red clay courts are the most interesting to me – I love the shades of grey in black and white. One of my favourite pictures in the book is called Hassan, Marrakesh Morocco 2010, which I shot in Marrakesh. I was at a private house with this beautiful yard and they had just resurfaced the red clay court nestled between palm trees and the house. It was incredible. I guess the surroundings are so often spectacular graphically no matter where the courts are. For instance, the courts next to the West Side Highway in NY with One World Trade Center behind them or in La Quinta with the palm trees and hills in the background.
ICON: Your pictures provide a pretty egalitarian view of tennis, with legends like Federer appearing undifferentiated from amateur players and regular fans. Was this a challenge to achieve, at a time when some of the greatest ever players are gracing the courts?
SW: I tried to take photographs of anything related to tennis that inspires me. For this project, I decided to bring my Leica with me anytime I played tennis or watched tennis. I was at the US Open watching some of the qualifying matches before the tournament started. As I was just about to head home, I turned around and saw Roger Federer. It was so special because I followed his group to Armstrong Stadium where he was about to practice. Since I was so focused on Federer, I did not know that the picture also had Marin Cilic (he won the US Open a couple of years after this image was taken) and Paul Annacone (my favourite announcer on the tennis channel and former coach of Roger) in it. I guess that's the surprise of shooting with film and my Leica… you never know what you have until you develop the film. Yes, this moment was more thrilling than shooting my middle-aged friends after a match.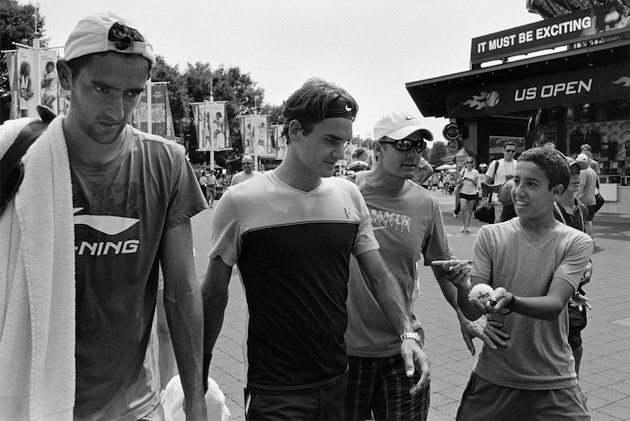 ICON: It's so great to see a real fanatic's perspective, full of passion. Is there something unique about how tennis brings people together?
SW: I have moved a lot throughout my life and I think that tennis has always been one constant. Whenever I move to a new town, I am able to easily develop a network of tennis players who I become friends with. Every city and town has a tennis community. Fans at different tournaments relate differently in different cities. In Miami for instance, which I now call my hometown, fans are loud and obnoxious. Indian Wells is a tournament in the desert in California where the fans are polite and quiet. I have not attended Wimbledon, but even watching it on TV, I try not to scream too loudly into the TV screen. I really need to make it to Wimbledon. Your country still seems to honour the gentlemen's sport.
ICON: We see tennis scenes from the city centre to the specialist pro-circuit arenas to palm-tree shaded courts. Do these locations bring out different sides of the sport?
SW: Every court has a different feel depending on its location and every location influences the court somewhat. For instance, everyone in NYC knows what it's like to play at Midtown Tennis in the winter under the bubble. And the excitement that comes with Spring-Summer when the bubble comes down. A court in Miami doesn't have that feel – much more scenic with palm trees swaying in the wind – but neither one is more or less interesting when playing tennis.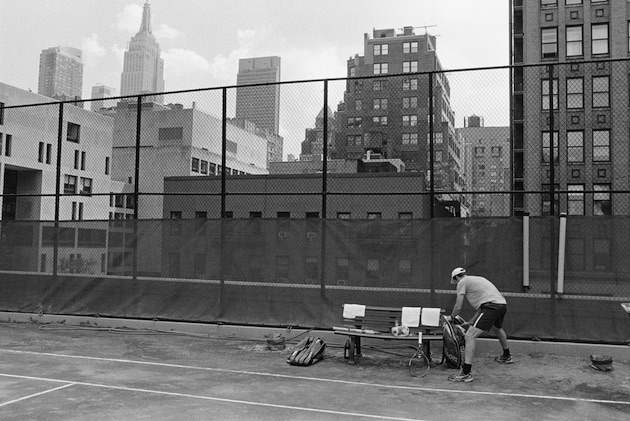 ICON: Do you have a favourite player to photograph, and is it different from who you most enjoy watching play?
SW: My favourite player is Rafael Nadal. Up until this point, I have only photographed him as a spectator, but Rafa, if you're reading this, I would love to photograph you.
ICON: What was your favourite part of the whole experience of tennis – playing or spectating – to capture?
SW: It's hard to have a favourite part of tennis for me – I love everything about it. I think that's what is so interesting about being a tennis fan which I hope I was able to illustrate in the book: no matter what is going on, whether it's walking down the street and seeing a bus with a tennis tournament poster, or watching a tennis match in a bulkhead seat on an aeroplane, when you are a die-hard tennis fan like I am, everything about the sport is exciting. I'm starting to be injured more and more, so maybe photographing the sport or being a spectator is becoming a little more fun than playing.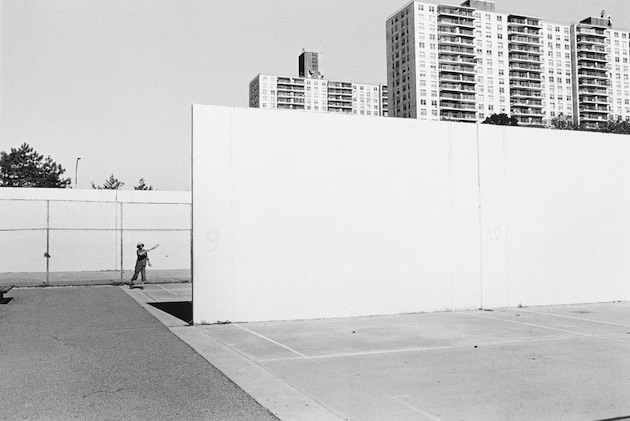 ---