Sky-Frame is unique in the sleekness of its track and the minimalism of its aluminium lines
Nestled in the lush greenery of the Swiss countryside, Sky-Frame produces some of the most ambitions sliding glass doors and windows in the world.
Rita Lobo

checked out the high-tech factory

From the outside, the dark steel frame, shiny glass, and vertical gardens of the Sky-Frame factory could easily be mistaken for a posh office block or even an art gallery. But the sleek exterior is actually the polished shell of a state-of-the-art facility producing high-tech sliding glass doors and windows.
Sky-Frame's factory in Frauenfeld, Switzerland features strong lines and a vertical garden
Founded in 2002 by engineer Beat Guhl, Sky-Frame is unique in the market. Guhl started working on the product after he'd bought sliding glass doors for his own home in Switzerland, where the weather is frequently inclement, which he identified as substandard.
'We had two problems,' he told Icon. 'One problem was when it was windy it whistled. The second problem was we had ice inside in sub-zero temperatures.'
Guhl was also a salesperson for the windows, so he heard it from architects and colleagues that these were common problems. 'With this level of quality, it was a challenge for me to say to people, "Hey, this is a great window."' He was promptly told that as a salesman Guhl was no good. 'Maybe am I a bad salesman,' he chuckles, 'but I'm a good engineer.'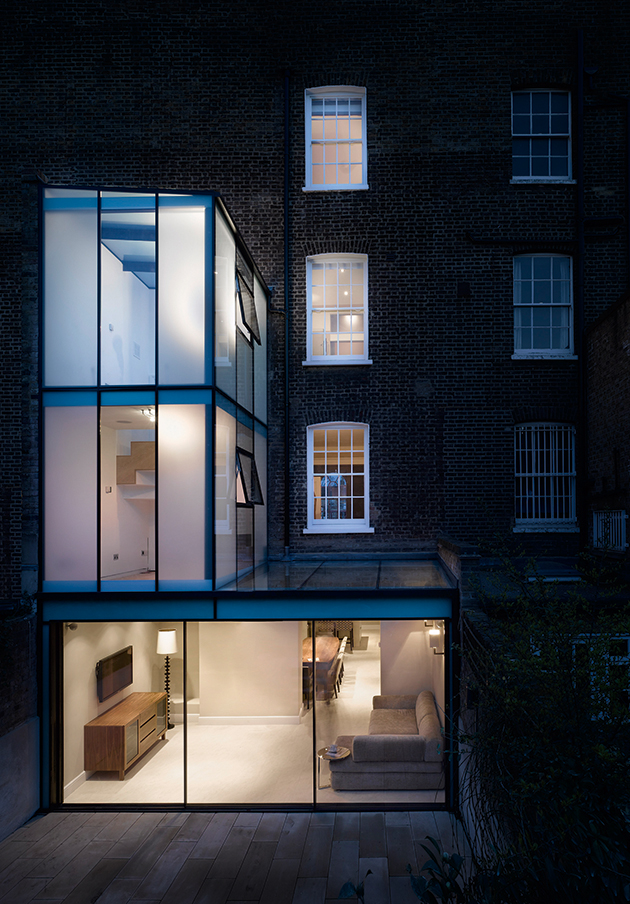 Sky-Frame has released many high-performing lines, including the Guard system with security glass
The product Guhl developed in the aftermath of his failed sales career shatters any expectation he might have had when he first changed jobs. Sky-Frame is unique in three ways: the first is that the aluminium frame that surrounds the glass sheets is so thin as to almost be imperceptible. Secondly, the track upon which the window glides is designed to lie flat on the floor with the mechanism actually beneath the flooring and no protruding parts on which to trip. Lastly, Guhl achieved his vision of producing completely thermal insulated sliding glass windows, the highest level of which can withstand temperatures of up to -30 degrees Celsius without cracking, freezing or leaking.
Since its inception, Sky-Frame has gone from strength to strength, taking on increasingly complex projects first in Switzerland and then across Europe and North America. In 2015 the company moved into the current bespoke factory in Frauenfeld, Switzerland in order to increase capacity and continue developing new products.
The Frauenfeld factory is not only highly automated, it's very efficient
The facility is indeed striking. When Guhl, who still runs the entire Sky-Frame operation, decided to move the factory, he opened an international competition to find a suitable architect to execute his vision for a hyper-designed, ultra-high-tech building, that would both represent the brand but also to house the upgraded manufacturing line. The winner was Peter Kunz, from Atelier Strut in Winterthur, who created the dramatic exterior, and sleek, cool interiors of the facility in 2015
The Sky-Frame factory is highly automated. It starts with glass, which is manufactured off-site and shipped in, undergoing treatment to make it strong and thermally insulated. Each door or window that comes out of the Sky-Frame factory can be single, double, or triple glaze, depending on customer requirements. Though engineers work the tools, it is a surprisingly quiet factory floor, with silent machines performing an intricate ballet of aluminium and glass.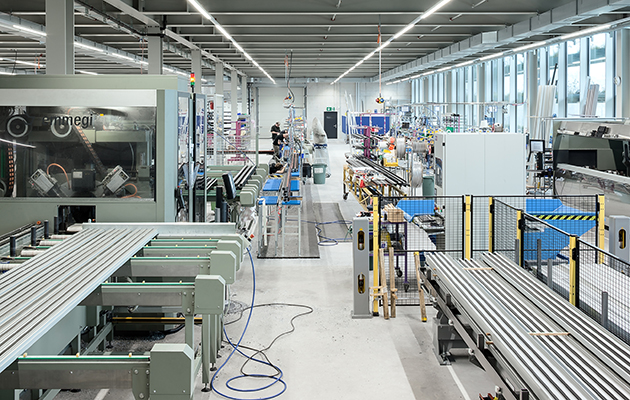 All Sky-Frame parts are made in Switzerland, with most of manufactory and assembly taking place in-house
In another section of the vast shop floor, another machine measures, cuts, and sprays the aluminium frames. The sliding doors are made of units of aluminium with a fibreglass reinforced plastic casing, which are then mounted in streamlined aluminium frames fitted flat along the floor and ceiling. Each unit is designed with a drainage system that flushes the water via a recessed channel to avoid leaks. All of this has been designed and tested in-house and is assembled in an automated in the Frauenfeld facility.
The factory also operates a big research and development department. Since launching in 2002 with just a simple system, Sky-Frame has developed in a number of exciting ways, including launched a curved glass and a sloping sliding door system, an electric system and refining the spec across all products. When Icon visited, technicians were carrying out tests on bulletproof glass.
Slowly, Sky-Frame is moving into the commercial sector, taking on increasingly large-scale projects in Europe and the USA predominantly. Sky-Frame has grown organically under Guhl's leadership, but it's set to keep expanding. 'It was not really the idea to grow the company,' he explains. 'The idea was not to fix money. For me, it's only the challenge. The point is the market grows up. You have to grow up with it.'
---