Detail from Carlo Scanferlato's works
Among the range of innovative and beautiful designs at the Royal College of Art's graduate shows in design, these projects stood out. By Siobhan Morrin
One example of Kaiku Living Color
Nicole Stjernswärd, MA Innovation Design Engineering: Kaiku Living Color
As designers talk more about the circular economy and avoiding waste, the areas in which they seek to make changes become ever more specific. One of those areas is the theme of Stjernswärd's project: the production of colour. Kaiki Living Color creates natural pigments from waste materials, including the skins and peels of avocados, onions and pomegranates. Instead of sending them to decompose as waste, Stjernswärd turns them into brightly coloured pigments for dyes.
Two shavers and an electric toothbrush
Tomi Laukkanen, MA Design Products: Worthy
Another project looking at the problem of waste came from Laukkanen, this time focusing on the huge issue of electrical landfill. Worthy is a series of items of personal electrical equipment, including shavers and toothbrushes, created in a modular form and designed for the user to put together before use. "They require the user to assemble the products themselves, and therefore have a better understanding of how to repair them," Laukkanen explains.
The 'touch trumpet' and speaker by Carlo Scanferlato
Carlo Scanferlato, MA Design Products: Off the dust
At first glance, Scanferlato's creations look like colourful glass vases – but it's their function and backstory that makes them really interesting. Scanferlato collaborated with a furnace in Murano, the traditional glass-blowing area on a Venetian island, an area that has struggled as modern technology overtakes older techniques and masters of the craft have no one to pass their craft on to. The speckled colouring of the glass shapes is typical of the region, but in this case the glass trumpets are used to conceal speakers, turning the glass into something more interactive. "Functional sculptures that need our touch to be activated," Scanferlato's description explains.
Candle, one of several light-based products by Riku Toivonen
Riku Toivonen, MA Design Products: Kipinä – a Spark
Toivonen's wooden products are all linked by light and fire in a vaerity of forms. Inspired by Toivonen's summer house in Finland, where fire provided the energy for cooking, heating water, a source of light, a Candle is a light switched on and off via a burning flame. The lit candle indicates how long the light will remain on and "it also works as a reminder to turn the light off when leaving the house, encouraging [the owner] to cut energy consumption," Toivonen says.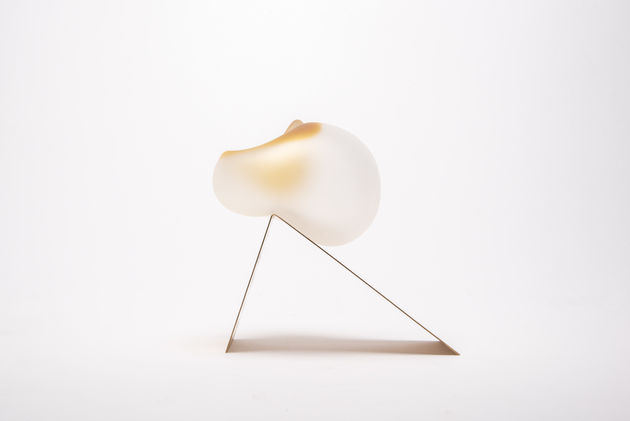 Non-existent existence III by Jinya Zhao
Jinya Zhao, MA Ceramics and Glass: Non-existent existence
This collection of ethereal glass forms sits somewhere between sculpture and design, combining different glass qualities with metal to create striking, almost impossible-looking shapes. Zhao says that she uses her glasswork to deal with themes of environment and emotions, creating thought-provoking pieces that encourage a break and moment of reflection. The layered glass forms have a semi-opaque white exterior, obscuring the interior form in a semi-optical illusion, designed to affect "the viewer's perception of reality and engender emotional responses," Zhao says.
---