Taking inspiration from specific sculptures and installations, the groundbreaking artist layers pattern and multiple craft techniques to create a unique collection for Knoll Textiles
Words by Vasia Rigou
'Hello. I'm Nick Cave. Artist, instructor, teacher, messenger.' This laconic, powerful introduction best describes the internationally-renowned Chicago-based artist. Cave has been creating ground-breaking work at the intersection of sculpture, installation, sound, performance, and film to address pressing societal issues related to race, gender, sexuality, and class, for decades.
His elaborate, detailed work includes all sorts of found objects—from feathers, beads, and crystals, to furniture, clothing, and twigs. And let's not forget the "Soundsuits," his life-size, fluffy, brightly-coloured creations. His latest undertaking? A vibrant textile collection inspired by his artwork in collaboration with Knoll Textiles.
Launched in conjunction with Cave's survey exhibition, Forothermore, which opened at the Guggenheim in New York following its debut at the Museum of Contemporary Art Chicago, the product line marks the design firm's first ever partnership with an artist.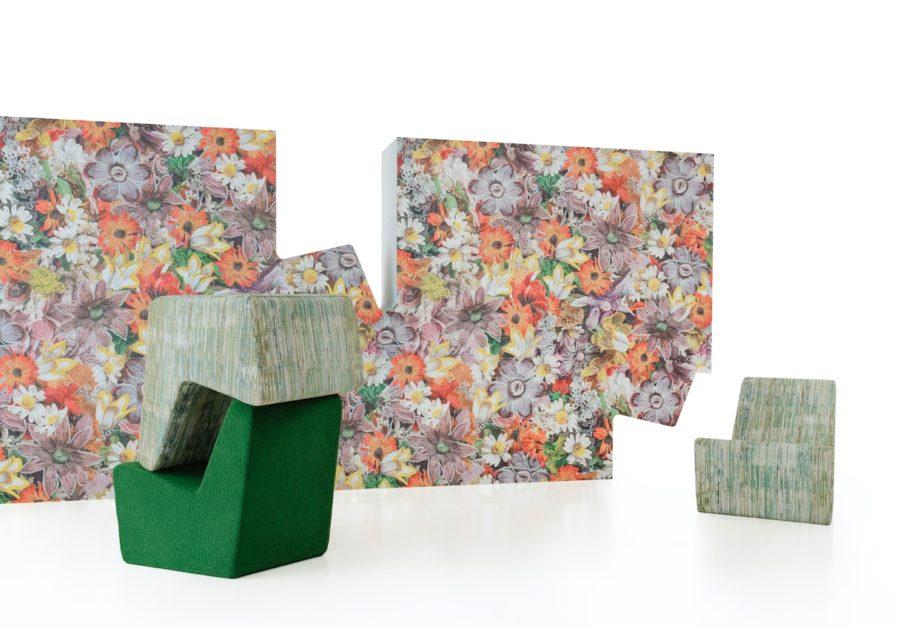 Unsurprisingly, it launched with a bang: twelve pieces that include four upholsteries, three draperies and three wallcoverings—distinct but complementary. 'The Knoll collaboration was exciting for me,' says Cave.
'I immediately thought of Cranbrook [Academy of Art] and being surrounded by Florence Knoll—she's an architect but also an interior designer and furniture designer so she was operating from many points of view,' he adds. 'I thought about that in relation to my own practice. I could identify with it because it's the way in which I work.'
'I think the big connection here is that I take ideas of what I do in terms of my artwork and translate them into these sort of amazing textiles for Knoll,' says Cave who's been pulling from a wide spectrum of processes, techniques and applications that he has created in over four decades.
'The most important thing is that I knew that I wanted the textile to be built—I never imagined the fabrics just being one plane. I needed them to have dimension, combination of textures, weaves, depth, colour…'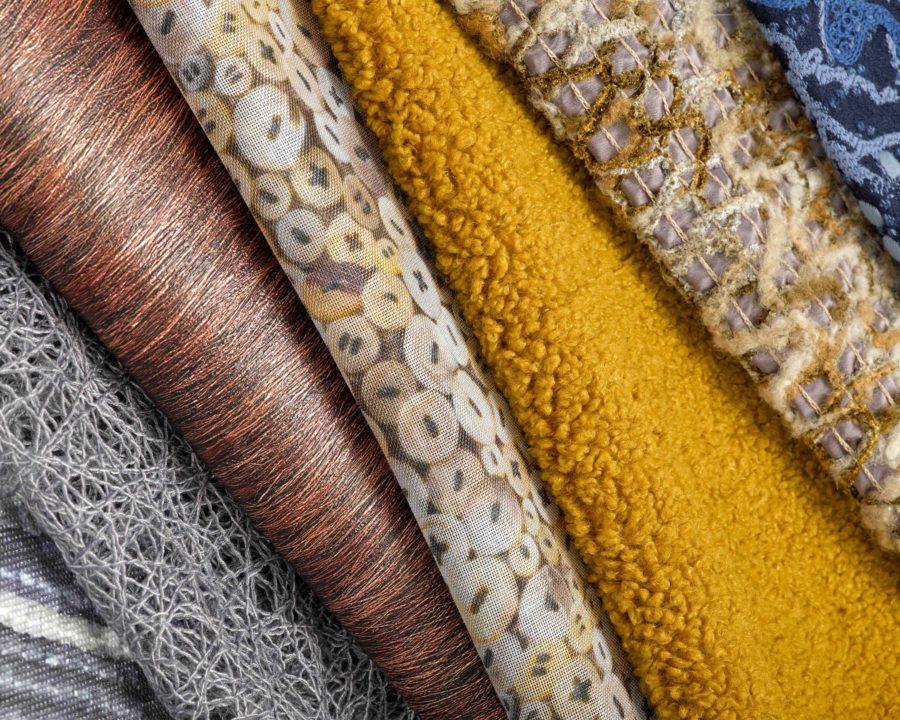 To him the process is always interesting and the details are of utmost importance. 'When I think about the practice of installation, when I put an exhibition together, things just don't go anywhere in the space—it's decisions about placement. It's all about relationships,' he says. 'With fabrics, it's very similar—it's about relationships in terms of colour and patterns.'
Much like Cave's Soundsuits, Guise upholstery is created by intricately layering multiple techniques and materials: space-dyed, twisted novelty, and chenille yarns combine to create a top layer that pairs with a taffeta-like ground fabric that has a subtle sheen.
Cave's installation, Architectural Forest, inspired the energetic and complex upholstery Vert. The multicolour, variegated full-width repeat captures the blend of perfection and imperfection that the artist's work embraces and celebrates.
Mural-like, Big Floral offers movement, dimensionality and depth—its exaggerated scale sets this wallcovering apart from traditional floral patterns. What is more, it is digitally printed on a bleach cleanable, PVC-free ground with Type II properties and has a beaded texture emboss.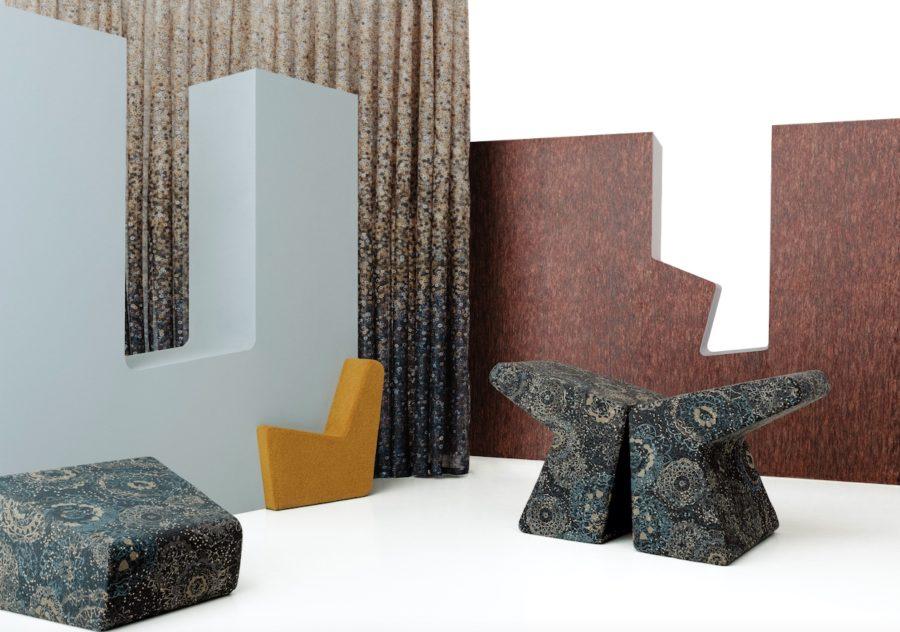 The upholstery Doily is created by using both modern technology and hand craftsmanship. There, woven and embroidered elements are blended, resulting in a stunning and multidimensional surface that comes in two colorways: Twilight and Cosmos.
Until is an organic drapery inspired by one of Cave's massive beaded web-like installations, Button is a nod to one of his favourite one-of-a-kind objects found during his visits to antique markets across the country: vintage buttons are prominent in his work and have embellished several pieces.
'We are proud to have worked with the Knoll team to bring these ideas, colours, and patterns to a new market,' says designer Bob Faust, Cave's partner in work and in life. 'They were hungry for all the content that made the original works of art as well as open to being pushed toward more complicated and elaborate processes that were really critical to the art/product connection.'
'They even embraced the form I designed to market the upholstery line—a form based on the proportions of the iconic Barcelona Chair by Knoll, that could be flipped and stacked and styled like sculpture for the presentation and marketing.'
Living and working out of Facility, their multidisciplinary creative space in Chicago, the duo is known for blurring the lines between art, design and community. The Knoll collaboration is no different: Collapsing boundaries between artist and audience, the vibrant creations serve as a way to connect, share and be inspired. It's the combination of the high and the low and the emotions it evokes that make this collection a full-on experience.
Cave already knows. His advice? 'Do not be afraid to mix all of this up! Keep it playful, keep it smart. You can keep it simple, too,' he says, urging everyone to play around with the textiles—to rethink what's been taken for granted . 'I think all of the fabrics, all of the coverings, all of the drapery treatments can be and are in support of one another,' he adds. 'So yeah, I'm excited!'
Photography courtesy of Knoll and Nick Cave
Get a curated collection of design and architecture news in your inbox by signing up to our ICON Weekly newsletter
---