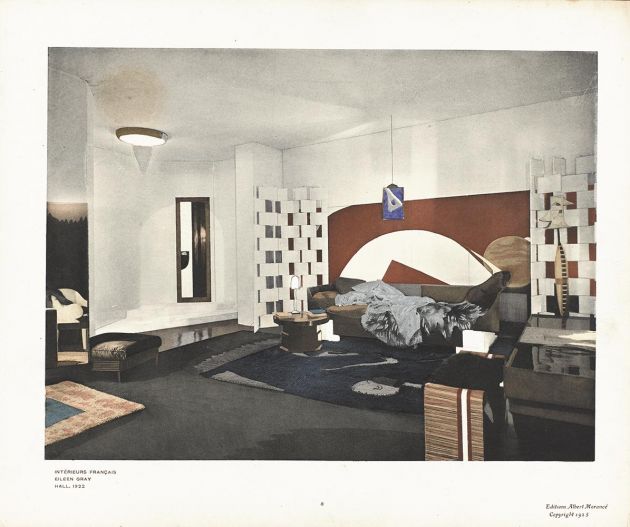 Eileen Gray's design for Boudoir de Monte Carlo 1923. Courtesy of Archives Galerie Gilles Peyroulet, Paris
Curator Cloé Pitiot speaks about the upcoming Eileen Gray retrospective at the Bard Graduate Center in New York.
A retrospective about the life and work of Irish-born artist, designer and architect Eileen Gray will open at the Bard Graduate Centre Gallery on 29 February 2020. Gray's well known and radical designs – such as the holiday villa E-1027 and the classic Bibendum armchair – will of course be on show. But the exhibition will also shed new light on her career, and showcase never-before-seen designs, lacquerware, paintings and photography that Gray created throughout her life.
Icon associate editor Peter Smisek interviewed the exhibition's curator Cloé Pitiot, who previously directed Gray retrospectives at Centre Pompidou and Irish Museum of Modern Art in 2013.
Peter Smisek: Eileen Gray's life and work are singular and largely inseparable. Are there any new findings which you hope will show her contribution to modern architecture and design?
Cloé Pitiot: We now know more about the theoretical basis of Gray's work and how various theories contributed to her thinking about modern architecture, especially her conception of space. In addition to her connection to De Stijl and to Le Corbusier, notably his project the Petite Villa for his parents on Lac Léman, [we also uncovered] new information on Gray's interest in the theory of the fourth dimension. In fact, she studied ideas about mathematics and 'new geometry.' She was knowledgeable about [mathematician] Henri Poincaré, through discussions with her friends, including the occultist Aleister Crowley and Percy Wyndham Lewis. They all had a critical impact on her thinking.
PS: The exhibition will also show some lesser-known examples of Gray's artistic output, such as her paintings and photographs. To what effect were these important to her work as a designer? Or were they more a separate, standalone part of her oeuvre?
CP: Everything in Gray's work is connected in some way. She was trained as a painter and painted throughout her life. Gray made drawings, paintings, stage sets, and rugs, all of which show the shifts in her aesthetic from figurative work to more abstract compositions. In the 1920s, she illustrated a carnival of animals. Even with photography, which was perhaps a more personal means of expression, the photographs in some way had an impact on her architecture and design work.
E_1027, Gray's best known architectural design. Image courtesy of Fond Eileen Gray
PS: The public is not well-informed about Gray's work, apart from a number of her furniture designs and E-1027. A lot of her designs were also one-offs and have been lost. Was it difficult putting together such an extensive exhibition?
CP: The exhibition is based on ten years of study and research with a team that includes Jennifer Goff, curator in charge of the Eileen Gray collection in Dublin, Renaud Barrès, a practicing architect in France and a specialist on E-1027 who is working on the restoration project, and Philippe Garner, an Eileen Gray specialist based in London. The Bard Graduate Center provided the resources for all of the research that was done after the exhibition in Dublin. In addition, I worked with gallerists, museums, and libraries in Paris and New York whose staff contributed generously to my research. Without them, it would have been impossible to do this exhibition. It has been a long and beautiful adventure with all the twists and turns that come with [it].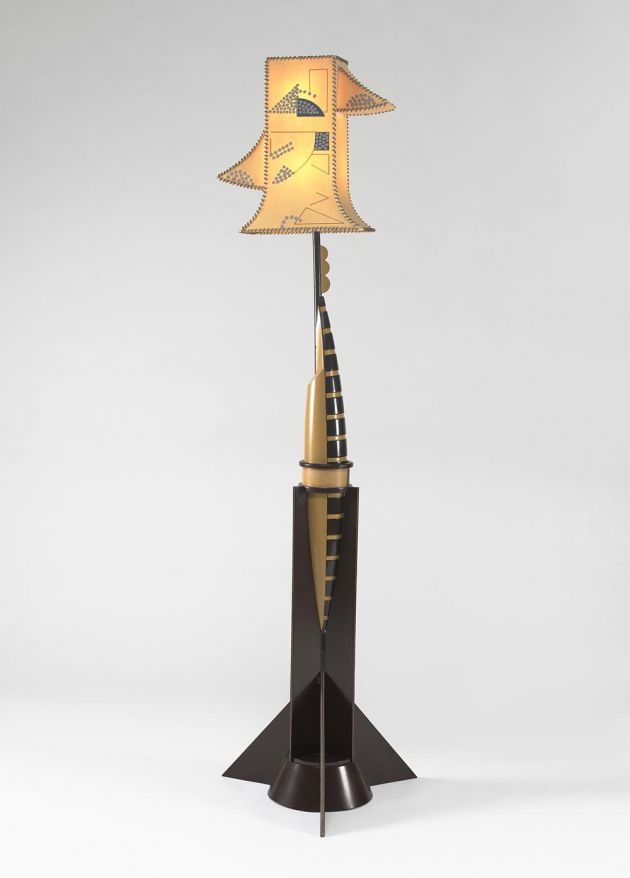 A broad range of Gray's works will be displayed, such as this lamp from 1923. Image courtesy of Virginia Museum of Fine Art and Katherine Wetzel
PS: You've also curated a 2013 retrospective of Gray's designs at the Centre Pompidou. Do you think that the public perception of Gray and her importance within the modern movement has changed since then?
CP: I would like these exhibitions at the Centre Pompidou in Paris, then at the Irish Museum of Modern Art in Dublin, and finally here at the Bard Graduate Center to reveal to the public a less fragmented view of Eileen Gray's work. Critics are tempted to separate the artist from her design and architecture. She is either credited as the high priestess of Art Deco or with creating a new form of modernism. She is sometimes a designer, sometimes an architect, when, in fact, Eileen Gray was the artist who explored multiple fields, including design, architecture, painting, photography, without hierarchy and freely moving between them in absolute continuity.
Eileen Gray, a new exhibition at the Bard Graduate Center Gallery in New York, is open from 29 February 2020 until 12 July 2020.
---