Amid the extravangance of Milan design week, these new products launched at the Salone del Mobile really made their mark, writes
Rita Lobo

.

With all the panem et circenses hullabaloo that engulfs Milan during design week, it's easy to forget that at its core the Salone del Mobile is a space for design brands to introduce new lines and promote projects. But often it's these launches that will have the longest real-world impact on the design industry, not the showy installations and parties.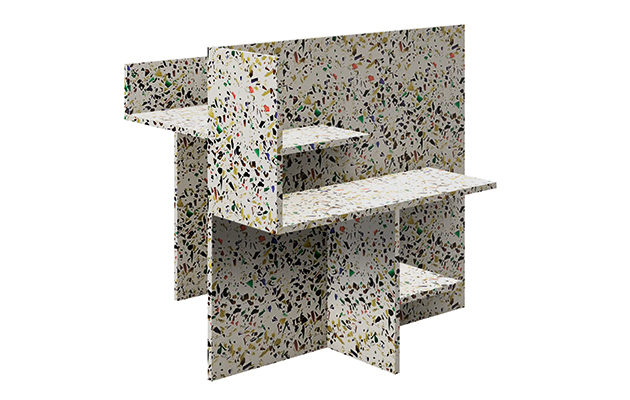 Radical Fake, Patricia Urquiola's desk for Cappellini
Mimicking Venetian marble, Patricia Urquiola's Radical Fake desk for Cappellini was a stand-out in an already well-rounded stand. The desk itself has an integrated library within it, but it's the selection of faux luxe finishes that makes it special, the surfaces reproduce the beauty of natural materials like oak wood with its engraved veins and Venetian marble, also said Terrazzo, with its granules – all unapologetically, and extravagantly faux. Nothing is what it seems because each material is drawn from ancient artisan techniques to be later reproduced in a serial production logic.
Marcel Wander's Barrowtable for Natuzzi
Natuzzi partnered with Marcel Wanders for its new furniture collection launched in Salone del Mobile. Drawing heavily from the Puglia brand's heritage, the collection is rife with blonde terracotta tones and oak finishes. Finest among the new products are the 'Agronomist' collections' barrow table, which mimics an old farm tool, polished, and so sleek that it laughs in the face of every rustic coffee table ever marketed.
Flos' new Arrangements created by Michael Anastassiades
Lighting designers Flos built an intricate lighting installation by Michael Anastassiades for the launch of their new Arrangements line. The new modular system consists of a selection of geometric LED elements conceived to be arranged and rearranged in endless combinations. The modules are easily fixed together electrically and mechanically, and can be changed easily without technical assistance.
Michael Anastassiades' Jack bookcase for B&B Italia
Anastassiades kept busy during Milan design week this year, as well as working with Flos, the London-based designer also partnered with B&B Italia to produce the Jack wall system. A real departure for B&B Italia, who are usually known for their sleek, luxurious wares, Jack is an architectural, technologically refined modular system that modernises the old classic room centre bookcase. The floor-to-ceiling engineered supports are cleverly concealed within the structure giving the shelving unit an appearance of impossible weightlessness.
One of Inga Sempé's Vitrail mirrors for Magis
French designer Inga Sempé was behind a series of mirrors for Magis, all made up of colourblocked segments and bold shapes. The Vitrail collection includes a small square, a large rectangle, and an oval, all made up of a large, clear, central mirror decorated with two coloured fragments. These versions are injected in both colours; each one features a distinctive combination of lateral mirrors. Clearly inspired by Venetian mirrors with their colourful borders, Vitrail still maintains a hard, modern edge by keeping shapes clean and the colours bold.
Japanese brand Ritzwell's new Jabara sideboard
There was a plethora of Japanese designers in Milan this year, from Nendo's collabs with Cappellini, Republic of Fritz Hansen and other, Ichiro Iwasaki for Arper and Kodai Iwamoto's 'blown plastic' vases at Ventura Future, it would've been easy for Japanese brand Ritzwell to slide under the radar, but their Jabara sideboard line made a definite mark. Designed by Shinsaku Miyamoto, in walnut, steel and leather, the sliding tambour doors are sensitive and celebrate exquisite craftsmanship.
The Bouroullec Brothers' Élémentaire chair for Hay comes in many shades
Hay opted for a plush takeover of a Brera palazzo in partnership with Sonos and WeWork. But despite the extravagant show, it was the Rowan and Erwan Bouroullec's simple and elegant plastic Élémentaire chair that stole the show. The chair is strong and simple, comprised of clean lines and muted colours, but more importantly, it's inexpensive without sacrificing quality. Perhaps another plastic chair was not quite what the world needs in a year when plastic waste has finally become a central political issue, but there is no question the Erwan and Ronan Bouroullec have produced an object of pure style.
The Rayures series for GlassItalia penned by the Bouroullec Brothers
The Bouroullecs were certainly in high demand in Milan this year, and were behind some of the most successful products. Their Rayures series for Glas Italia was one of the standout pieces of the entire week. The modular screen consists of hinged panels in laminated and tempered Flutes glass in yellow and lilac colour which can be combines with neutral panels or mirrors. The result is a ghostly stained glass effect that filters the light and returns it in a poetic and surreal way.
French brand Petite Fritures' new Hoff lines is playful and simple
Modularity was the name of the game in Milan this year, and French homeware brand Petite Friture were surely not to be outdone. Their new Hoff line by Morten & Jonas is a fun series of two modular stools and two modular armchairs. They can combine to make a sofa as well an entire living room area. Experimenting with shapes and textures, the full body of the pieces, upholstered in colourful, tactile fabrics, sit atop impossibly thin legs, in a playful balancing act.
---