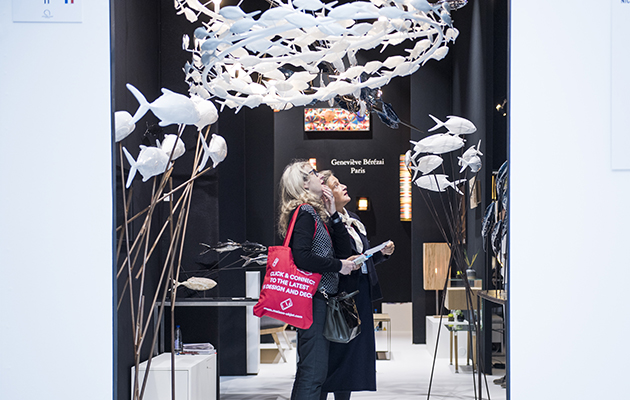 Maison&Objet returns to Paris this September after undergoing a complete makeover, designed to foster creative bonds within the international industry
For this September edition, Maison&Objet Paris has evolved to surprise visitors more than ever before! A complete make-over awaits worldwide visitors from 7-11th September 2018, with 11 sectors spread across 2 hubs: Maison and Objet. This overhaul draws from the event's core: inspiring worldwide design professionals, inducing creativity and creating bonds within its community. Fundamentally multi-sector and cross-industry, Maison&Objet continues to provide a global overview of the market through a broad and curated offering as it strives year after year to better serve the world of design.
'Our first priority is to create the right experience to meet the needs of our exhibitors and visitors. The definition of the new sectors was guided by practical criteria chosen to clarify the offering and make it more accessible for both visitor categories. On the one hand, retail buyers appreciate the great variety of products on display, but need a clear divide by product typology and price range to save time. On the other, specifiers tend to look for specific solutions for their projects, with a more style-oriented approach', explains Philippe Brocart, Managing Director of Maison&Objet Paris.
With interior design styles being as diverse as fashion trends, finding new ideas and inspiration can be quite a challenge for specifiers. The Maison hub intends to facilitate their experience thanks to 4 styles-sectors, defined geographically and temporally with self-explanatory names: Unique & Eclectic, Today, Forever and Craft. The first three sectors will be complemented by a Signature space, presenting the most distinctive, exclusive and premium brands from each sector.
Alongside Maison, Objet the hub specifically designed for buyers and shop owners, will be divided into 7 product-oriented areas. Objet will follow retailers' buying habits of browsing ideas, new accessories and all sorts of decorative objects by product categories. The hub will carry on its evolution from January 2018 where the Cook & Share, Smart Gift, Fashion Accessories and Kids & Family areas were unveiled by adding 3 new sectors to it: Home Accessories, Home Fragrance and Home Linen.
As per usual for its September edition, Maison&Objet Paris will be complemented by the Paris Design Week, organised from 6th to 11th of September 2018 in Paris' streets, with talks, exhibitions and parties taking place throughout the week.
The Designers of the Year September 2018, awarding one of the most outstanding names in industrial and interior design worldwide, will celebrate the work of French designer Ramy Fischler. The Rising Talents Awards will honour Lebanon, presenting the work of six up-and-coming Lebanese designers, placed under the patronage of fashion designer Rabih Kayrouz.
NEXT SHOW: 7th to 11th September 2018
More info and tickets here.
This is an advertorial feature
---