The exhibition at the Ace Hotel. Photo by Justin De Souza
In the Shoreditch Design Triangle, four designers put a new spin on homeware, finds Jessica Mairs
Four designers, including Raw Edges and emerging talent Diego Faivre, have customised existing homeware designs to dress spaces at the Ace Hotel in Shoreditch.
Eindhoven-based Diego Faivre presents a collection of colourful dough-coated household objects – the crisp outlines of extension cables, lamps and a desk softened into bright doughy forms. Silkier in texture and foam-like after air-drying, the material is one Faivre discovered while undertaking a residency in China – he refers to it as 'Diego Dough'. He has moulded it around large planters made of polystyrene at the entrance to the hotel, and a series of door stops destined for the rooftop bar. The bright, almost neon colours, applied in polka dots, stripes and zig zags, appear as a childlike or cartoonish interpretation of postmodern patterns. Faivre will be hosting the Minute Manufacture pop-up throughout LDF, allowing guests to bring along their own item for customisation at a rate of £1 per minute.
Raw Edges puts forward an edit of its Backstitch collection, a range of rugs based on the reverse side of embroidery, which often presents a messier, more abstract picture of the design on the polished 'right side'. London-based design duo Yael Mer and Shay Alkalay reworked two versions of the Backstitch Busy Rug, in red and green, which is made in association with the GAN Women's Unit, a group of women weavers and embroiders in rural India. Broad horizontal stitches of brick red, pastel pink, maroon and green mark the front of the hand-woven woollen rugs, while the underside features pin pricks of colour.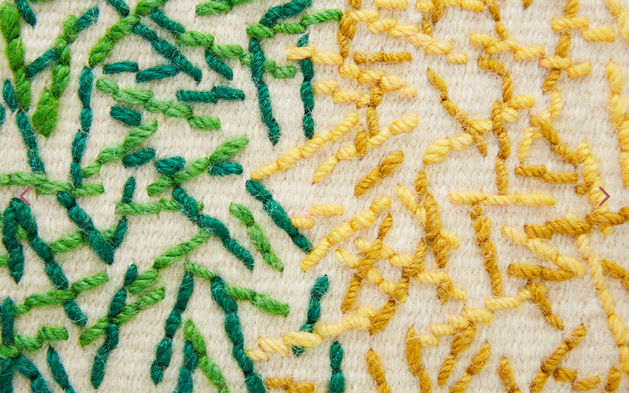 Detail of Raw Edges Backstitch Kilim rugs
Mexico City-based furniture and product designer Fabien Cappello offers up a range of aluminium and steel water jugs and tumblers. The pieces were made hyper-locally, with Capello approaching workshops within just streets of each other in the La Doctores district of his city. 'I decided to work with a one-man workshop that principally does piping and ducting pieces of spun aluminium and steel in the central area of Doctores in Mexico City,' he says. 'Working with such workshops to produce a fine object is a challenge, but the potential of these type of production facilities in the making of everyday goods is an amazing local and specific response to the general industrial crisis.' The jug's body is made from pre-existing cone and cylinder moulds to avoid unnecessary waste in one workshop, with a simple flattened pipe handle added in another, and anodising and riveting happening in the locality. The series follows on from Capello's RCA graduation show, where objects were made within the locality of Barking, London. 'In Mexico, this project has taken on another meaning as the area of Doctores is suffering really [a] violently engineered gentrification process,' he says, 'which completely and stupidly oversees the importance and potential of manufacturing within the vision they apply to the future of this area as rent rise is pushing away the different metal workshops.'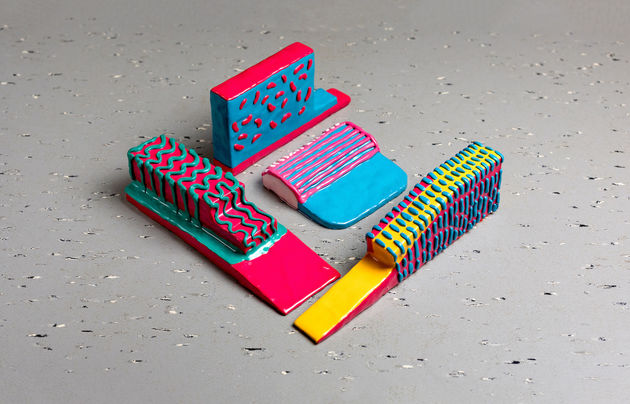 Works by Diego Faivre at Ace Hotel. Photo by Justin De Souza
Lastly, a pair of pale grey room dividers taking on the abstract form of mountain peaks comes from Amsterdam-based studio BCXSY. Translucent Sunbrella fabric is fitted over arched tent poles to create the layered 2D structures, one smaller and one larger, that offer different levels of opacity. The piece, titled The Great Outdoors, follows on from the studio's Origin part I: Join (2010), a collection of slatted wood room screens produced with Japanese joiner Seihachi Tanaka – a less harsh type of space division, explains Boaz Cohen, who runs the studio with co-founder Sayaka Yamamoto.
Custom Exercise runs until 22 September 2019 at the Ace Hotel
---