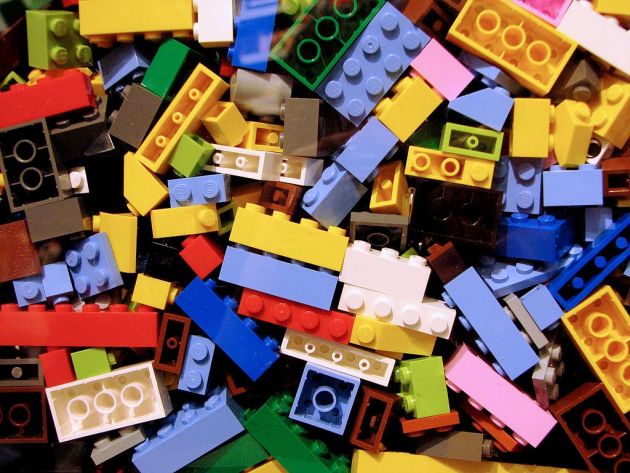 Lego bricks. Photo by Benjamin D. Esham via Flickr
Very few children in the West today will be unfamiliar with Lego's plastic building blocks, designed in the 1950s
Lego is a household staple toy that became incredibly popular in the middle of the 20th century. The blocks were conceived in Denmark by Ole Kirk Christiansen, who had begun making wooden toys in a workshop in 1932. The company name was derived from the Danish phrase 'leg godt', which means 'play well.'
In 1949 Christiansen manufactured his first plastic brick, which was plain in shape. The innovotive interlocking studs and tubes were only patented in 1958. It was this clever addition that ensured Lego's unrivalled success – and enabled the structures that Lego blocks could create to be far more imaginative and elaborate than any building blocks that had come before them.
Ole Kirk Christiansen died in 1952, before his son Godtfred had developed the interlock. Christiansen's early wooden toys are now seen as collectibles.
In 1960 a warehouse fire – not the first that Christiansen's company had suffered through – devastated Lego's warehouse and most of its stock of wooden toys was lost. The company made a move towards only producing its plastic products, as the building blocks were doing well enough by then to support the company alone.
Lego quickly became enormously popular across Europe. By 1968, there was a dedicated theme park in the company's home city Billund. There are now six Legoland amusement parks across the world. In 1969 Lego launched Duplo, a line of larger bricks for smaller children.
In the early 1970s Lego began to expand its range to attract more female children, introducing dollhouses and miniature furniture. Later in the decade, Lego began making its now highly recognisable tiny yellow human figures. These figures now appear in most lego sets.
For all these changes, the Lego bricks have remained the same since they were patented in the 1950s. The simple design proved timeless and generations of children have grown up playing with Lego worlds and themed sets. Today's blocks are still compatible with the originals from the 1950s. Many famous buildings and cities have Lego replicas, as well as Lego sets based on famous books and movies.
In the late 1990s Lego began to feature licensed characters as well as its own creations including Harry Potter, Winnie the Pooh and Star Wars characters.
Now in the 21st century, Lego has ventured into digital games, creating adventures based on popular culture such as the Marvel superhero and the Star Wars film franchises. There have even been several animated Lego films, including The Lego Batman Movie and The Lego Ninjago Movie, both released in 2017.
---