Bathroom giants VitrA and designer Terri Pecora are on a mission to reinvent the bathroom as shared, sociable environments families enjoy spending time in
First it was kitchens; designers reinvented the small, cramped room traditionally used for cooking only into an open family room at the very heart of home life. Now VitrA is hoping to give bathrooms the social treatment. The Turkey-based bathroom company has enlisted the help of Milan-based American designer Terri Pecora to rethink the time we spend in the bathroom and how we do it.
'The project is very much about innovation and styling,' says Pecora. 'The first big idea is of creating this living room feeling and warming up the bathroom, so that when you go into your bathroom, even if you close your door, you wanna stay there for a while, it feels good.'
The line, Plural, was 'inspired by the heritage of communal bathing spaces and rituals', and was actually dreamed up during a brainstorming session in Turkey over four years ago. It is unashamedly referential to the notion of hammams and shared bathing facilities – so common in the middle east and Asia, yet relatively rare in the west outside the luxury setting of a spa.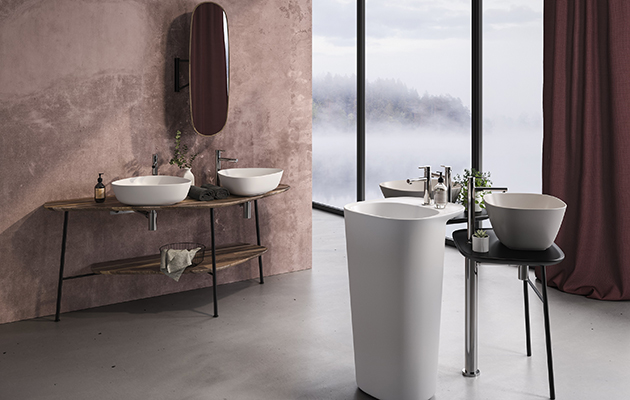 Launched at the Salone del Mobile in Milan, the line is decidedly 'on trend'. It brings the concept of modularity into the bathroom with a selection of sinks, basins, and counters that can be layered to create personalised spaces that suit each family's needs. 'It's just time to shake this room up, it's time to have some fun in it. The bathroom has been changing steadily for the last, let's say, 20 years, it has been changing,' says Pecora. 'It's made huge strides, but it can go much, much further. And it will, I'm sure of it, because it's such a wonderful place to be.'
It's also got a very vintage feel to it: the main surface in the line is a free-standing oak table upon which the sink or basins can be mounted. The forms are very organic, and in a range of soft, earthy tones. The pieces are all angled and accessories like mirrors are on hinges, features which are meant to inspire interaction between bathroom users, or to shift the focus around the room.
'I think that there's definitely a huge future for the bathroom,' says Pecora. 'There's gonna be a lot, every year there'll be new, new movement. And the other thing that's exciting about it is, compared to, for example, the living room or the bedroom. I mean, the bathroom is a complicated room. It's full of technology, it's full of limitations because of the plumbing. So if you get that room right, it's right.'
---