Jaimie Shorten's Antepavilion will take the form of six sharks. Image courtesy of Architecture Foundation.
Get a bitesize overview of the week's headlines and events with Icon's weekly round-up
SCENE
PERSONAL MATTERS
It was announced earlier this week that Alan Jones, president of the Royal Institute of British Architects (RIBA), was stepping down for a few weeks to deal with 'a matter' in his personal life. It now turns out that matter was not entirely personal. RIBA has reported a 'serious incident' involving Jones to the Charity Commission, the Parliament-run government department for regulating charities. That break may not end up so temporary after all.
SHARK ATTACK
Jaimie Shorten has been announced as the designer of this year's Antepavilion, a temporary event space on London's Regent's Canal overseen by the Architecture Foundation. Shorten's competition winning entry is likely the most eccentric yet. Titled SHARKS!, the pavilion will comprise six model sharks fitted with audio equipment. The sharks will sing and read out lectures on architecture and urbanism.
MASQUERADE
In the US, a raft of architecture firms — including Bjarke Ingels Group, Grimshaw, Kohn Pedersen Fox and Weiss Manfredi — have begun producing laser-cut and 3D printed visors, using files developed by the Swedish 3d-printing company 3DVerkstan. The scheme, which was initiated by Cornell University's Art, Architecture and Planning faculty, will see the visors sanitised and distributed to healthcare professionals. In Canada's University of Alberta, meanwhile, researchers are working on a mask coated in a salt-based substance that can destroy Covid-19 within 30 minutes of contact.
PLASTIC FOOD
As a viral pandemic enacts a global transformation unprecedented in living memory, bacteria have been shouldered out of the spotlight. Scientists at Leipzig's Helmholtz Centre for Environmental Research-UFZ in Germany have discovered a type of bacteria that might help allay the other ongoing global crisis. Found in a waste dump, the newly identified strain is able to both break down the plastic polyurethane and survive the toxic chemicals released in the process. A welcome development, though one might wonder how we got to a point where we're pinning our hopes on plastic-chewing microbes rather than human behaviour.
STAR-CROSSED
The Los Angeles County Museum of Art, one of America's few encyclopaedic art institutions, has voted to progress with a controversial Peter Zumthor-designed new building. The celebrated Swiss architect's plan has been critiqued for inattention to the surrounding streetscape, its expense, and for reducing the museum's exhibition space. Doubters have also questioned the lack of a 3D model. At a meeting of trustees, Hollywood actors Brad Pitt and Diane Keaton were among those who pledged their support for the redevelopment.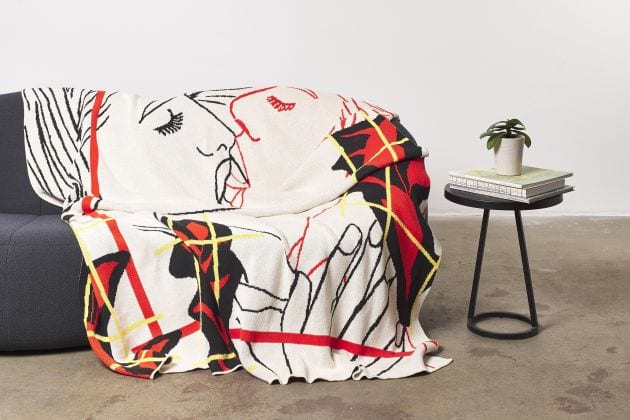 Reza Farkhondeh & Ghada Amer's House of Lust is one of four limited edition rugs commissioned by Goodman Gallery to raise money for the Witkoppen Health and Welfare Clinic. Image courtesy of Goodman Gallery.
DIARY
SEVERE DELAYS
You might be forgiven for wondering if there are any more events left in 2020 to cancel, but some stragglers have just announced their postponements. The Dubai Expo 2020 will now be the Dubai Expo 2021, and the 2nd edition of Homo Faber — a vast exhibition celebrating craft at Venice's Fondazione Cini — has also been pushed back a year. UN climate change conference, known as COP26, has been postponed from November until some time in 2021. As Homo Faber was slated to begin in September, a month after the delayed Venice Architecture Biennale, one might wonder whether the latter might soon be off the agenda altogether.
CHARITY CARPETS
Cape Town's trailblazing Goodman Gallery has commissioned a limited edition series of four blankets, designed by Ghada Amer & Reza Farkhondeh, Broomberg & Chanarin, Nolan Oswald Dennis, and Samson Kambalu. Each is available in an edition of 50 and is available for £500. All profits will support Witkoppen Health and Welfare Clinic, a charitable organisation that supports 1.3 million members of Johannesburg's most deprived communities. Established in 1966, Goodman Gallery is renowned for its focus on art which engages in post-colonial contexts; last year it opened a branch in London.
NEW ARCHITECTS & THE 100 DAY STUDIO
It has been a busy week for the Architecture Foundation. Applications are open for New Architecture 4, the latest edition of the influential book that surveying Britain's best architecture and urban design practices. And, to keep one's mind occupied during this uncertain period, the foundation has announced The 100 Day Studio: one hundred days of free lectures, interviews and virtual tours. The studio commences 6 April 2020, and confimred spakers include Richard Sennett, Jeremy Till, Kate Macintosh and many, many more besides. Events will be broadcast via Instagram or Zoom.
DESKTOP DESIGN ACADEMY
As educational institutions shutter the world over, architect and designer Sam Jacob has come up with a way to fill in the void. The Desktop Design Academy sees Jacob challenge readers to respond to a weekly design brief, upload it to social media, and then join a group Zoom chat to discuss the ideas. The first instalment — which concluded today — saw Jacob challenge respondents to come up with a souvenir. The academy is open to all comers.
VIRTUAL MUSEUMS
Two of the world's major design museums have followed their art-based peers in launching online content to run during the lockdown. London's Design Museum has opened #DesignFromHome, which among other things contains lesson plans and other activities for children. And over on the continent, the Vitra Design Museum has begun a series of Instagram Live talks, the first of which saw director Mateo Kries talk to Design Academy Eindhoven creative director Joseph Grima.
AND FINALLY
Any architects and architecture fans looking to distract themselves during the coming months should look no further than Atlas of Plans: a beautifully designed multiple choice quiz that challenges the player to identify a building by its ground plan. The current high score is a staggering 199, but we're willing to wager that by the end of social distancing, it might be even higher.
---