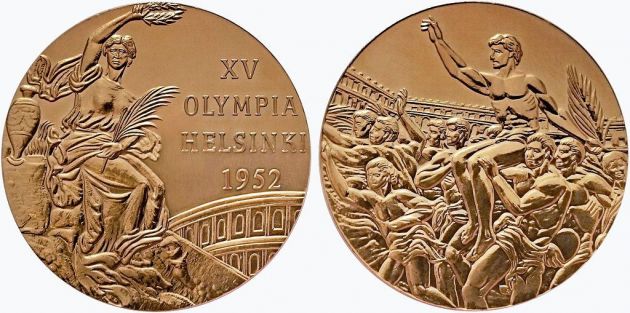 Tokyo 2020's Olympic medals are custom designed and made from recycled electronics, a marked difference from the olive wreaths of just over a century ago
In the first modern Olympic Games, at Athens in 1896, the winner was crowned with an olive wreath and received a medal made of silver. It was in St. Louis, venue for the 1904 Olympic Games, where the now standard gold, silver and bronze medals were first used.
The medals given to the victorious competitors at the Games since the turn of the twentieth century have varied enormously in size, weight and in the image they carry. From 1904 in St Louis until 1960 in Rome, the medals were attached to a pin for the athletes chest and attached to a small ribbon. Then, from 1960 onwards, the designs were adapted so the medal could go around the athlete's necks. At Rome 1960 a chain was designed for the medals, but from Tokyo 1964 the medals have been worn on the end of a coloured ribbon.
The silver medals used in the first modern Olympic Games in 1896 were designed by the French sculptor Jules-Clement and made in Paris. The Olympic medals became standardised in 1928. On the one side is the traditional goddess of victory, holding a palm in her left hand and the crown for the winner in the right hand. On the other side of the medals, the Olympic champion is carried by an exultant crowd, with the stadium in the background.
These standard medal's remained in use until the 1972 Munich Games, when the organising committee started a new trend of customised medals. For that year's games, they were designed Gerhard Marcks, an artist who had previously taught at the Bauhaus.
The London 2012 Olympic medals featured the traditional image of the goddess of victory flying into the stadium on one side, while on the reverse there was an abstract design with the year in the centre, intended to represent the modern city.
The Olympic medals for the Tokyo Summer Olympics 2020 have been designed by Junichi Kawanishi (who submitted a design in response to a call out to the general public) and are being manufactured entirely from recycled materials. In the lead up to the Games, the organising committee in Japan coordinated the collection of small devices from all around the country. It is the first time in the history of the games that civilians have been involved in the process of creating the medals, 5,000 of which are needed to cover all the events.
In the early years of the Winter Games it was decided that the Olympic medals must be different from those of the Summer Olympics. The goddess of victory does not appear on the medals, and instead they show the Olympic emblem and the name of the Games for that year and the sport that the winner has competed in.
---