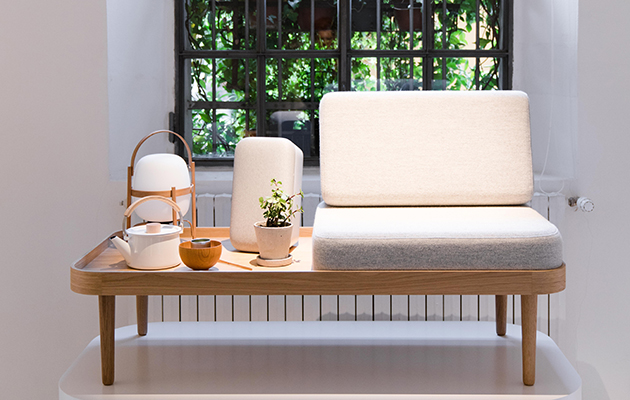 Part of the Google installation in Milan Design Week. Photo: Google
Ivy Ross is in charge of Google's hardware design, and as such it's probably just a matter of time before you own one of her soft, discreet creations, writes
Rita Lobo

. Just don't think about the data harvesting…

Ivy Ross is the most important designer in the world right now that you've never heard about. Since 2014 Ross has been in charge of the design side of Google's new range of real-world products, including the Google Pixel mobile phone and a variety of iterations of the Google Home smart speakers. But unlike Jonathan Ive, her counterpart at Apple, Ross maintains a relatively low profile and is not yet a household name. However, given Google's ambition, purchasing power, and pervasive role in modern life, it is not inconceivable that every household in the world will own one of Ross' pieces soon.

Ross came into tech hardware design fairly late in the game; she previously owned a boutique in NYC and was a successful jewellery designer. 'At the core of it I'm a builder,' Ross told Icon. 'It doesn't matter what I'm building. I have to be passionate about what what I'm building, but the thread through my entire career has been building products, ideas, brands, teams. I think I'm an architect in my mind, just not of buildings.'

Ross is a product designer through and through. She started her career in jewellery, by the age of 26, had some of her jewellery designs included in the permanent collections of 10 museums, including the Smithsonian and the Victoria and Albert Museum. She subsequently moved into fashion, retail design, and even served as toy designer for Barbie-maker Mattel, before joining Google X in 2014, and rising to head of hardware design two years later.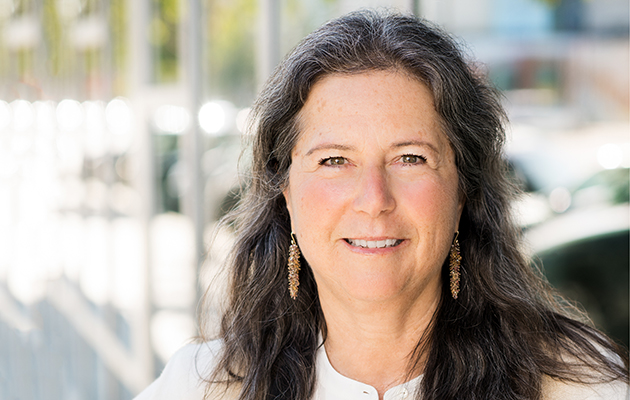 Ivy Ross has been in charge of the Google design team since 2016. Photo: Google
'When Sergey [Brin, co-founder of Google] decided we needed to make our own hardware to bring forth the best of our software and artificial intelligence (AI) they literally had to create a hardware division, because they had done a few things in hardware like the Nexus reference pieces, but not at this level and they certainly had not made a commitment to an ongoing collection of consumer hardware in all these categories,' she says of her employer.
Software development is very different from hardware, so it's been a real opportunity for Ross to develop a completely new brand identity, design language and process, which she has toiled at for over two years. 'I have a team of industrial designers, packaging designers, user experience, colour materials and finish,' she says. 'I consider myself the orchestra conductor working with the team to create a design language. Being a little late to the hardware game we get to stand back and look at other electronic brands and go, 'We're not this, we're not this. Who are we?' and ask, when you hold Google in your hand, what do you want it to feel like, look like, and act like.'
Soft and rounded is the answer. Google Home currently comes in two varieties, mini and regular. Both have the smooth lines with speakers that are lined with soft fabric. The mini looks a lot like a pebble that has been smoothed by years in a riverbed, and the muted grey colours accent this comparison. Ross and her team lean heavily on this unobtrusive vibe – Google is rumoured to have tested hundreds of shades of grey before settling for the least remarkable shade they could find.
Part of the Google installation in Milan Design Week. Photo: Google
Though some other products in the line, including the mobile phones, cameras and some of the speakers come in brighter colours too, the name of the game is definitely discretion and understated chic. The Home series is covered in a soft fabric, and some items can be customised to match any environment.
The minimal feel of the hardware, which blends into its surroundings, is not accidental or even purely aesthetic. In Google's recent installation at the Rossana Orleandi gallery during Milan Design Week, Ross designed a proto-typical millennial home – all soft pinkish hues, and natural materials – with Google products unobtrusively blending into the background. It was a clear, if purposefully understated, message conceived to shatter any connection with HAL-like devices, and reinforce the notion of gentle convenience taking over modern life. In a post- GDPR era, when even Mark Zuckerberg has been forced to address his company's data-harvesting for profit model, the exhibition felt a little insidious.
'Technology is here to help us in our lives and it's our choice how we integrate it, meaning it can take over or it can become part of our lives, and the way we set up the exhibition is to show that it can become a natural part of life,' says Ross. 'It doesn't have to stand out as some shiny object that is taking over, it can feel comfortable at home with us because at the end of the day we choose how we use technology. So offering up a viewpoint that says it actually can look great on your counter in your living room, something that is additive, is just the way we designed it.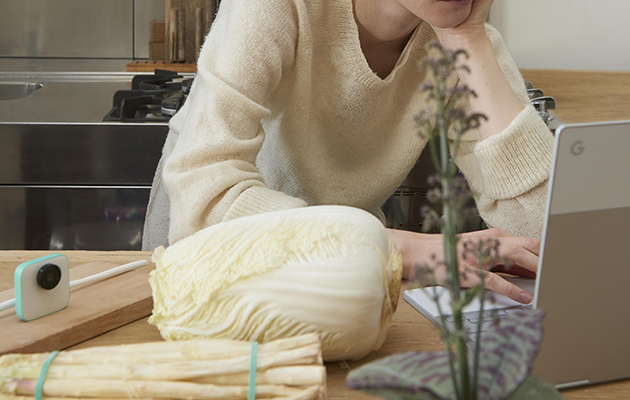 The idea is that Google hardware blends seamlessly into daily life. Photo: Thomas Straub/Studio Edelkoort
'Each of the tech companies has its own way of working, and its own way of dealing with privacy. Some people have said to me, 'Wow, this is an interesting position given the Facebook situation,' meaning it seems like you're taking a different tact, and it wasn't intentional,' she adds. 'I don't want to confuse the Facebook situation with Google. Any technology consumer has to say 'What am I getting in exchange for the interaction?' and decide if it's of value to them. We're not trying to hide anything. If what the technology offers you is of value to you, then have it be out in your home and be beautiful, but it's your choice how you use the technology and how you interact with it.'
Of course Ross is right, the convenience of the technology has already made buyers overcome security concerns. Last Christmas alone Google reportedly sold over 7.5 million Home devices, and has since emerged remarkably unscathed from the recent furorure over data misuse that has burned other digital giants like Facebook. With a new Pixel Phone in the offing, as well as a smart watch, and countless other smart devices planned for the next few years, Ross and ger understated, appealing vision is Google's ticket to the hardware design big time.
---