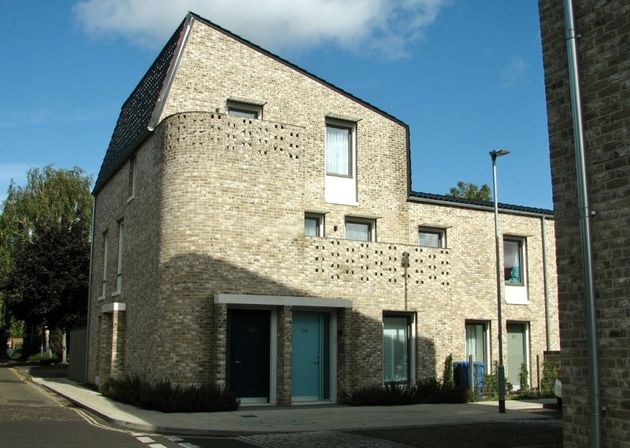 Stirling Prize-winning Goldsmith Street by architect Mikhail Riches is the largest Passivhaus development in the UK. Photo by Evelyn Simak
What does Passivhaus mean? It's an ecological approach to building made up of five guiding design principles that advocate rigorous levels of energy efficiency
Passivhaus – usually used in its German form, where the principle was first put into practice – is a standard for building that minimises the energy needed to heat or cool a space, helping to reduce a building's carbon footprint. The stringent guidelines that make up the passive house standard aim to make houses highly comfortable in summer and winter climates and move as close as possible to zero energy buildings, which can support their own electricity demands through renewable sources.
The 2019 RIBA Stirling Prize winner was Mikhail Riches and Cathy Hawley's Goldsmith Street in Norwich, which is made up of 100 homes built to Passivhaus standards. This drastically reduces their energy consumption and is one of the most established ways in which architects are using design to confront the environmental crisis. While other short-listed projects also showed concerns for sustainability, none could match the efforts of Goldsmith Street. It is the largest Passivhaus development in the UK.
The Passivhaus building principles outline the following: high levels of insulation, minimal thermal bridging, very low amounts of air leakage, mechanical ventilation systems, and passive solar gain with solar shading. These create resilient houses, with high quality air and comfort levels, and often a level of self-sufficiency in energy provision.
The first principle prescribes wrapping the building in continuous insulation so that heat isn't lost through any frame or gap. This thick insulation prevents any thermal bridging and keeps the inside of the house warm in winter and cool in summer.
Read more: Why the Cork House is so revolutionary – and how it was inspired by the problem of damp
Airtight construction not only stops heat flow and loss, but also leads to a stronger house because the warm currents of air can also carry moisture into the wall cavities and create weaknesses in the fabric of the building during its lifetime. It also prevents draughts of cold air in cooler climates.
Moist air cannot leak into the living spaces and air changes are controlled with a high-tech ventilation system that pulls in new air and flushes out old air. This ensures fresh air throughout the building and controls moisture levels, preventing problems such as dampness or mould.
Triple-glazed window technology is also used for Passivhaus buildings. This is superior to double glazing, and can be refined to allow more or less heat into the interiors. For example solar heat gain can be higher on the sides of the house were winter sun would be advantageous, whereas lower solar gain can be installed where summer sun would make it undesirably hot.
The resulting building is so well-insulated and has such highly efficient windows that central heating and cooling systems are made redundant and are not installed. This significantly decreases the energy demands of a Passivhaus and renewable energy can be used for water heating and electricity generation.
Passivhaus is monitored, certified and promoted by the Passivhaus Institute, which was founded in 1996 by physicist Dr Wolfgang Feist in Germany. To date, more than half Passivhaus buildings are in Germany and many others are in German-speaking countries and Scandinavia, like the Kramer House, a timber-clad home in Salzburg, Austria.
---