Ideas are at the heart of design and central to the development of different movements. We take a look at a new book that celebrates the overarching ideas that shaped design and our material culture
When it comes to the big influences – and influencers – on design throughout history, it's often the major movements that spring to mind: Art Nouveau, Modernism, Postmodernism. History is full of movements that changed the world and our everyday lives in ways we now barely notice.
But there are other concepts that have had just as big an impact – and not always for the better. New book '100 Ideas That Changed Design' by Charlotte and Peter Fiell, published by Laurence King, is a compendium of such concepts that explicitly avoids the big 'isms' and presents a loosely chronological take on ideas the authors say have "improved our lives…. helped us experience the world, and ultimately shaped our material culture."
Here we pick five from their list, which spans ideas from Taylorism to parametrics:
Universality: As with so many big design changes, universality is closely linked to industrialisation and mass production – factory production meant designs could be standardised. There remains an association with the Modern movement – including many in Walter Gropius's Bauhaus who designed simpler, easy to replicate forms for furniture and objects. The influence of universality is perhaps most evident now in IKEA, with its popular mass produced, mass market designs. Read the chapter on universality here.
Färgrik mug (c.2015) by IKEA – this universally appealing stoneware design is the Swedish homeware giant's bestseller and was created for maximum stackability. Image: IKEA.
Modularity: The natural world's modular systems are so everyday and often unseen but are the inspiration for efficient design. It's what beehives and biological systems have in common with the Vitsoe universal shelving unit, and it's a principle frequently used in construction and manufacturing. It's one principle you're likely to come across in some form every single day.
Taste: The Fiells say taste is a highly contentious subject "heavily associated with education and ultimately social class." But that hasn't stopped humans striving for whatever they see as good taste – from the ancient Greeks' idealised statures of human-like gods and Leonardo Da Vinci's Vitruvian Man to fashionable ideas of what looks right in any decade. Backlash to prescribed ideas of taste gave us new concepts – kitsch, Pomo and irony all show taste is whatever you make of it.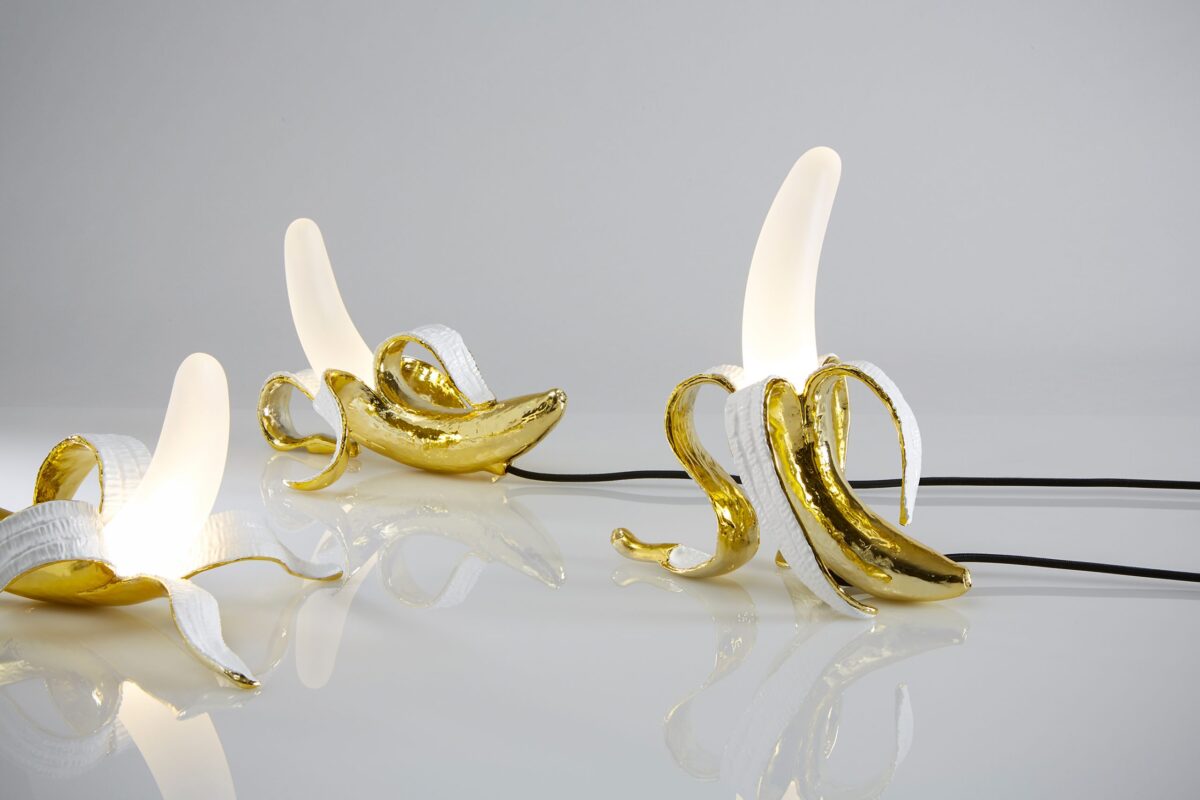 Huey, Dewey and Louie – Banana Lamps (2017) by Studio Job for Seletti – knowingly poking fun at the notion of good taste. Image: Seletti.
Disposability: With our heightened awareness of consumerism's dark side, disposability is now synonymous with waste. Yet the first disposable razors from Gillette in the early 20th century were a huge time saver and "synonymous with modernity" the Fiells say. The rising anti-plastic movement highlights the perils of too much disposability, but there are areas where it's still vital – for instance in one-time-use syringes.
Less is a bore: A phrase coined by Robert Venturi, "less is a bore" became a maxim for postmodernists' rejection of the Modern movement's dedication to simplicity and universality. A tongue-in-cheek reference to Mies Van Der Rohe's "less is more" expression, Venturi's idea represented a new approach to design, embodied in his series of cartoon-like chairs parodying historic styles of what was considered good design.
Less is a bore, as shown in '100 Ideas That Changed Design'
'100 Ideas That Changed Design' by Charlotte and Peter Fiell is published by Laurence King and available for £14.99
---