VR vases by Store School
The Icon team picks out the highlights of Clerkenwell Design Week 2019
In its tenth anniversary year, Clerkenwell Design Week shone its light on all the biggest showrooms in the area, as well as highlighting future talents and new designers. Our pick of the festival showcases some of the designers with innovative ideas – many with a focus on sustainability, longevity and social responsibility.
STORE STORE
In the glorious May sunshine, visitors may have been tempted to skip Platform, CDW's subterranean grotto of emerging design talent. But among a plethora of smart designs in the damp basement were Store School, based in Coal Drops Yard. Alongside a range of unusual glasses were these chunky hangers were made from hand-bent wire dipped in nylon waste – another socially engaged project that brought together designers with young creatives from historically disadvantaged backgrounds.
Hot Wire hanger by Store School
SEQUEL BY ALUSID
Alusid started out as a research project, aiming to find ways to repurpose waste substances from industries such as construction. Now the brand has launched its first batch-produced product – a range of tiles created from shards of broken glass, sanitary ware and glaze waste from the ceramic industry. The range includes three sizes and three colours – Shoreditch Blue, Greenwich Green and Paddington Pink – and is available at tiling specialist Parkside.
ESTABLISHED & SONS: AT WORK COLLECTION
Clerkenwell was the site for the launch of a new range of furniture by Established & Sons, all designed to fit into the space between living and working. The range – the Grid sofa by the Bouroullec brothers, the Lucio chair by Sebastian Wrong and the KD and Beam tables by Konstantin Grcic – launched in the Clerkenwell-based location of Fora, a co-working space-cum-members' club, demonstrating the aesthetic fit with a modern workplace. The Grid sofa had a striking modular design, with a functional mesh back offering space to hang things and also creating a semi-enclosed room within a room.
The modular Grid sofa by the Bouroullec brothers
CDW PRESENTS: SCALE RULE
The historic arch of St. Johns Gate has long hosted centrepiece installations that define each year's CDW. This year, London-based high school students had the honour, designing a timber grid structure holding aloft woven ribbons, designed to draw visitors' gaze up into the arch's oft-ignored ornate ceiling – a project led by non-profit architecture organisation Scale Rule.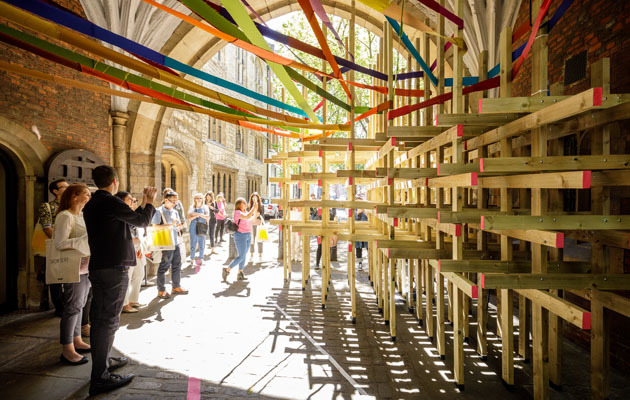 Inside the Scale Rule installation
LIZ WEST PRESENTS LIVE COLOUR
Artist Liz West joined forces with Domus to create a multi-sensory art form at the tile brand's showroom. West's installation filled an entire room with a bright wash of colour, rotating through pink, blue, green, red and yellow and white. The room, tiled in white Magnum slabs, immerses the viewer in colour, with West aiming to influence the way people feel and experience the space through the changing shades.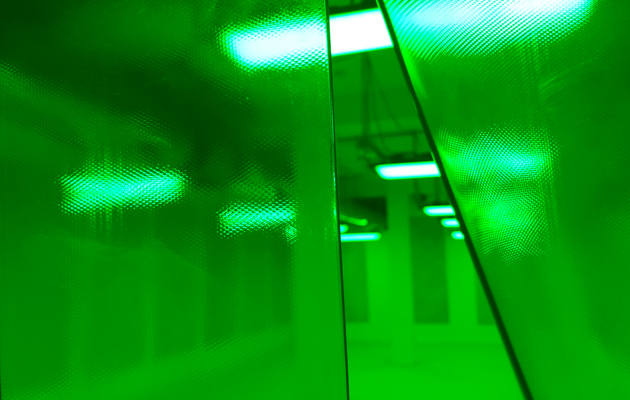 Inside the Liz West installation for Domus
---