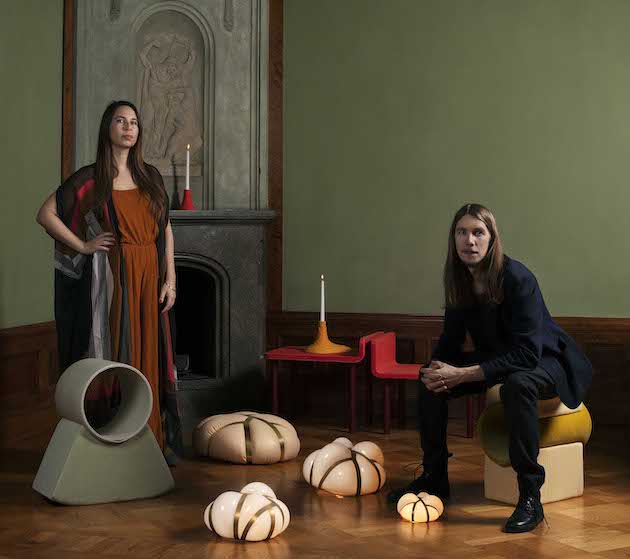 Emma Marga Blanche and Fredrik Färg. Photo: Johan Lindskog
Stockholm-based Färg & Blanche specialise in characterful, quirky, process-driven products including chairs made of stitched wood and lifts designed like magic carpets
Milan Design Week marks perhaps the busiest moment of another hectic season for French-Swedish design duo Fredrik Färg and Emma Marga Blanche, with a packed spring ahead for the rising practice best known for skilfully marrying structured textiles with structural wood and metal.
Färg & Blanche have birthed a wide range of characterful, quirky, process-driven products, from gummi-sweet-hued lights shaped like Swedish crackerbreads, to wood stitched together with a high-powered sewing machine, and even a forthcoming lift for Swedish manufacturer Aritco.
Each of these projects displays the couple's shared fascination with the intersections between craft and technology, and ways in which mechanised industry and robotics can birth new forms of human creativity.
Icon spoke to the duo as they prepared for two new releases in Milan, and heard about new experiments, whether Stockholm beats Paris, and their hidden talents.
ICON: What you're looking forward to this summer?
Fredrik Färg: We are launching a new carpet for [Italian rug producers] Nodus and a new armchair for BD Barcelona in Milan during Design Week. We will also be part of an exhibition by Maison & Objet at Rossana Orlandi, showing several objects from our previous exhibition The Baker´s House. Then we will go to New York in May for ICFF [the International Contemporary Furniture Fair] to launch a textile collection we made for Bernhardt Textile. In June, we will finalize the interior design of a studio-slash-apartment at the Swedish Institute in Paris. So, for summer, we are looking for some rest and inspiration. We will probably stay in Sweden at our holiday house in the Stockholm archipelago and welcome our friends there.
Knäckebröd Lamp from The Bakers House, Stockholm. Courtesy Farg & Blanche
ICON: At The Baker´s House at Stockholm Design Week, we saw your work in a bread factory – one site where, in the 20th century, a craft process was transplanted onto a mechanised production line. Are there fields of technology or industry where you see craft infiltrating, today, or vice-versa?
FF: We live in a time where technology and industrial processes have never been so accessible. We have and use 3d printers and it's possible to even have your own laser cutter. Looking back 10 years, when we were in design school, not even the school had [these machines], and today they're on every designer's table. Technology or industrial processes do not always have to be visible, some of our most innovated material uses are not visible at all – it's inside the furniture not meant to be seen. One example of that is our chair series Emma and Emily for Gärsnäs, which has a flexible textile backrest structure. Together with extremely skilled seamstresses, this is doing something that a traditional upholstered wood-back chair could never do. Another example is the lamp we made for The Baker's House. There, we took a Swedish symbol the Knäckebröd [crispbread] and we 3D-scanned this, and adjusted the file to make it possible to use with a CNC cutter… The casting is done by skilled glassworkers at Målerås Glass factory, in a manual way. 10 kg of crystal glass is hung on a light tube. That was a challenge in itself to make that work, designing a new light fixture holding that pressure, so here the technology meets craft again.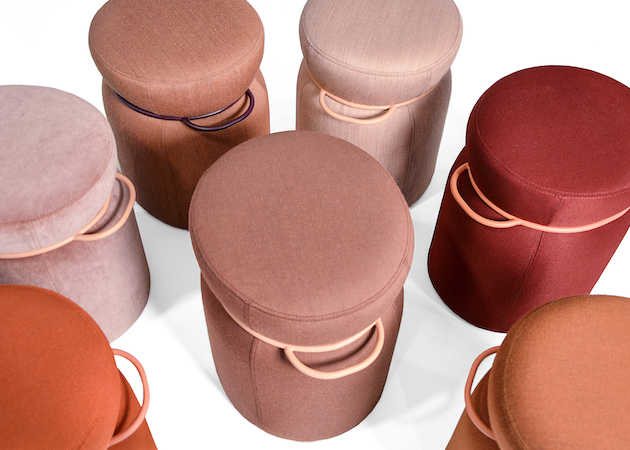 Parker is an oval-shaped stool for Johanson. Courtesy Farg & Blanche
ICON: You're designing a lift, for Artico. Is there a way to raise the lift-riding experience beyond the banal?
FF: We are just at the beginning of our process designing for Aritco. But absolutely – a lift is a space and every space can have a different experience. One of the amazing things with the lifts of Aritco is that they don't take up much space, just 30 cm more behind the back panel. It's almost like furniture, but this will take you to another floor!
Emma Marga Blanche: For me taking an elevator is a pause in everyday life. What do you do with this precious time? There are endless possibilities!
ICON: Is there an industrial object you'd most like to make?
EMB: A flying carpet would be cool – but that's almost like a lift, which we are already doing. We would love to make loudspeakers, work with fashion, or design a boat.
ICON: You've talked about what you've called 'extreme sewing' – stitching things that aren't fabric, as you did in your Couture chairs. Can you take it further? How far can it go?
FF: This is something we always experiment with, I don´t know how far we can take it. For example, with metal stitching, now it's time to take it further and refine it, finding the right application and collaborator for it.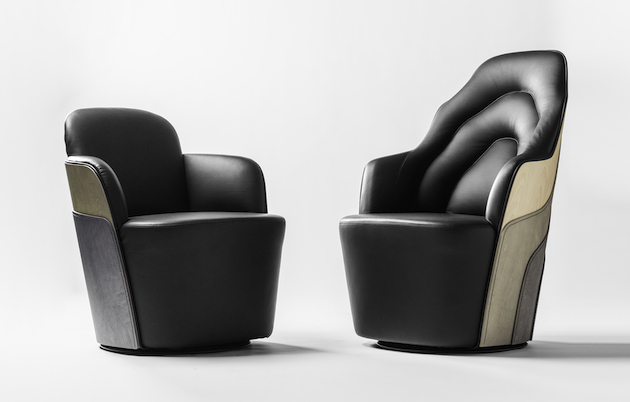 COUTURE armchair made with Wood Tailoring™ technique, produced by BD Barcelona Design. Courtesy Farg & Blanche
ICON: Where's more exciting to be a designer, Sweden or France?
EMB: We have only been working from our base in Sweden, so it is really difficult to compare. But we love the fact that we are working with a French company like Petite Friture and I hope to be able to work more in France in future. The most exciting thing is to have a foot in both worlds.
ICON: What's your favourite city to visit?
EMB: I would say Bombay, it has been a long time, but I would love to return, I really love India and I would love to go there with Fredrik.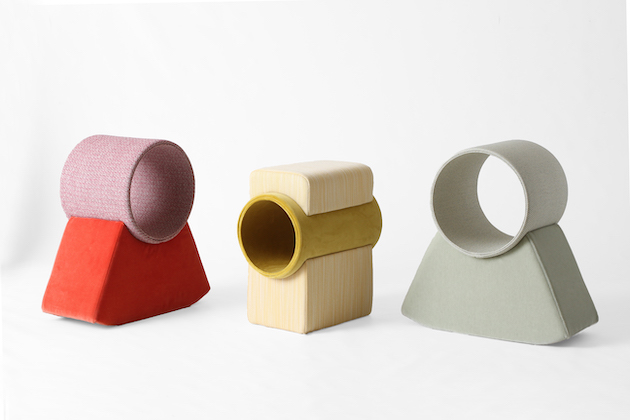 Courtesy Farg & Blanche
ICON: Is there one person you would like to collaborate with?
EMB: Maybe not a person in particular, but we would love to collaborate with a luxury fashion brand like Louis Vuitton or Burberry.
ICON: In Stockholm, we heard Fredrik play piano. Do you guys have any other hidden talents?
FF: Of course! But this is something we can't tell you – hope we can surprise you at a less expected moment!
---