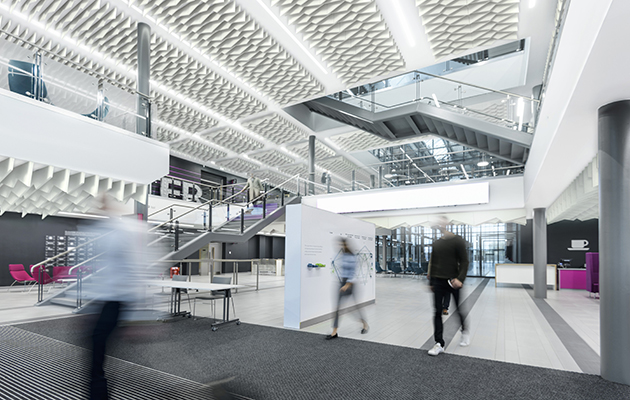 Acoustic specialist Saint-Gobain Ecophon has extended Ecophon Solo™, its market-leading family of free hanging acoustic panels, to provide architects and designers with larger sizes, integrated luminaries and new baffle designs for even greater creative freedom.
Ecophon Solo™ was the first acoustic cloud launched to the UK market almost ten years ago. A design-friendly, free-hanging sound absorber comprising a lightweight yet durable innovative glass wool core, with a plant-based binder and no added formaldehyde, it can be installed in virtually any space. This flexibility is what makes Solo ideal for both new build and refurbishments where a full acoustic ceiling is not desired for aesthetic or practical reasons.
The expanded Solo range features panels in a variety of standard shapes including square, rectangular and circles, including Ecophon's new 3000×1200 mm super rectangle – the largest on the market – and its on-trend narrow 2400 x 600mm rectangle. And with the option to create custom shapes and colours, Solo Freedom allows designers to express themselves even more creatively.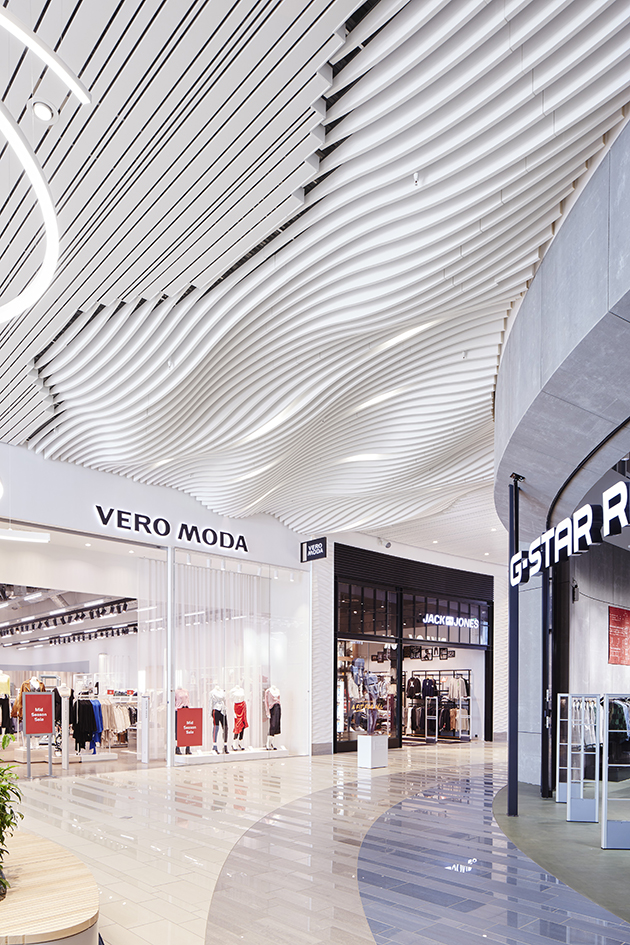 The range now also provides a combined lighting and sound absorption option, the Ecophon Line™ luminaire. One of three normally only available in the Ecophon Focus™ range, the sleek unit has now been integrated in the 2400×1200 mm Solo panel so installation is as simple as hanging the panel, adding the included luminaire and connecting into the lighting system, for combined acoustic and lighting performance.
In line with the recent architectural trend towards vertical absorbers, Ecophon Solo™ Baffle Wave and Ecophon Solo™ Baffle ZigZag are innovative new shapes designed to complement the traditional straight edge design. And with growing recognition of the importance of adding sound absorbers to walls, Solo™ Baffle on Wall enables an architect to make an aesthetic statement while delivering an improved sound environment.
Finally, recognising that either as part of the design or due to a lack of ceiling height, Solo often needs to be installed close to the ceiling surface, the brand has developed a new, direct fixing solution which makes it simple to install the Solo panels a mere 50 mm from the soffit.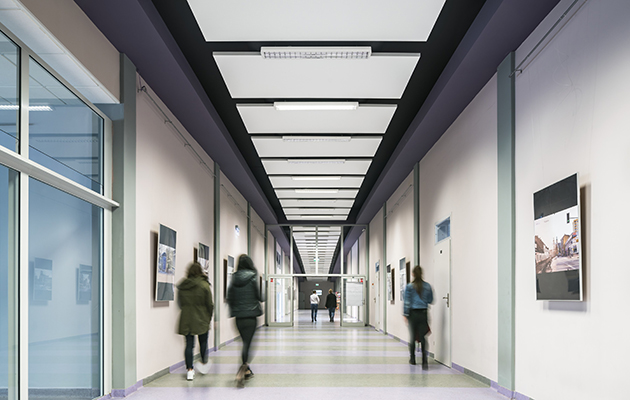 Commenting on the launch of the new Solo products, Will Jones, Marketing Manager at Ecophon said: "The design of interior spaces has a huge effect on people's experience, so architects need the freedom to design with solutions that not only deliver the required acoustic performance but also complement, and even enhance, this. Since we launched the original Ecophon Solo™ system it has become a favourite among architects and we are proud to still be building on what we started almost a decade ago."
Saint-Gobain Ecophon develops, manufactures and markets acoustic products and systems that contribute to a good working environment by enhancing peoples' wellbeing and performance. For more information about the Ecophon Solo™ range visit www.ecophon.com/uk/thenewsolo
This is an advertorial feature
---