The contemporary benches combine music, light and design for a collective experience in public spaces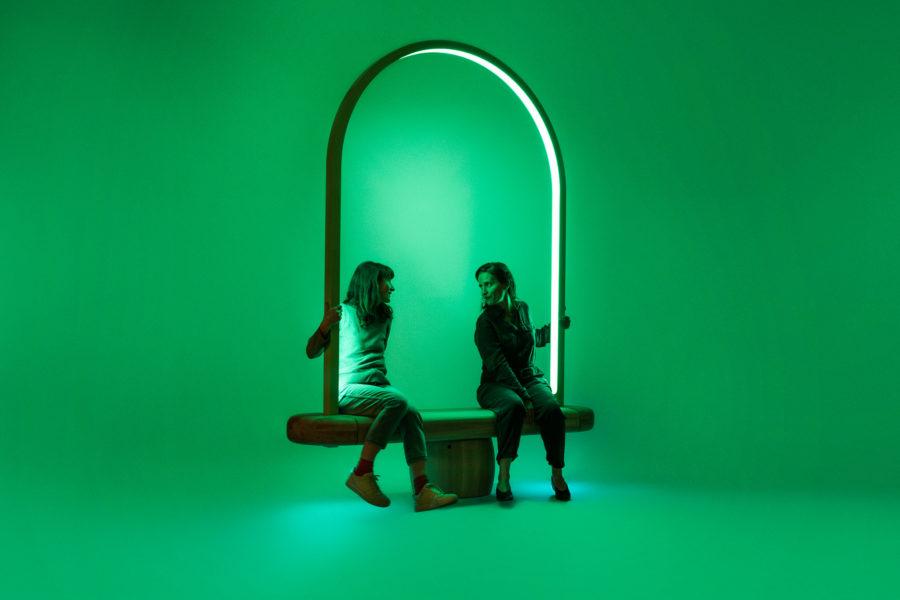 Montréal-based art and design studio, Daily tous les jours, co-founded by Mouna Andraos and Melissa Mongiat in 2010, recently unveiled Daydreamer, a new sculptural series of illuminated, slowly rotating public benches, accompanied by gentle music.
Leading an emergent field of practice combining technology, storytelling, performance and placemaking, Daily tous les jours has previously presented their work in more than 40 cities around the world, inviting humans to play a critical role in transforming the spaces we occupy.
Conceived to create a ritual around a moment of pause in the urban realm, Daydreamer stimulates imagination and relaxation, and like much of the studio's work, encourages a communal, synced up experience in a shared, calming soundscape.
Inspired by the motion of the rocking horse and the carousel, the Daydreamer benches play different music scores that create harmonies with each other. As a set, Daydreamer acts as a sculptural musical instrument that anyone can play. Each Daydreamer bench sings with a different voice in a polyphonic choir.
The first edition of the Daydreamer installation has been custom-tailored for the city of South Bend, Indiana, USA. Playing a significant part in the redesign of Plaza Park, the interactive urban furniture set features as a permanent installation and consists of three revolving long benches, each accommodating up to four people.
Finished in white oak and a powder-coated aluminium arch, with integrated LED lights, when the public sits on the benches, and starts pushing them, the mechanism inside each bench's pivot centre ensures the motion is a slow, rocking one. Simultaneously, music is triggered through a technical sync, merging analog and digital movements.
Placed in the round, the artwork aims to encourage the public to synchronise their movements in a shared musical experience. Daydreamer components are scalable, and customisable for both indoor and outdoor settings.
Contributing to the quality of urban experiences, Daily tous les jours is known for creating interactive installations that spark joy within public spaces. Highlighting the importance of play for adults and its positive impacts on health and wellbeing, Daydreamer invites members of the public to interact directly with the work.
The installation provides a simple ritual around a moment of decompression so that, as per the title of the work, the public's imagination is called into play, and the public space becomes a place of relaxation for urban dwellers.
Daydreamer benches have been awarded 'best public art installation' by HUB Montréal, in October 2022.
Photography by Qure
Get a curated collection of design and architecture news in your inbox by signing up to our ICON Weekly newsletter
---