At the Paris design fair, several emerging design brands are pushing their focus towards a form of sustainable creation, whether through upcycling, recycling or encouraging repair
At Maison & Objet 2020, among the rising talents, curated picks and new launches, there were several standout designers that created beautiful furniture, objects and accessories while trying to remain conscious of their environmental impact. Here, we pick our highlights from the event.
Natacha and Sacha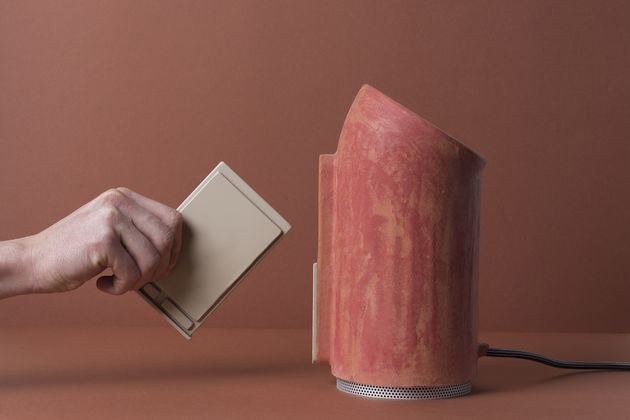 Natacha et Sacha's ceramic-based portable hard drive
This year's fair chose seven designers for its French-themed rising stars prize. Among them were Natacha and Sacha, a pair of industrial designers with a focus on technological design. Their designs on display included a ceramic data hub that Natacha explained was both symbolic, with the material representing the value and fragility of our data, and practical, acting as a naturally ventilating material for a hardworking piece of tech. Elsewhere, a rug made with Kvadrat used existing fabrics and decorative stitching to create a desirable household object, an air humidifier turns into a vase when not in use, and the pair's prototype for a ceramic and metal kettle is designed with the heating element in the base, making the object easier to clean, repair and continue to use. 'Making things that can easily be repaired is a real passion for us,' Natacha told Icon.
Wendy Andreu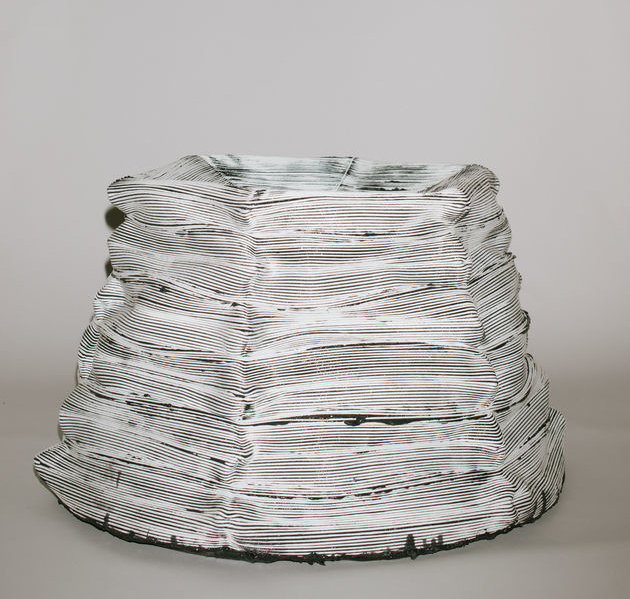 The Regen seating elements by Wendy Andreu
Another one of the rising talent cohort was Wendy Andreu, a designer who trained in metalwork but has recently worked on several experimental textile projects. Her work with outdoor textile manufacturer Sunbrella resulted in her turning the waste fabric into a pair of stools. 'I'd used resin before, using different fibres – and realised that the selvedge strips could be the fibre that creates the structure in these designs,' she told Icon. The fabric colour gives the stools their intriguing speckled appearance – not immediately evident as textile – and, as Andreu explained, the strips of colour reveal what colour fabrics were used that season. Further creations include rugs and relaxed seating made for a rope and shoelace manufacturer – Andreu created the Regen seating elements by bonding cotton ropes with silicon and shaping them into 3D forms around a metal frame, ready to be upholstered.
Meta Design
The Whims special edition made of recycled pallet wood
The Taiwanese lighting brand has a strong focus on craftsmanship, using different types of wood to create elegant ranges of lighting, such as the Apsis designed by Zak Stratfold, which offers warm or cool shades of light with a gentle touch of the wooden lamp head. Meta's efforts to bring a greater focus on sustainability are also evident in the adjustable Whims range, with the design now made in two recycled versions – one made with upcycled wooden pallets, creating a lamp base of mixed grains and hues, and the other created from old cypress window frames from house renovations in Taiwan, sanded down to a pale, smooth finish.
GreenKiss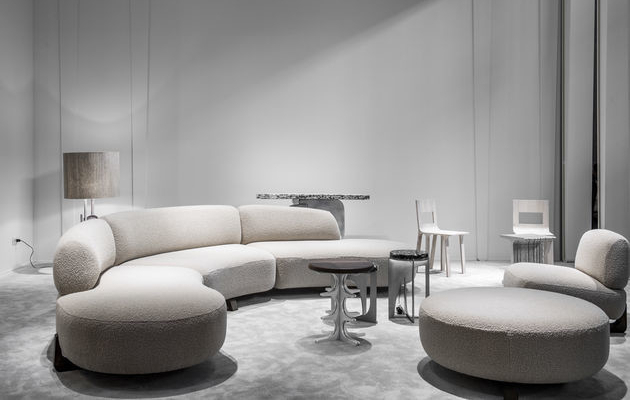 A selection of GreenKiss products, including the Niko sofa. Photo by AETHION
GreenKiss is a new furniture brand that launched at the 2020 fair with a focus on sustainability. Architect Thierry Lemaire, designer Hubert de Malherbe and Paolo Castelli, the new firm's CEO, launched their first collection of chairs, tables, lamps and a sofa set with the aim of using 'mindfully sourced' materials to create an appealing collection inspired by Italian and French design of the 1930s to 1970s. The unifying aesthetic is one of curved shapes and minimalist lines, and the focus so far is on incorporating some environmentally conscious materials within each piece – the Niko lounge furniture uses eco-friendly rubber and sustainable 'second choice' ash with imperfections, tables are made with recycled marble or stone, and the lamps with woven hemp shades.
Boutures d'Objets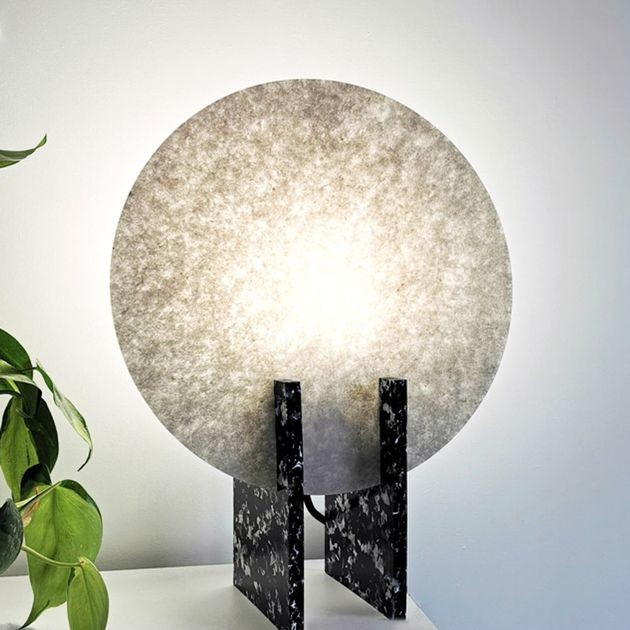 The Solarium lamp, made using recycled plastics
Selected by François Delclaux as an exhibitor within the Living section, Boutures d'Objets presented their first collection at the 2020 fair, showcasing lighting and accessories all produced in France using recycled materials. Despite some of the connotations recycled materials can still have, seen as rougher or inferior, these objects' appearances belie their past, even in concepts as simple as glass bottles being turned into lampshades. Oyster shells become vases and lampshades with a stone-like appearance, designed by Marin Thuéry and Valérie Windeck, turn broken glass from car windows into simple rippled receptacles with impressive solidity, while single use plastics are turned into translucent lamps that look as delicate as tissue paper.
---