The two designers collaborated to produce Freedom to Move, a collection 'enraptured in a marriage of ergonomics and spectacle'
Lagos-based architect and designer Tosin Oshinowo has collaborated with London-based textiles and furniture designer Chrissa Amuah to design a collection of headpieces that explore the idea of protection and celebration, as well as functionality and ornamentation.
Commissioned by Lexus and in coordination with Design Miami/, the Freedom to Move collection is conceived as an alternative to the utilitarian face masks that have become ubiquitous this year, while celebrating a collective desire to move through the world together freely.
'As nomadic beings, it is unnatural to stand still, and we wanted to reconfigure how we move in a positive way in spite of the restrictions of motion the world now finds itself in,' says Amuah. Oshinowo adds: 'Our conceptual design makes a bold stride towards our new human existence and is enraptured in a marriage of ergonomics and spectacle.'
The collection includes three headpieces – titled Egaro, Pioneer Futures, and Ògún – which harness various materials such as brass, bronze, leather, and acrylic, with detailing of hand beading, laser etching and embroidery using the West African tinko method.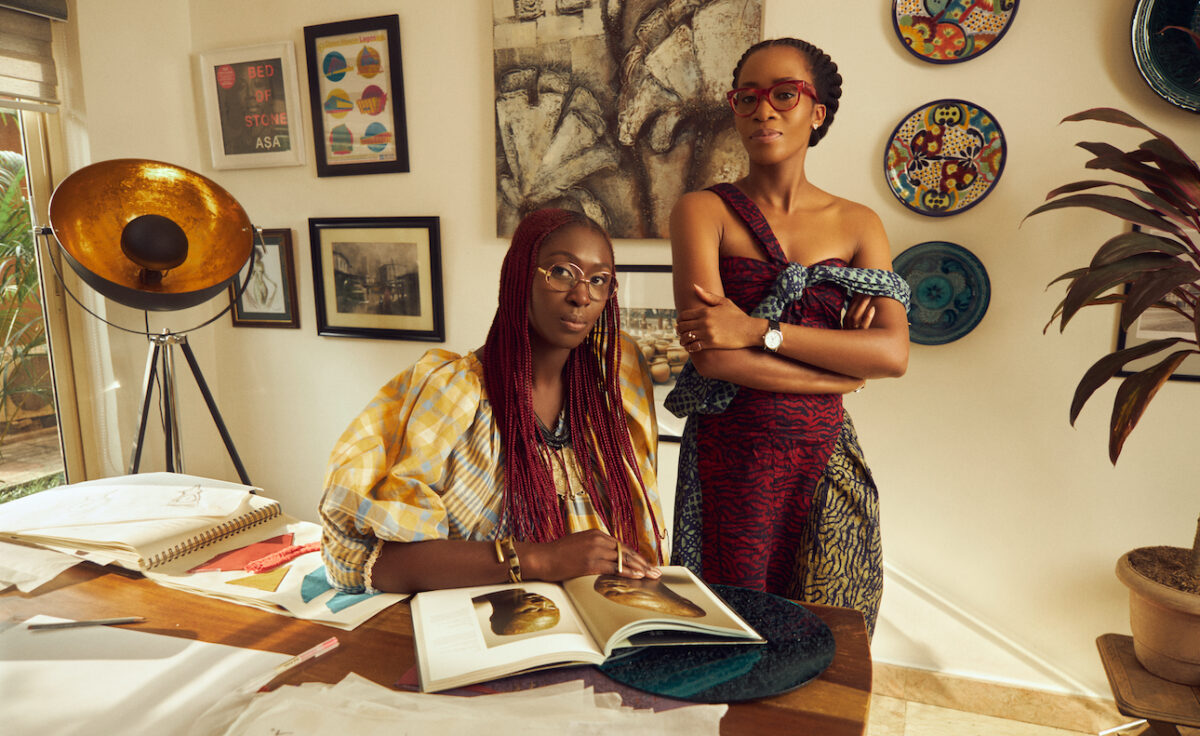 Collaborating both in Lagos and remotely, the designers utilised the help of 3D modellers, bronze casters, sculptors and artists both in Nigeria and the UK. While together in Lagos, Oshinowo and Amuah considered their context in Africa while drawing on global references: 'Thinking about Africa as the birthplace of mankind, we then expanded out to explore multiple cultures, taking cues from Japan's principles of Omotenashi (exceptional hospitality) and Takumi (expert craftsmanship).'
Moving beyond the medical face masks of today, Oshinowo and Amuah explored global history in which the head has been a focal point for protection and adornment across cultures. 'The global pandemic has prompted everyone around the world to consider and evaluate notions of protection, movement, comfort, and communication,' the designers explain.
'We began to think about how we could reconfigure our human movement in this new world, and how we could reconsider restrictions that are currently taking very utilitarian form to be a celebration of possibility, of life, and of community through this time… Thinking about the masks that we all now wear for daily protection, we wanted to take a step further and consider how we can not only protect ourselves, but use this opportunity to celebrate our joint humanity.'
The Egaro headpiece (above) takes its name from the site at Termit in eastern Niger, where archeological evidence shows Africa independently invented its own iron technology 5,000 years ago. The stencil design running across the headpiece acts as a face shield, while the pattern etched on to the visor is inspired by the pulmonary veins of the lungs. One version of Egaro is transparent and one is covered with reflective bronze.
Pioneer Futures refers to the age of enlightenment. A pleated collar made of leather and suede protects the mouth, while an astronaut dome protects the eyes. A hand-embroidered pattern references African fractals that make up mathematical connotations. 'These African sequencing designs are also seen in cornrow hair designs, which we emulated in the pattern using the West African technique called tinko embroidery,' explain the designers.
Ògún is named after the traditional Yorùbá god of war, metal and technology. The bronze design of this headpiece looked at the history of the Benin Kingdom, its influence on the Yorùbá people and contribution to modern civilisation. Oshinowo and Amuah worked with a fifth generation bronze caster in Benin, using ancient techniques.
Headpiece photography by Mark Cocksedge. Portrait photograph by Spark Creative
---