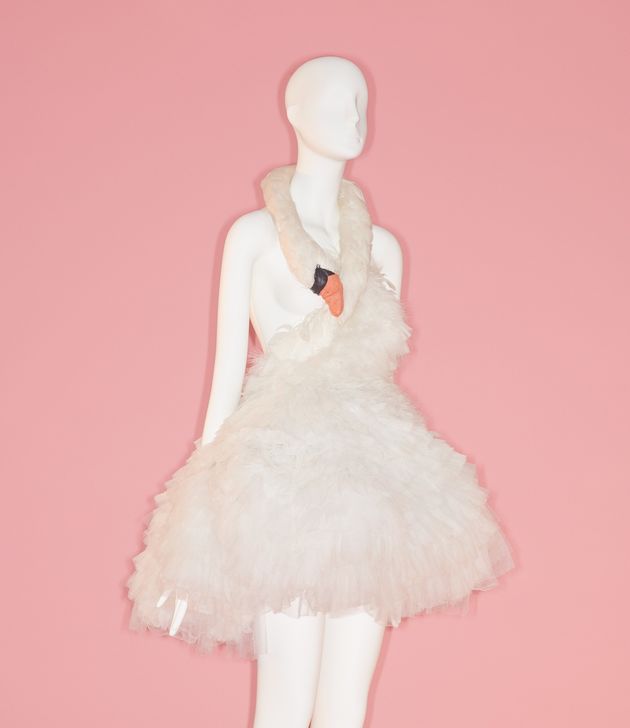 Marjan Pejoski's swan dress, from the Autumn/Winter 2000-2001 collection, on display at the Met
Presaging the politicisation of the red carpet in the #MeToo era, the swan dress didn't say 'look at me' so much as 'look at yourself looking at me'. By Amber Butchart
'The hallmark of Camp is the spirit of extravagance,' wrote Susan Sontag in her influential essay Notes on Camp (1964). 'Camp is a woman walking around in a dress made of three million feathers.' Sontag was drawing on images of Hollywood's golden age: Ginger Rogers dancing weightless in gently moulting ostrich feathers; Marlene Dietrich clad in dramatic cockerel plumage in Josef von Sternberg's 1932 classic Shanghai Express. But the sentiment also applies to the moment in 2001 when Icelandic artist Björk walked the red carpet at the Academy Awards in a dress by Marjan Pejoski that resembled a swan.
That year, Björk was nominated for an Oscar, alongside Sjón Sigurdsson and director Lars von Trier, for Best Original Song for I've Seen It All from the soundtrack to Dancer in the Dark. The red carpet performance – she also stopped to 'lay' an egg – was described by the New York Times as 'self-conscious wackiness' and the look still regularly tops worst-dressed lists. Traversing the boundaries between costume and fashion, barely an article on red carpet dressing is published without reference to Björk's avian spectacle. At the time, she said that the dress was a tribute to the Hollywood musicals of Busby Berkeley and Esther Williams, as well as linking with the wintery themes of her forthcoming Vespertine album (she would wear the dress again on the cover). Yet she also noted a more corporeal concept at play: 'I thought my input should really be about fertility, and I thought I'd bring some eggs.'
Pejoski's dress is on display this summer in the exhibition Camp: Notes on Fashion at the Costume Institute of the Metropolitan Museum of Art, which uses Sontag's essay as its framework. While Björk's wearing of the dress was arguably avant-garde rather than camp, the garment itself fits Sontag's remit of camp as a sensibility that 'converts the serious into the frivolous' and 'asserts that good taste is not simply good taste; that there exists, indeed, a good taste of bad taste'. The dress also featured in Pejoski's autumn 2001 collection, a show described by Vogue as 'a dramatic fashion aviary'. The theatrical presentation included appliqué, intarsia and sequined peacocks, a three-dimensional ostrich dress and a finale featuring Alek Wek in a version of the tulle and feather swan ensemble that Björk would later take to global fame.
The feathered faux pas has proven to be remarkably prescient with regard to the politics of the red carpet. In 2012, the artist and filmmaker Bruce LaBruce wrote a response to Sontag's claim that camp was disengaged and depoliticised, stating that camp was 'by its very nature political, subversive, even revolutionary' until it was co-opted from queer counterculture and exploited by corporate capitalism. The mainstreaming and massification of camp, seen in TV shows from Drag Race to Queer Eye, undermines its 'outsider status' as a transgressive practice. The personal as political was evident in Björk's wearing of Pejoski's dress, deflecting and disregarding the male gaze that until recently dominated women's experiences on the red carpet.
In the wake of the #MeToo movement, the red carpet has taken on a new role as a space for statement dressing of the political kind. This is especially poignant as Björk issued her own public #MeToo statement relating to her time working with Von Trier. In 2018, the Golden Globes attendees – often accompanied by an activist as a guest – dressed in black in solidarity with the Time's Up movement to eliminate gender inequality and sexual misconduct in the workplace. Earlier this year, explicit political messages were seen at Cannes, when the red carpet was used to protest Argentinian abortion laws and the bombing of Syrian hospitals by the Assad regime.
It's becoming less acceptable to judge women for their clothing at events that are intended to honour professional achievements. In 2017, trouser suits began to replace the ubiquitous gown, acknowledged as a political act by many wearers, much as Jane Fonda chose to wear trousers to the Oscars as a mark of her activism in 1972. As a result, red carpet dressing has shifted, from Frances McDormand in Valentino couture teamed with custom yellow Birkenstocks, to Billy Porter in a tuxedo gown by Christian Siriano: the frivolous, the camp, the comfortable and the questionable are now deemed as witty and woke rather than gauche and graceless.
The swan dress, so derided at the time, spawned a host of copycat looks. A decade after Björk's feathery showstopper, Lady Gaga, a self-styled purveyor of pop avant-garde, made her entrance to the Grammys in an egg carriage along the red carpet. Moreover, the swan dress featured in MoMA's 2015 retrospective of Björk's work, and was recreated by Katya Zamolodchikova during a mini-challenge on RuPaul's Drag Race the same year. Far from remaining a punchline, the dress was co-opted by the world of high fashion when a similar design was presented as part of Valentino's spring 2014 couture collection.
Ultimately, appearing on the worst-dressed list is the height of camp, since it indicates that you have strayed so far from safe good taste that you are rendered a spectacle. Given a choice between the two, I know where I would rather end up.
---