Inside Nilufar Gallery, Milan. Phot by Pim Top
From the hundreds of installations around Milan during Design Week, the Icon team picks some of the very best
FAR at Nilufar Depot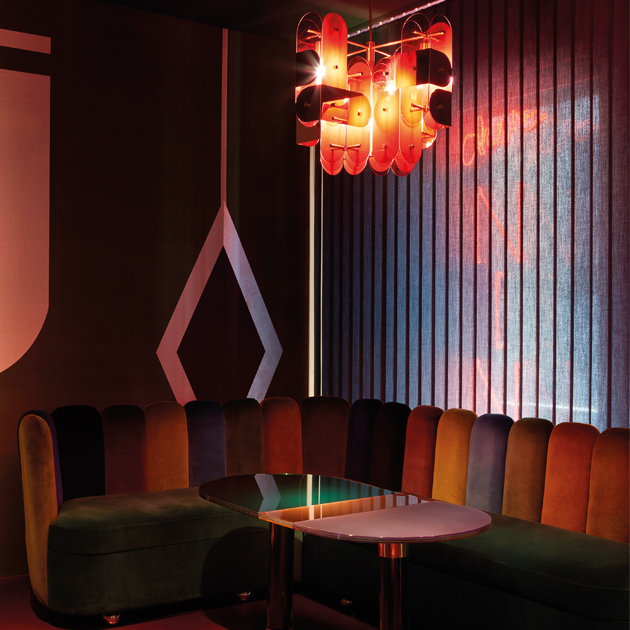 Nilufar Gallery, Milan's top design dealer, opened the doors to its 1,500sq m warehouse in the north of the city. The dramatic but utilitarian space was filled with historic and contemporary design, mainly furniture along with amorphous sculptures. Suspended from the sides of the central gallery were giant inflatable bubbles that gave the space a kooky edge.
Bang & Olufsen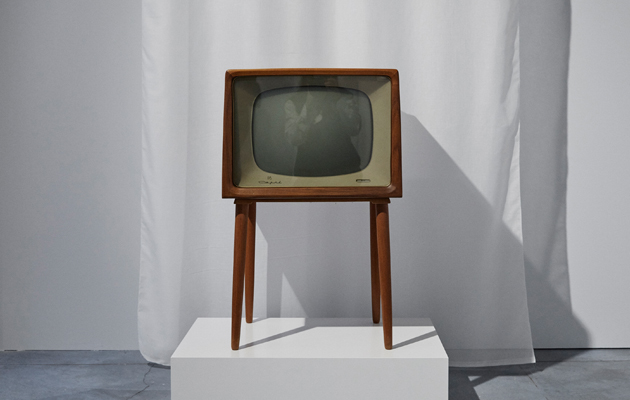 To accompany the launch of its latest TV, Bang & Olufsen held a retrospective of its retro products. Our favourites were a 1930s radio made of Bakelite, inspired by the Buick dashboard, and a 1950s television on four legs, wrapped in a teak frame. Among the more recent items were an early 1990s CD player known for its glass doors, which opened on the wave of a hand to reveal the controls inside.
Home by Hermès

Raw materiality was an obsession across Milan, and Hermès delivered a mesmeric rough-hewn show to launch its Home collection, which included lamps by Barber & Osgerby and embroidered cashmere from Gianpaolo Pagni. Its installation, designed by Charlotte Macaux Perelman of Studio CMP, transformed a warehouse in the Brera district into something near-archaeological, invoking a semi-excavated ruin, specked with exquisite discoveries.
Conifera by COS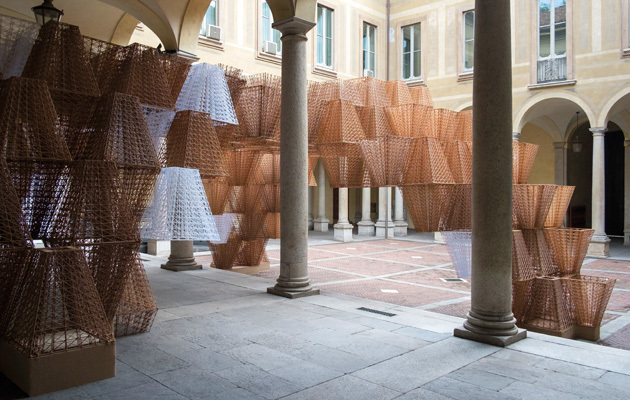 Conifera by Arthur Mamou-Mani represented the eighth commission by Swedish fashion brand COS at Salone, this time with an installation spotlighting sustainable materials. French architect Mamou-Mani created a 30m archway of 3D-printed bricks made of bioplastic, created from a mix of PLA and woodchip. The shapes take inspiration from the 16th-century tiling of its location, Palazzo Isimbardi.
Alcova 2019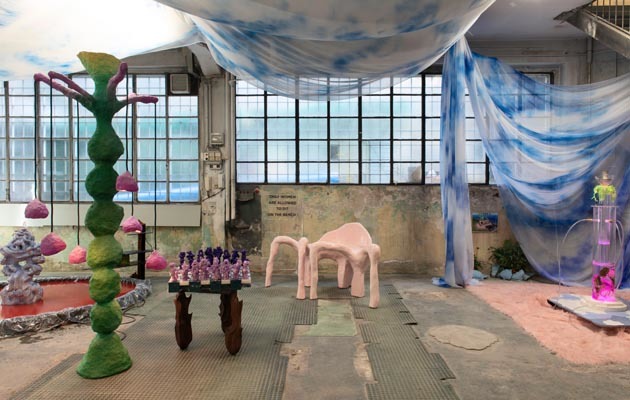 Morph Collective inside Alcova. Photo by Giulia Piermartiri
Taking over two forgotten factories, the second edition of independent design platform Alcova brought together a head-spinning array of futuristic design theory and practice. The future-focused show spanned semi-grotesque furniture from design collective MORPH, a refined open design system from Lukas Wegwerth, edible sculptures from architect Francesca Sarti and innovative materials such as the laser-printed marble waste products of Bloc Studios.
No Man's Land by Raf Simons x Kvadrat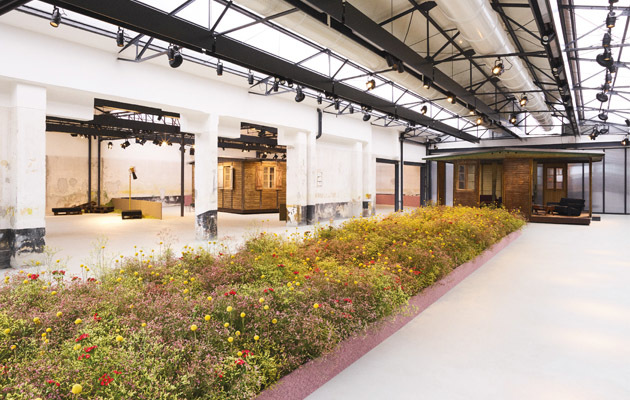 Inside No Man's Land. Photo by Casper Sejersen
For its latest collaboration with Antwerp-based designer Raf Simons, Kvadrat commissioned a conceptual installation at Garage Ventuno. A garden by Mark Colle, inspired by one of Simons' new textiles for Kvadrat, flowed with colour. Three prefab buildings by Jean Prouvé set within the space formed a seating area, a mid-century home and a textiles workshop.
---