Marcel Wanders and Terry Pecora are among the top designers offering their takes on special materials, bathrooms-as-living-rooms and other new trends
Mut/Ex.t
Founded in 2010, Florentine brand Ex.t is on a mission to go beyond the bathroom. The latest crop of products is pretty much on point. Norm Architect's Frame, a twin cabinet featuring a mirrored, wooden front, could be a feature almost anywhere in the house, but is perhaps a bit too minimal. On the other hand, Arco, the new mirror-panel-cum-washbasin designed by Valencian outfit Mut, is much more whimsical: its rounded corners are bang-on trend with the faucet emerging directly from the reflective surface. The mirror conceals a petite shelving system and, if you believe the manufacturer, you could even use it as a decorative console.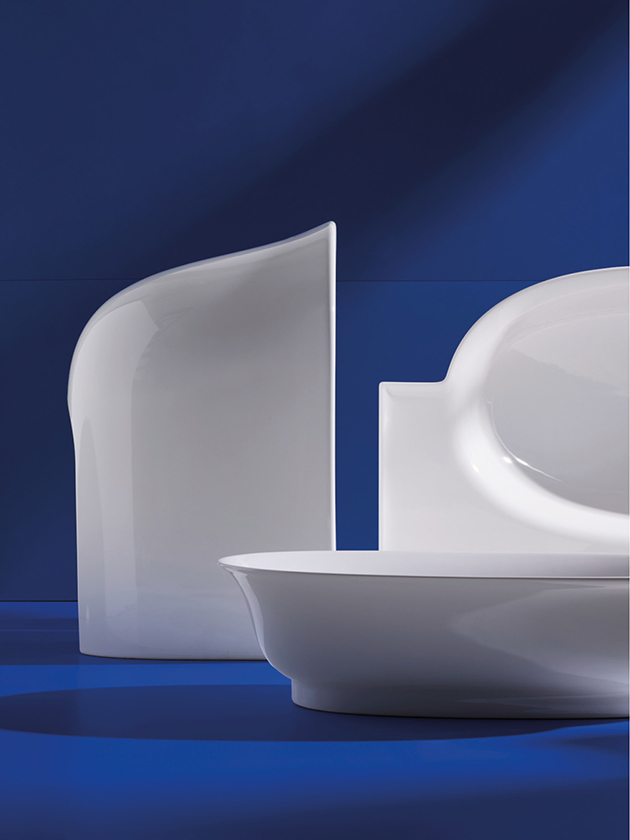 Marcel Wanders/Laufen
Laufen first unveiled SaphirKeramik – a special material that enables products to have thin, crisp edges – in 2015. It has since been given over to the likes of Konstantin Grcic, Patricia Urquiola and Roberto and Ludovica Palomba. This year, it was Marcel Wanders' turn to work his maximalist magic on the material. Needless to say, the New Classic collection is surprising, but mainly for how tame it all is compared to what we've come to expect from the Dutch designer. In fact, the classic, robust forms mesh surprisingly well with the fine materials, creating something of a pleasing throwback to a time when bathrooms were … well, just bathrooms.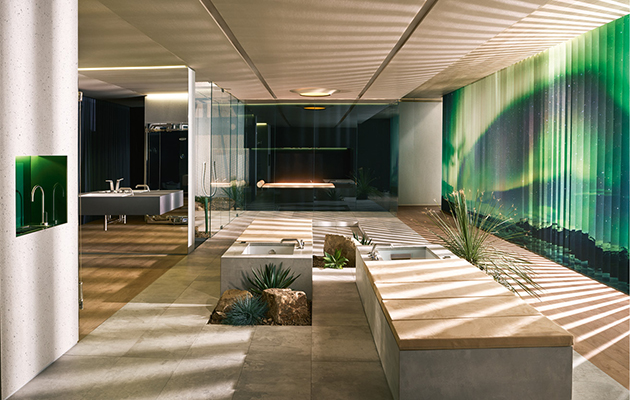 Dornbracht
The world of shower heads has moved from rain to waterfall and Dornbracht's Aquamoon may be the most bonkers, or brilliant, of the lot. A prototype of the system was shown to industry press last year during the ISH fair in Frankfurt followed by a full release this year. According to the press release, the product creates a 'unique encounter with the element of water,' which roughly means standing under an oculus-like orifice that produces either a gentle pitter-patter of raindrops or a sheet of water. There's also mood lighting of course. Aquamoon may not be for the home, but expect to see it popping up at Airbnbs in Baden-Baden later this year.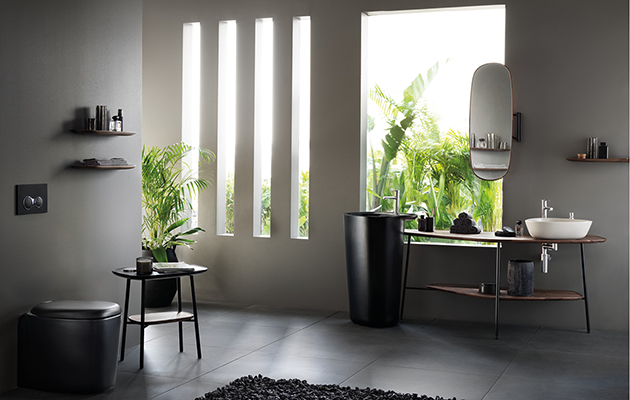 Terri Pecora/VitrA
Many a bathroom manufacturer has cottoned on to the bathroom-as-a-living-room trend, but few have done so as convincingly as VitrA. The Turkish brand presented its version of this concept two years ago, and has now introduced a full range called Plural, designed by Milan-based Terri Pecora. Featuring a set of washbasins with corresponding stands, mirrors and toilets, as well as wooden shelves and tabletops, the soft edges of each piece ensure an informal, relaxed look that invites the user to consider spending a lazy afternoon in the bathroom, rather than sprawling over a sofa elsewhere in the house.
---