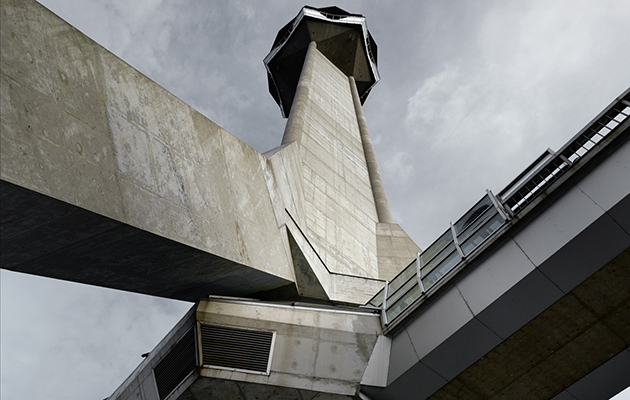 Image: Valentin Jeck / The Museum of Modern Art
Belgrade's brutalist TV tower is a monument to progress that has outlived the nation, the technologies and the ideology it was built to celebrate, writes
Matthew Ponsford
From Moscow to Stuttgart, somewhere over the skyline of most European cities, a TV tower peeps: some segmented space-age concrete needles that look like Soyuz Rockets, others tapered steel-latticed rigs in bands of red and white. Few cities love their TV tower. An ever-visible accent on the horizon, memorialising the technological leap forward that followed the Second World War, the majority of masts nevertheless had few aesthetic ambitions, drably fulfilling their broadcasting function.
Today, as digital communications are miniaturised and the analogue technologies they once supported slide into obsolescence, few Londoners would lose sleep if the city's sensible BT Tower disappeared. There are no doubt countless cities where locals are lining up to push the plunger that will bring down bland concrete columns or steel masts that spent decades spoiling the view.
A handful, like Berlin's sinister Fernsehturm disco ball and Prague's Žižkov space oddity, are different: bringing to mind a future, now lost, that their socialist builders encapsulated. Others remain loved, like Bratislava's floating misshapen diamond and Norman Forster's Torre de Collserola in Barcelona, a high-tech rock-climbing platform – a relative latecomer, having been built for the 1992 Olympics.
But Belgrade stands alone, as the only city to have enthusiastically reconstructed its tower in the 21st century, long after its original purpose had vanished. It is testament to the original 1965 design that Belgrade rebuilt, in 2010, a near-identical replica of what had been lost 11 years before: a 4,000-tonne reinforced-concrete rocket, propped up on shallow legs, with a long, trailing walkway, leading visitors out of the hills towards its hexagonal observation deck.
Only earthquake dampeners and a single metre of height was added to the 203-metre original, which was destroyed in 1999 amid the breakdown of Yugoslavia. It was one victim of a controversial NATO bombing campaign targeting civilian buildings that included an attack on Belgrade's television studios, which left 16 dead. On rebuilding, for the second time it becomes the tallest tower in the Balkans.
The space-age tripod took its name from the Avala mountain it stands atop, where for 30 years before the Yugoslav wars it welcomed arrivals at the city's southern entrance route for buses from across the unified country. The creation of engineer Milan Krstić and architects Uglješa Bogunović and Slobodan Janjić (who would later all work to rebuild the tower), its unusual form came from a traditional Serbian three-legged stool called the tronožac. It was only two decades after Yugoslavia's cities were ravaged by Nazi occupation that the tower first opened, in the capital of the country fast modernising under Josef Broz Tito's non-aligned socialist regime.
The tower, broadcasting TV and radio, signified the country's rapid turnaround. Under socialism, it had completed planned projects of rapid urbanisation in which industrial production mushroomed, and life expectancy, literacy and standards of living improved fast. TVs in homes and mass telecommunications took root at the same time as they appeared in capitalist western Europe (London's BT Tower opened the same year).
According to Martino Stierli, curator of Architecture and Design at the Museum of Modern Art (MoMA) in New York, the construction of the Avala marked the arrival of modernity in Yugoslavia. 'As much as one can say modernity is the age of mass media and telecommunications, the Avala tower really is a quintessential representation of that age,' he says.
The tower is one of dozens of buildings and sculptures included in a new exhibition at MoMA, titled Toward a Concrete Utopia: Architecture in Yugoslavia, 1948-1980. This show aims to shed light on the remarkable body of architectural work created during the 45 years of the country's existence, highlighting the Avala tower as embodying the 'a utopian vision in a perpetual state of emergence'.
Long before Yugoslavia splintered, the mostly concrete buildings and monuments featured in the show were part of forging a collective national identity among disparate groups. 'One of the objectives of us highlighting these monuments is reminding the audience and the public that these buildings had a very distinct and important function for the construction of a collective history in Yugoslav post-war society,' says Stierli.
Since the fall of communism, many of Yugoslavia's brutalist icons have been misunderstood by foreigners as oppressive ideological monuments – along with the so-called 'spomeniks' monuments that have become viral 'ruin-porn' images on social media. But this takes no account of their continued popularity at home, and the flood of mainly small donations that funded the Avala's reconstruction.
Today once again a popular landmark, the Avala TV Tower shows the possibility of strikingly realised functional architecture becoming a symbol of something that endures, even as the states, technologies, and economic systems that it once heralded vanish.
---