Lynn Hershman Leeson, Shadow Stalker (film still), 2019. Image courtesy the artist and The Shed
Icon talks to curator Omar Kholeif about shifting consciousnesses, visualising the invisible, and the technological future
We live in a post-digital reality. We carry handheld devices and stare at monitors, and we're constantly surrounded by invisible networks. Digital technology has proliferated to the point that both work and leisure seem unthinkable without it. These developments have brought convenience and connectivity, but they have also carried misinformation and secrecy, bombarded us with an endless stream of facts and impacted our emotions.
In recent decades, contemporary art has become a crucial staging ground for investigating the effects of these shifts. Art in the Age of Anxiety gathers 60 works by 30 international artists whose work explores the way digital technology has shaped our collective consciousness. There will be sculptures, prints, videos, robotics, VR and algorithmic programs, by an internationally acclaimed array of artists including Trevor Paglen, Lynn Hershman Leeson, Cao Fei and Lawrence Abu Hamdan. The exhibition takes place within a labyrinth-like design by architect and writer Todd Reisz.
Omar Kholeif. Photo by Eric T. White
Icon interviewed the exhibition's curator, Omar Kholeif, about the exhibition and the issues it raises. Director of Collections and Senior Curator at the Sharjah Art Foundation, Kholeif has curated numerous exhibitions and projects internationally, including Sharjah Biennial 14. Previously based at the Museum of Contemporary Art in Chicago and the Whitechapel Gallery, Kholeif's publications include Goodbye World! Looking at Art in the Digital Age (2018) and Time, Forward (2019).
Joe Lloyd: Do you see any potential solutions to the problems engendered by digital technology?
Omar Kholeif: That's a big question that I think we are all grappling with as humans on a daily basis. Art in the Age of Anxiety pivots around this notion that our consciousness has shifted because of dependence on specific everyday technologies. We believe anything we see on our feed and that becomes fact. Life becomes unstable. Politics becomes a game of wordplay on social media; our existence becomes little more than an algorithm that is used by corporations to make us feel that we need to consume more to better ourselves.
These are situations that have emerged through many an industrial revolution but they are now hyper embedded in our being – defining our actions-the very decisions we think we are choosing to make. I like to think of the Age of Anxiety as a kind of 'hand tremor' which then becomes a metaphor for a whole lived existence. Do I see a way out? Probably not yet. But I believe that understanding the context that underpins the technologies that we use is certainly a way to feel and be more empowered. That is why the exhibition asks more questions than it proffers answers.
Trevor Paglen, Circles (video still), 2015. Courtesy of the Artist, Metro Pictures New York, Altman Siegel San Francisco
JL: The exhibition features a diverse array of practitioners. What common concerns would you identify between the post-digital artists the exhibition covers?
OK: I believe that all of the artists featured in the exhibition are attempting to grapple with how to make visible the invisible. For example, Trevor Paglen, deconstructs machine vision; Aleksandra Domanović asks questions about the future of breeding and livelihood; Bogosi Sekhukhuni​ interrogates the platforms through which we bridge relationships and so forth.
Many artists are also putting into consideration what are the aesthetic and formal possibilities of these technologies. How do they enable us to 'see' the world differently? Can there be an alternative to thinking in a purely dystopian manner? I consider myself a digital centrist, in that I am neither dystopian or utopian about the possibilities of technology. But I would like to believe otherwise: I want utopia in my digital life!
Guan Xiao, Documentary of Agriculture: Breeding, 2019. Courtesy the artist, Antenna Space, Shanghai and Kraupa-Tuskany Zeidler, Berlin
JL: How have artists approached visualising invisible networks and structures?
OK: Many of the artists in the exhibition are exploring the interplay of real space and virtual space: what does it mean to take a virtual avatar and make it real?
Antoine Catala produces robotic emojis that roll around in space. You start to wonder when looking at them, 'what if everything from my computer or phone came into formal being/life as a kind of AI and started to take over my world?' Joshua Nathanson's practice also interestingly plays with this. A classical painter, he uses an iPad to paint scenes en plein air and then works to reproduce the aesthetic of the digital (on the iPad) into the form of paintings that he creates with a range of more 'traditional' materials, thus visualising the aesthetics of the digital in a whole new way.
In a very different vein, the legendary Lynn Hershman Leeson presents Shadow Stalker (2019) – a film that looks at the future of algorithmic identity, and makes visible the very precarious nature of our existence. It must be seen! It's a masterpiece that I am so honoured to be able to exhibit in this show.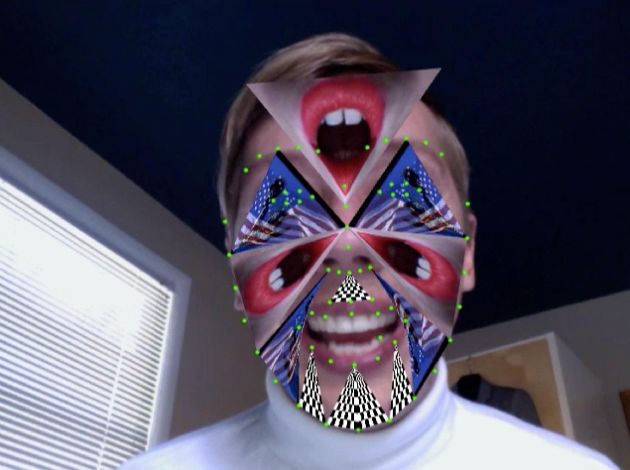 Jeremy Bailey, The Future of Television, 2012, Courtesy of the Artist and Sharjah Art Foundation

JL: Where do you see digitally-inspired art heading in the future?
OK: I see a lot more happening in virtual spaces, but also a lot more interest in some of the larger questions of our time: i.e. what is happening with Bitcoin and Blockchain, what is the future of AI, and of medicine? And how can artists play a role in making that visible while also exploring its very aesthetics?
Aleksandra Domanović, Kalbträgerin, 2017. Courtesy of the Artists and Sharjah Art Foundation

JL: The exhibition was designed with Todd Reisz. What informed his choices?
OK: Todd Reisz's exhibition design is a marvel that must be seen. We began by discussing how we wanted the exhibition to evoke the very nature, the very form of the internet. Fibre optic cables, networks, incongruous spaces, spaces that are visible yet entirely invisible from the human eye. These conversations led him to propose and produce a labyrinthian set of mazes and corridors that echo formally, aesthetically and conceptually these very notions. Through the construction of warped walls, flowing architecture, niches, and unusual juxtapositions, as well the interplay of light, shadow, and colour, he has created something that I've never been able to realise before in an exhibition form.
Art in the Age of Anxiety opens 21 March 2020 at Sharjah Art Foundation, Sharjah, UAE.
---