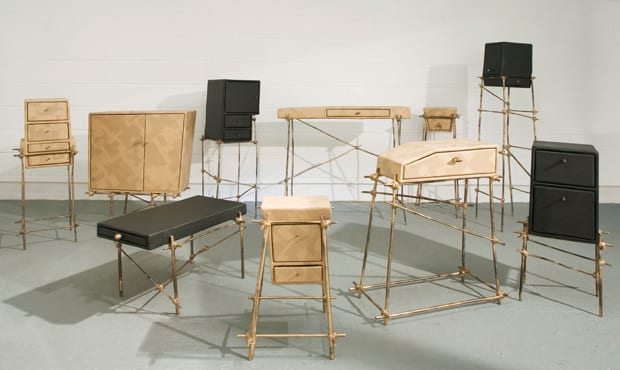 words Anna Bates
"We're not super designers," says Sarah van Gameren of London-based Studio Glithero. "We don't make shapes."
The Anglo-Dutch duo is more used to work that arises from the exploration of processes, so when they were commissioned by a local family to design a piece of functional storage, they didn't really know where to start.
"We really naively lifted volumes," says van Gameren. "It was a less conscious process – we just started with bamboo and string."
The challenge then became to stay as close to the prototype as possible, to retain an element of the original mock-up's "innocence". The cupboards are made from cardboard wrapped in gum paper and waterproofed, and the bamboo and string frame is replaced with copper through a process of lost-material casting. Increasingly popular with young designers making limited editions, this is a way of making the fragile sturdy, the diminishing immortal, and to the cynical – the cheap expensive. In Studio Glithero's case, the Les French series retains enough of its original, bare-boned innocence to keep its character and charm. The original commission will be on show at Gallery Fumi in London until 7 June.
---