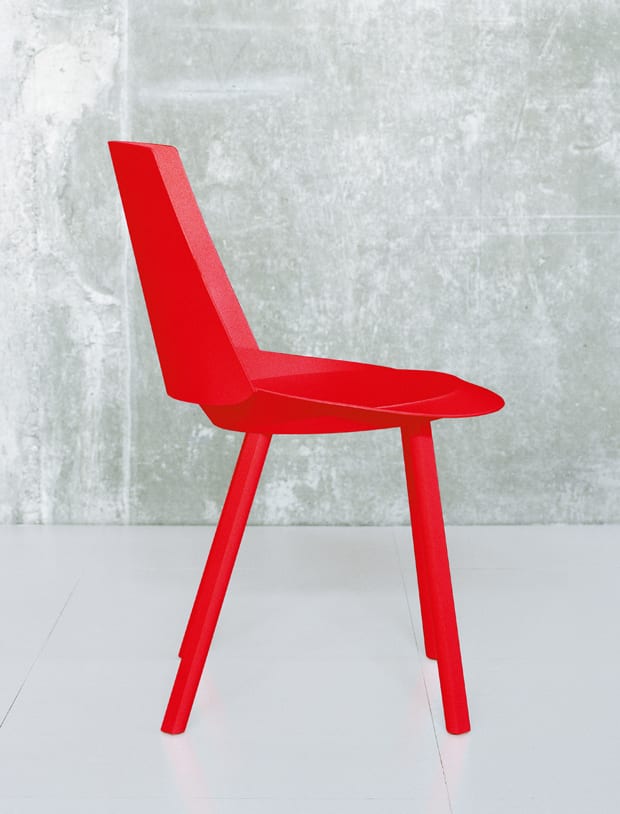 words Anna Bates and Johanna Agerman

It was the best Milan ever, said some. And even if that is going a bit far, the restraint of this year's fair was a refreshing change. It might seem banal, but for once Milan felt like a furniture fair, not a spectacle.
The clean, simple lines of Stefan Diez's CH04 Houdini chair for E15 (01) sums it up. It was less about showmanship and more reflective. New brand Skitsch for example, claimed to do "emotional contemporary design". Even Swarovski's Crystal Palace rejected the usual sparkle. Courtesy of Arik Levy, it swapped the crystal chandeliers for a sombre art installation.
Some used the credit crunch as a pure marketing opportunity. Artek proudly proclaimed "One chair is enough", presumably as long as it's one of its own; meanwhile it undermined this frugal message by launching a fragrance, Standard, in collaboration with Comme des Garcons.
Next door Vitra created an all-white space for its only launch this year, the Vegetal chair by Ronan and Erwan Bouroullec. But apart from fewer launches it was business as usual at the Fiera in Rho, the biggest change being the absence of Poltrona Frau Group. It had abandoned Hall 12 for Swarovski's old spot in Zona Tortona.
With the arrival of brands like Poltrona Frau, Bernhardt and Japanese toilet manufacturer Toto, there was definitely a more corporate feel to Zona Tortona. And as many young upstarts showed elsewhere, it risked being a little boring. The most talked-about show was the space that Paola Navone designed for the over 250-year-old porcelain manufacturer Richard Ginori, and it didn't try to sell anything.
With the bigger boys moving into Tortona, the emerging designers were scattered across town, giving the fair a disparate feel. Instead of the eyebrow-raising antics of old, we were served quiet, refined and very functional projects that seemed ready for the production line.
Overall the fair benefited from presenting a smaller, more carefully edited range of work, but we missed innovation. All the talk about how the recession will force the industry to be more inventive appears to have been a bit premature. Perhaps that will kick in next year.
Stefan Diez
Munich-based Diez's beautiful CH04 Houdini chair for E15 is made by hand-stretching slabs of plywood around a wooden ring to form the back and seat. Held with glue, this highly original chair (01) looks more like an origami sculpture than something you can lean your weight into – but you can, and with great pleasure.
Studio Makkink and Bey
Makkink and Bey had strong shows with a couple of brands this year. They took over a good chunk of Dutch design company Droog's event with House of Furniture Parts – a plywood house (03) with furniture-shaped CNC cut-outs (02), so in theory you pull a table off the wall when you want to have dinner, then whack it up there again once you're done. Entertaining and suitably gimmicky for Droog, what warmed us most to the collection was the pre-assembled furniture itself. Beautifully finished and joined, the tetris-block shaped pieces had a lovely homespun quality. Makkink and Bey also showed a series of similarly geometric furniture pieces with Dutch brand Prooff (05), where we took a strong liking to the gigantic polystyrene floodlight (04) that was part of the installation. It's about as practical as a pet elephant, but we hope its popularity will convince Prooff to turn it into a product of sorts.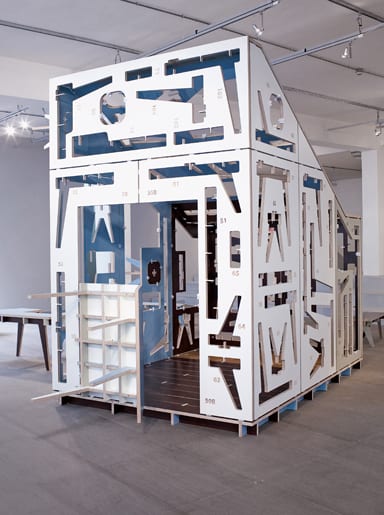 Konstantin Grcic
We showed Grcic's Monza chair (06) in the last issue, but we can now confirm that it is comfortable too. The wood and plastic hybrid is quite pared down for the Munich-based industrial designer, famed for his multi-faceted forms, but that didn't stop it appearing on visitors' favourites list.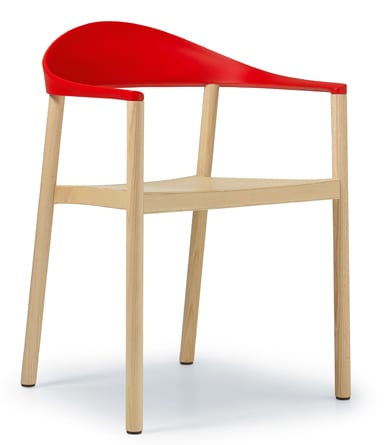 Atelier A1
The group of six independent practices – who share a studio in Brussels – set up a quiet, mature show in Galleria Bonaparte, holding their own despite being located right next door Moroso's vibrant and over-excited M'Afrique exhibition. Our favourite collection was Sylvain Willenz's series of products (07) that use steel reinforcement bars coated in high-gloss polyester, even if they are rather close to something Barber Osgerby would (or has) come up with.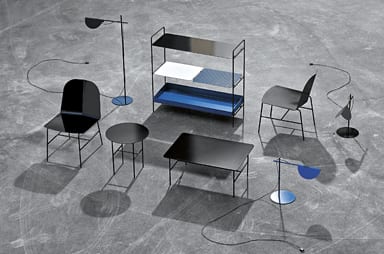 Established & Sons
Established & Sons' exhibition display, built from 60 tonnes of untreated tulip wood, threatened to steal the show completely, but once the novelty of the shacklike heap had worn off you were left to explore what was hidden inside. The simplicity of Sam Hecht's deadpan Table, Bench, Chair (yes, that's its name) was genius and stood out as one of the most striking pieces of the collection (08). From the picture its looks a bit like a zimmer frame collided with a plank of wood, but in reality it is much more refined. On the other side of the spectrum was the Bouroullecs' swollen Quilt sofa and chair (09), created from thick fabric sewn into individual pockets and stuffed with dense foam. But while it looks like upholstery on steroids, the idea is in fact very simple. Just like the name suggests, it is a quilt thrown over a steel base and seat, and fastened with a drawstring.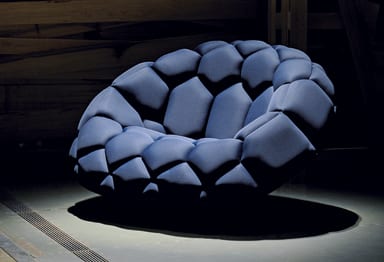 ---