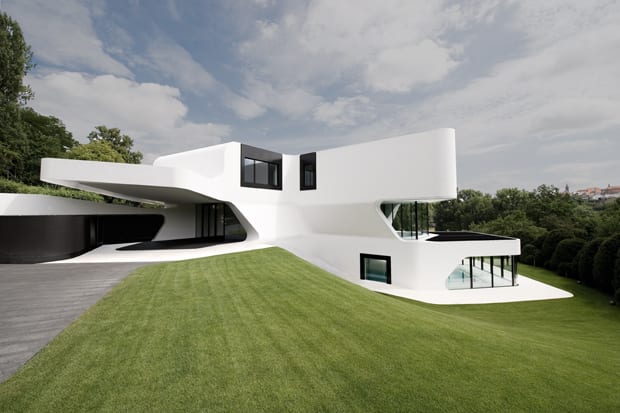 words Johanna Agerman
Jürgen Mayer H's first private commission, the Dupli Casa, appears to have liquefied around the edges. Mayer himself likens the building – built for a family of four in Ludwigsburg, Germany – to a sculpture, seeping out over the perfect green lawn.
"I'm very proud of the homogenous skin that covers the building and the ground surrounding it," says Mayer. "It anchors the building on the site. It is our first white building and it's also our most complex one in terms of geometry as it's different from every angle."
The villa has three floors and is based on the footprint of the house that previously stood on the site. The original building was heavily extended and created a labyrinth of rooms, and although the Dupli Casa has a clearer layout, it still has a labyrinthine feel because of the unexpected turning of walls and the way that different levels of the house open up to each other, creating depth and visual distortion.
On the top level each bedroom protrudes, pod-like, from the core of the house. On this floor the windows are angled to reveal specific views of the surrounding landscape and buildings – one being David Chipperfield's Museum of Modern Literature across the valley in Marbach am Neckar.
The building's middle floor is treated as a public space, with a big atrium in the lobby and large panoramic windows creating a sense of spectacle. "We are celebrating the communal spaces in an otherwise private home," says Mayer.
---