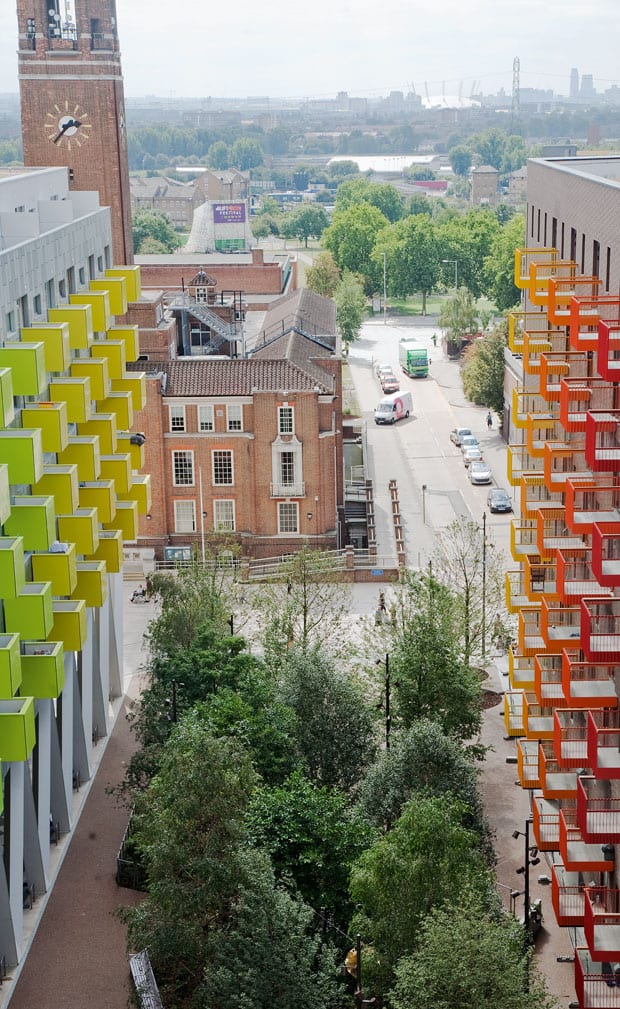 words Claire Dowdy
An arboretum designed by Muf has turned what would be a wind tunnel between two buildings into a fairy-tale wonderland.
The collaborative art and architecture practice has been involved with the community in Barking since 2005, completing the three other elements of the town's regeneration: a town square, an arcade and a folly wall. Come 30 September, the first phase of the arboretum will be in place.
Barking's regeneration is being undertaken by Redrow, with masterplan and buildings courtesy of Allford Hall Monaghan Morris. It's called Barking Central, which goes by the silly strapline "Talkin' 'bout Regeneration".
Despite the slogan, Muf has built an unexpected recreational space. With its 16 tree varieties, gentle slope and fence posts cast from branches, the arboretum could become a corner for locals to escape to. It's such attention to detail, combined with whimsical literary intentions, that make the space so appealing.
"We wanted to explore the relationship between books and trees in fiction," says Alison Crawshaw, lead designer, "and we see it as a playful space."
There is a stage at one end of the arboretum made of reclaimed timber and framed by different types of cherry tree, which produce white blossoms at different times of the year. To build on the connections between books and trees, Muf has encouraged Barking Library (relocated to the town square) to run a related events programme there.
The stone steps leading up to the stage mirror the Town Hall's steps on the opposite side of the square, and the same benches are used in the woodland and square. The lighting also has 
a seasonal setting, which picks out the colours of the trees.
"The whole thing is a play of artificial nature," says Crawshaw. This can be seen in the building of low walls of concrete cast to look like tree trunks, the fencing with the occasional real-life branch cast in iron, and the drinking fountain carved in stone to look like a tree trunk, near the stage next to the Indian bean tree.
The setting is rather magical, all the more so because of its incongruous location. Whether the burghers of Barking see it like that is another matter.

---