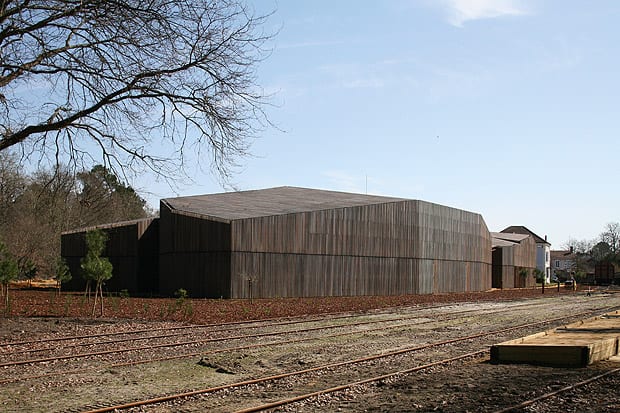 words Beatrice Galilee
A barn sits aside a railway track in a picture of rural calm, except that it's not a barn but a museum of local history designed by Paris-based architect Bruno Mader.
The three buildings that make up the extension of the Pavilion des Landes de Gascogne, in the small French village of Landes, just south of Bordeaux, draw on the local agricultural vernacular, with simple timber-framed, porticoed roofs and huge spaces.
"I tried to find something familiar in the dimension and the proportions," says Mader. "People who come say it feels like it's always been here, that it's according to the environment. That was my intention."
The railway track links the museum with a model village 6km away in a forest. And it was this forest that provided the maritime pine trees used to clad the extension. The wood wasn't the only local resource used by the architect. Landes is famous for its hot spas, and a thermal spring 50m below the ground helps heat the museum.
The roof, also clad in the same weave of timber cladding as the walls, undulates gently, with several openings allowing north-eastern light into the galleries from above. Inside, the supporting beams that overhang the generous gallery spaces are painted white.
The galleries, one of which is filled with farm machinery, are typically white-walled with polished concrete floors, but less predictably there are revolving doors between the spaces and giant doors opening onto the surrounding landscape. As well as exhibitions, the new museum has dedicated one wing to storing the many archives of the village and another to conferences and public events. The whole project was funded by the national parks committee to extend the tourism to this region and to keep the museum, previously only open for the summer months, accessible all year.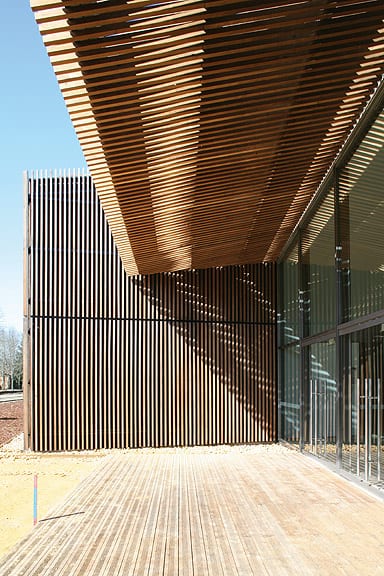 ---