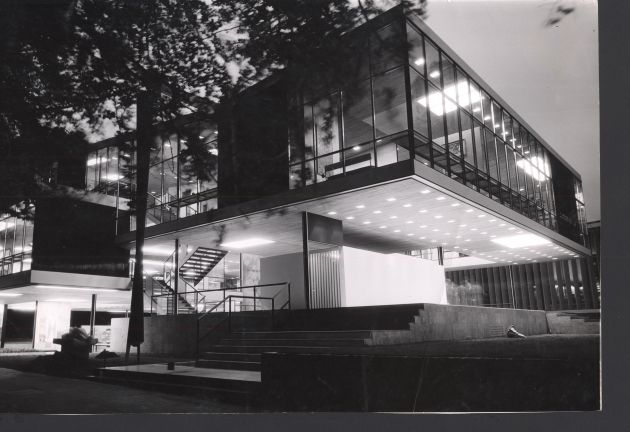 Sint Pauluscollege n Wevelgem is housed within Richter's Expo 58 Yugoslavian pavilion. Copyright: Rights reserved.
A new exhibition at BOZAR in Brussels celebrates post-war Croatia's greatest architectural visionary
Expo 58 was not a vintage one. The first official world's fair held after the Second World War, it bequeathed Brussels the Atomium, and saw Le Corbusier and Iannis Xenakis unveil the soaring Philips Pavilion, a gesamtkunstwerk of music and art with asbestos-covered walls. For all its futurism, however, the Expo carried a more regressive and repressive underside. The Belgian pavilion contained a 'human zoo' of Congolese people, surrounded by faux-primitive art largely created by white Europeans.
Away from this appalling colonial hold-out, at least one pavilion exhibited quiet optimism and stately grace. The Yugoslavian contribution, by the radical architect Vjenceslav Richter (1917-2002), was an airy construction that appeared to float above the plaza below. Supported by 12 steel columns so slender as to be almost imperceptible, its spacious interior consisted of a seamless flow of spaces bedecked with modern art.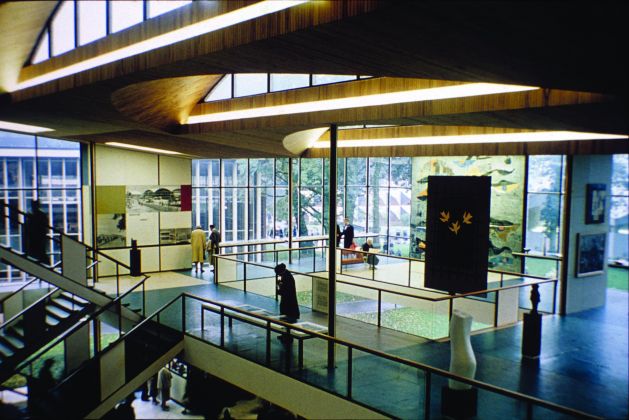 The Expo 58 pavilion's interior contained a doorless, freely flowing series of spaces. Copyright: Rika Devos.
It was, wrote one Belgian reporter, 'palace of steel, glass, wood and marble, whose elegance lies in its own containment.' Its critical success was such that it became one of the few pavilions to spared the bulldozer. Moved to the small Flemish town of Wevelgem, it now functions as a school.
The World as a Pavilion, an upcoming exhibition at BOZAR in Brussels, serves as a reflection on Richter's work from the 1940s to the end of the century. Arguably the most significant Croatian architect of the post-war era, Richter was a prolific pavilion-builder, garlanding exhibitions in Stockholm, Vienna, Hannover, Paris, Chicago, Trieste, Turin, Milan and Zagreb with his structures and stands.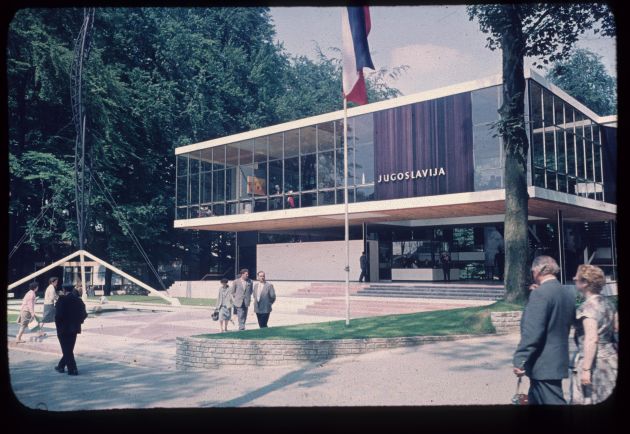 The pavilion was raised above a plaza punctuated with water features. Copyright: Willems.
His work was characterised by an attempt to synthesise art and architecture and a fixation on the repetition of small units. Much of his oeuvre from the mid-1950s onward drew on his theory of Synthurbanism, which – echoing Corbusier's Modulor man – positioned the human as a mathematical unit around which architecture and cities could be constructed. He also had a technical ambition that could sometimes run ahead of his time and budget: the Expo 58 pavilion, for instance, was initially planned to be suspended from a vast single pillar, a solution that quickly proved impossible.
Richter's expertise with pavilions chimed with his parallel career an artist. He was enmeshed in the Yugoslvian avant-garde. In 1950, he was a co-founder of Exat 51, a collective that protested against the imposition of socialist realism; later, in 1961, he would join the international New Tendencies movement, which sought a way for European art to move beyond American abstract expressionism. Richter produced art – including graphic geometric grids and undulating sculptures made from heaped aluminium ashlars – throughout his life.
Richter's Constructivism-inspired original plan for the pavilion would have seen it supported by an immense single column. Image courtesy of MSU Archive Zagreb.
Organised in tandem with the Zagreb Museum of Contemporary Art (MSU), The World as a Pavilion uses the pavilion as a metaphor for a place where art and architecture meet. 'The pavilion,' say the exhibition's curators Francelle Cane, Vesna Meštrić and Iwan Strauven, 'represents a very specific category of building in the architectural discipline. Often used in the context of exhibitions or temporary occupations, its manifesto-dimension – a hypothesis of inhabiting the world – and its radicalism is reinforced by its own temporariness.'
Richter did design an eclectic suite of permanent structures, including a 1935 residence for the Yugoslav president Josip Tito, a modernist 1960 extension to the Saponia soap factory in Osijek, and a catering school in Dubrovnik the next year. He was also a prolific furniture designer, drawing inspiration from contemporaries as disparate as Isamu Noguchi, Eero Saarinen and Roberto Mango.
Richter was also a prolific artist, who aimed at a fusion of art, architecture and design. Photo: Ana Opalić. Courtesy of Richter Collection, MSU Zagreb.
Nevertheless, the BOZAR exhibition posits the pavilion as the centre of Richter's practice. 'Object – that is everything,' wrote Richter in 1954, 'architecture, painting, sculpture, all that is object!' The pavilion offered him a place to trial his visionary fusion of architecture, art and design, one which The World as a Pavilion should re-introduce to the temporary pavilion-obsessed contemporary world.
The World as a Pavilion: Vjenceslav Richter is at BOZAR, Brussels from 5 March to 19 April 2020.
---