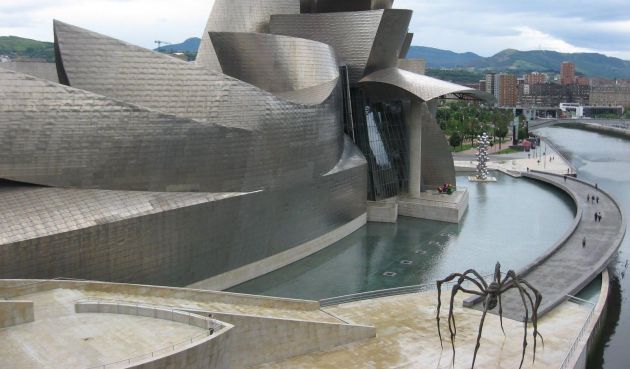 Guggenheim Museum Bilbao. Photo by Sam Valadi via Flickr
Paris had the Centre Pompidou, Sydney had the Opera House – and then Bilbao got Frank Gehry's Guggenheim
The undulating, shimmering facades of Bilbao's Guggenheim Museum in Spain's Basque Country are one of the most recognisable sights of contemporary architecture. When it opened in 1997, the museum was hailed as an nstant masterpiece. Its pull on tourists was so strong that the term 'Bilbao effect' has come to describe the impact a 'icon' building can have on a city's economy.
The Guggenheim Museum in Bilbao was designed by Canadian-American architect Frank Gehry. Gehry had captured the attention of the architecture world with the renovation of his private residence in Los Angeles, but the Guggenheim was the first large-scale building he designed with such curvaceous facades. He subsequently became famous for this sculptural look.
The Basque government had approached the Solomon R. Guggenheim Foundation, suggesting Bilbao's run down port district as the location for a new museum. The port was in the heart of the city and had once been Bilbao's main source of income. Gehry won an international competition to design the museum and was briefed by the Foundation's chairman to make it something spectacular. Remarkably for a project of this scale, Gehry managed to stay well within budget.
Read more: Interview with Frank Gehry
The building followed in the footsteps of Sydney's Opera House, which had already shown how a significant landmark could attract visitors to a city, and Paris' Pompidou Centre, which indicated how a bold contemporary design could interact with a city's historical fabric. Unlike either capital, though, Bilbao previously had very few tourists.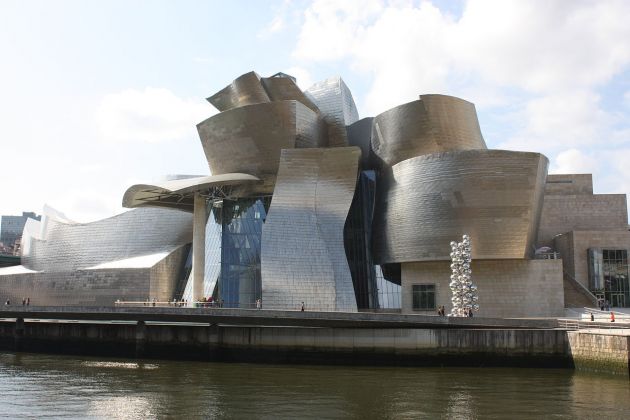 Guggenheim Museum. Photo by Ardfern via Wikimedia
In the three years that followed the museum's opening almost four million people came through its doors, bringing with them an increased spending in the city and the region. This economic impact has become known as the 'Bilbao effect' and many other cities have tried to trigger regeneration or economic growth with monumental architectural projects, to various degrees of success.
Gehry designed the mammoth structure with the assistance of relatively new computer software. It would have been imposible to build only a few years earlier. The technology assisted the architect with mapping the shape of the undulating facades, and was also able to determine where the load-bearing bars were to go. Gehry intended the curves to appear random rather than computer-generated and to catch and reflect light throughout the day. The atrium of the museum allows visitors to enjoy views of the estuary of the Nervion River and the hills surrounding the city.
The museum hosts major exhibitions of international artists as well as housing various permanent collections, including The Matter of Time, a vast sculptural installation by Richard Serra.
Gehry, now 90 years old, is well known for several large-scale projects. The Walt Disney Concert Hall in Los Angeles, the Vitra Design Museum in Weil am Rhein, Germany are amongst his most notable works.
---