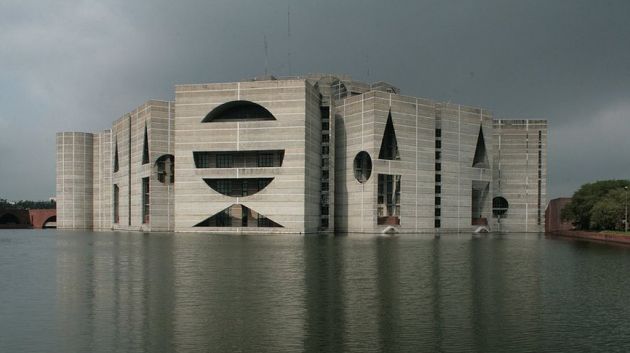 National Assembly Building. Photo by Amiraram via Wikimedia
Louis Kahn's National Assembly in Dhaka, Bangladesh uses a combination of vernacular materials and modernist principles
The National Assembly Building in Dhaka, Bangladesh was completed after its architect Louis Kahn died, but has long been described as his greatest work. It was certainly a vast and demanding commission. For its design, Kahn diligently tied together his strong modernist philosophies with a strong sensitivity to the local culture and vernacular architectural methods and materials. This was not only practical – the building is situated in a desert and needs to withstand the high temperatures – but also showed respect for the importance of the building within Bangladeshi daily life.
The project was commissioned in 1961 and when Bangladesh gained its independence from Pakistan in 1971 the building took on an extra layer of cultural importance. It came to represent Bangladeshi pride and culture and be the symbol of a new democratic government. The building was completed in 1982.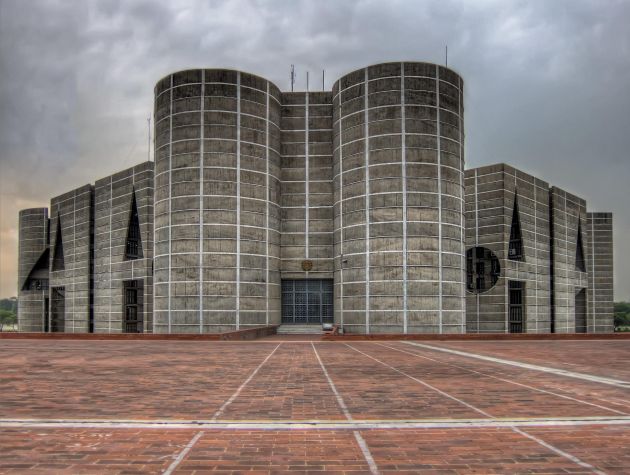 National Assembly Building. Photo by Rushdi13 via Flickr
The design is seemly simple and employs local materials. The vast buildings that make up the complex are formed from concrete, with visible bands of inlaid white marble.
The eight halls are laid in a circle around the central parliamentary grand chamber. The weight of the buildings themselves and thickness of the walls act as a thermal control against the heat, as does the water of the surrounding artificial lake. All the blocks connect via a series of horizontal and vertical corridors, stairways, lifts and circular areas.
The central assembly building seats over 300 people and is formed or a domed amphitheatre and library. To the south of the complex there is a Muslim prayer hall. This is the only building to not follow the pattern of the rest – it is orientated to face Mecca.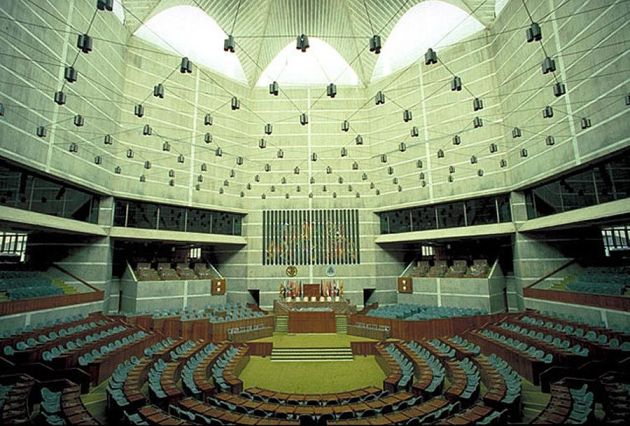 Assembly Hall. Photo by Amiraram via Wikimedia
The geometric shapes are based on forms found in traditional Bangali culture, abstracted for the building complex in order to create a relationship between old and new.
Light was an important element in Kahn's design. The interiors feature huge spaces and high ceilings, with 'voids' that are filled with natural light. Electrical lighting was designed to not interfere with the sunlight that enters the building.
The National Assembly building features three plazas: the main plaza high houses the Parliament Chamber; the South Plaza acts as a main entrance to the Parliament Building; and the Presidential Plaza, which acts as an intimate plaza for the MPs and dignitaries.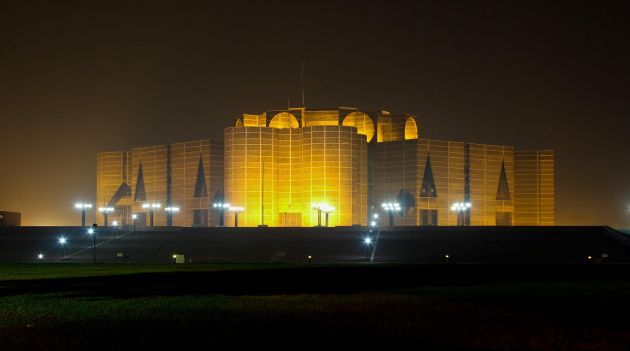 Dhaka National Assembly Building. Photo by Sajeeb Ahmed
The National Assembly Building is a popular destination for locals, many of whom walk, run or skate around its pathways and buildings.
Louis Kahn was an iconic twentieth century architect who sought to find ways architecture could improve quality of life. Well known for his monumentla concrete structures, he had a strong focus on buildings that helped create community. Kahn won the Aga Khan Award for his assembly building in 1989.
---