The enigmatic, sandalwood-yellow art space in Xiamen prioritises surface, volume and light – and is organised around a large magnolia tree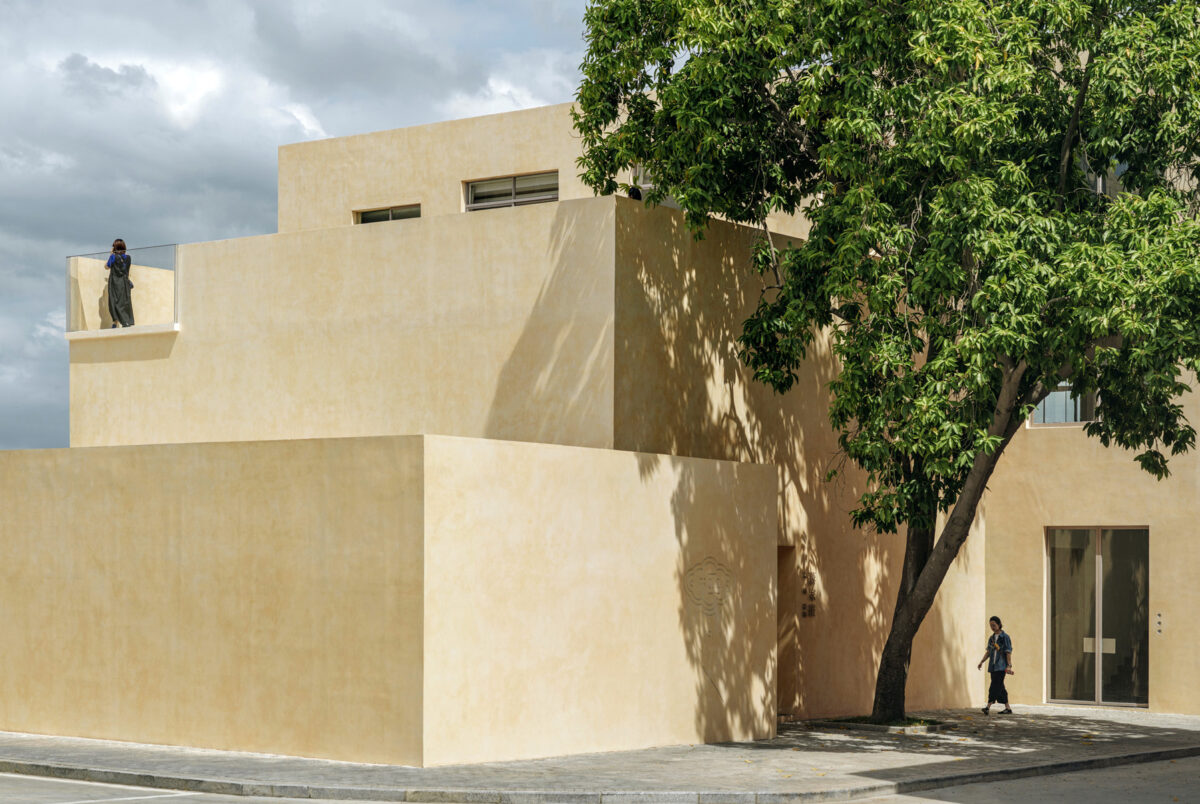 Words by Riya Patel
Shanghai-based design studio Team BLDG has created a tranquil studio and exhibition space in Xiamen by renovating a set of adjoining buildings which originally functioned as a public bathhouse connected to an aluminium factory.
The concept for the project, named The Field, was to create a 'hidden or invisible architecture' to house a collection of Buddha statues by the artist Jiang Sheng. The muted design has been regarded as a vessel for carrying the statues; a spiritual place that reflects the principles of Buddhism. Architectural components were concealed, existing windows blocked up, and details reduced as much as possible to emphasise surface, volume and light.
The building appears as three solid blocks that step back from the street. A solid wall wraps the building at street level, and there are few visible openings in the facades. These details make for an enigmatic art space that reveals itself gradually in a series of moments. 
First is the glazed entrance, shaded by a large and sculptural magnolia tree that the architects treated as a design element in itself. The dense foliage of the tall tree brushes the building at the upper levels, and is close enough to touch by visitors on the first-floor terrace. Seen on all three levels of the building, the tree is a conceived as a connecting element that intuitively guides visitors into and through the spaces. 
Beyond the entrance and first exhibition hall is a dramatic double-height space lit by 28 small circular skylights. When the sun is direct, these give a 'rain of light' effect; when it is oblique, an array of flat spots of light. The space was designed to create a play of light that goes on throughout the day and changes with the seasons. In this hall, the statues are made of wood and stone, casting strong shadows.
The main exhibition hall leads to a contrasting, single-storey dark space, lit only by two square skylights and a low horizontal strip window along one wall. This intimate space, with a 'hazy and diffuse' light, exhibits statues made of glass and jade. The effect of the light here blurs the edges of the statues and casts watery patterns on the walls behind.
The facades and interiors have been treated with the same sandalwood yellow, hand-painted to give a textured effect. The continuous finish, executed with remarkable control, helps integrate the various spaces and volumes. Though unintended, the colour takes on different shades in different light. The side elevation has a pinkish hue from the adjacent red building. The effect is a pure and protective building that also reflects its urban context. 
Photography by Jonathan Leijonhufvud
Get a curated collection of architecture and design news like this in your inbox by signing up to our ICON Weekly newsletter
---