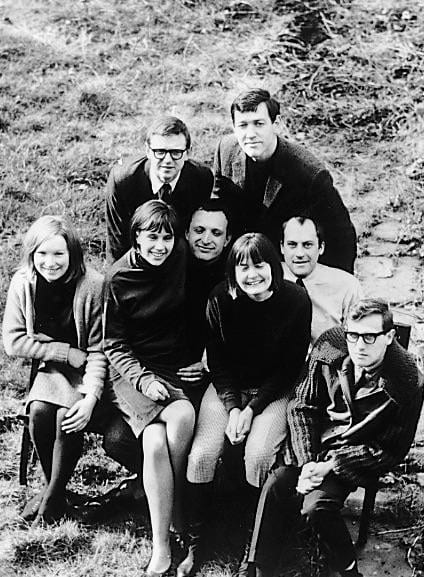 Team 4 was an architecture firm set up in 1963 that comprised the young British architects Norman Foster, Richard Rogers, Wendy Cheesman and Su Brumwell
Architecture supergroup Team 4 was founded in 1963 by Norman Foster, Richard Rogers, Wendy Cheesman and Su Brumwell. The four met while studying at Yale University. Foster married Cheesman and Rogers married Brumwell, making the group into a joint family business.
The studio were only together for a few years, but the work that the four of them undertook together in many ways informed the work that Rogers and Foster went on to design in their separate studios later in their careers.
Formed before any of the principles had graduated, the practice originally included Cheesman's sister Georgie Wolton, whose qualification as an architect allowed them to legally function. Of the four core members, all but one studied architecture. Brumwell was instead a specialist in sociology and urbanism, and so was able to bring a different perspective to the group.
Read more: Interview with Norman Foster
Like many young architects, they initially worked on small-scale projects commissioned by family. One of the earlist projects, for example, was commissioned by Brumwell's parents. Their Cornish house, named Creek Vean, took three years to build and won a RIBA Award, the first house to ever be given that honours. It is now a listed building. Positioned on a sloping cliff-side, the home looks out over a creek. It is constructed using honey-coloured concrete blocks and blue Welsh slate floors.
Another significant residential project by the studio is Skybreak House in Hertfordshire, whose interior was used in the film A Clockwork Orange.
Team 4's final project together was the Reliance Controls building in Swindon, which they completed just before the studio was dissolved in 1967. It was one of the first buildings of the new high-tech style, which both Foster and Rogers would become the defining architects of.
Read more: Richard Rogers is the most politically influential architect of our times
The Reliance Building broke down divisions between management and workforce by creating a common entrance and shared kitchen, dining room and bathrooms. It was a single-storey shed, designed to house the offices of the company.
After a few successful years, disagreements within the firm led the two couples to splinter and move their seperate ways. Foster went on to establish his own firm, Foster Associates, while Rogers went on to establish Richard Rogers Partnership.
---