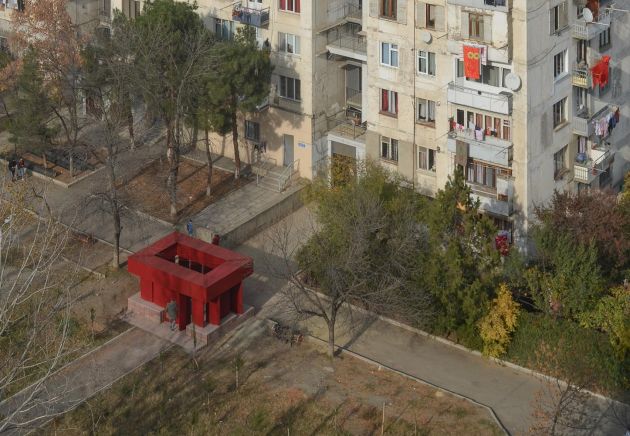 Medium's pavilion has been designed in stages to re-activate the public space on a Tbilisi housing district. All photos by Benjamin Wells/Medium
Projects like Medium's 8-23-VI show how architecture biennials can benefit local populations as well as young architects
Architecture biennials may sometimes get bad press, but they can help provide civic infrastructure – and at the same time become a fertile ground for young practitioners. In this interview, Benjamin Wells, co-founder of the up-and-coming Danish-British collective Medium, recounts to Icon's Peter Smisek how the design of a small pavilion resulted in long term engagement with Tbilisi, and how architects can help revitalise public spaces in post-war housing districts across Europe.
Peter Smisek: How and when did you become involved with the Tbilisi Biennial?
Benjamin Wells: Medium formed following several study trips to Tbilisi in 2017, during which we curated Another Architecture – an exhibition and symposium held in the city. Through this we met a number of architectural actors in Tbilisi, including the curators of the inaugural Tbilisi Architecture Biennial. This led to an invitation to contribute to the Biennial, and 8-23-VI was the result.
PS: Your pavilion, 8-23-VI, expands an earlier public space intervention you built in 2018. Why was there a need to extend it? When did this happen?
BW: We built the original installation for the 2018 Tbilisi Architecture Biennial, but had always intended to build a permanent and sheltered pavilion. The project took a year longer than intended, inadvertently transforming it from a temporary biennial installation into a site-specific, permanent and community-engaged pavilion. The unplanned phasing of the project allowed for the earlier installation to inform and act as a prototype for the permanent pavilion, testing forms of inhabitation that the second phase developed in collaboration with both local residents and Biennial visitors. The second phase was completed in winter 2019, a year ahead of the Biennial's second edition.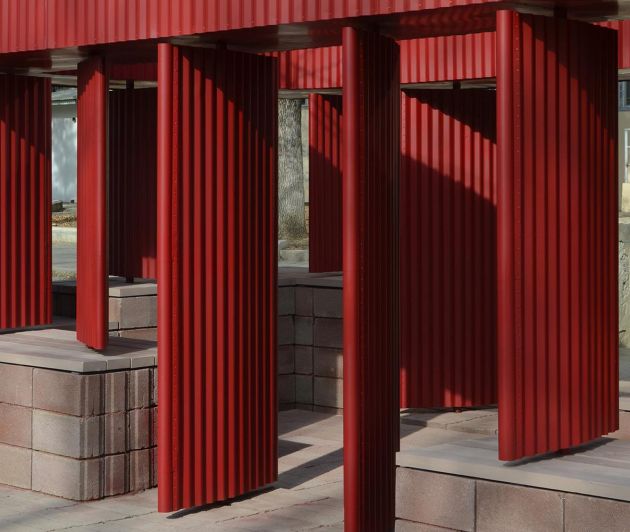 Medium's original intervention – built for the 2018 edition of the Tbilisi Architecture Biennial – forms the base of the new pavilion
PS: In what respect is the 8-23-VI a contextual work, and which lessons does it offer for other microrayons throughout Tbilisi and more generally across the former USSR?
BW: The pavilion's name hints towards its contextual intentions – designed specifically for the residents of entrance VI, Block 23, in the 8th district of Gldani [a suburb of Tbilisi]. 8-23-VI connects the semi-private circulation space of Block 23 with the surrounding public exterior, by extending and activating the threshold between them. In the context of Gldani's planned but since neglected public realm, the project re-activates this space as a common ground for collective use, questioning norms of ownership and individuality that have emerged in post-Soviet Georgia. Tectonically the pavilion's rotating panels echo the strategies of appropriation evident in Gldani's many self-built garages and extensions, but reframes them as a collective practice.
Here the project is designed in response to its specific physical context, but also explores broader themes of ownership and public-private binaries that are common across Georgia's microrayons, and no doubt others elsewhere.
PS: Can you explain your research project Common Forms and how it ties to mass housing across the east and the west, but also its links to your Tbilisi pavilion?
BW: Common Forms is an ongoing research project that explores the transformative potential of creating social space in neglected housing districts across Europe. This project establishes an alternative strategy for the architectural amelioration of neglected housing districts, through the design of Common Forms. Common Forms occupy the threshold between public and private, their function diverse and ownership undefined. Common Forms invite multiple interpretations and uses, encouraging commonality and dialogue through their inhabitation. Common Forms are attuned to their specific spatial and socioeconomic contexts, but all share an ambition to delineate and enable collectivity wherever its potential might have been forgotten. 8-23-VI explores the potential of Common Forms in the particular context of Gldani, but we have applied this thinking to a number of mass housing projects, including the so-called 'ghettoes' in Denmark.
The locals – including children – can now take temporary ownership and adapt the pavilion to their social needs
PS: How does Medium combine public engagement with strong architectural expression? Do you think this is a common thread it shares with other young practices?
BW: We consider public engagement to be an inevitability in the process of designing architecture that aims to be physically and socially relevant. Although the pavilion wasn't designed in collaboration per se, it grew from time spent understanding the site, talking to local residents about their neighbourhood, and developing a strong contextual background to design within. A rapport with the residents Block 23 grew through being on-site during construction and various social events we organised. This allowed for a constructive dialogue and feedback, which fed into the development of the second phase – attuning a strong architectural expression that we hope is both contextual and relevant.
The 2nd edition of the Tbilisi Architecture Biennial will take place between 18 September and 3 October 2020.
---