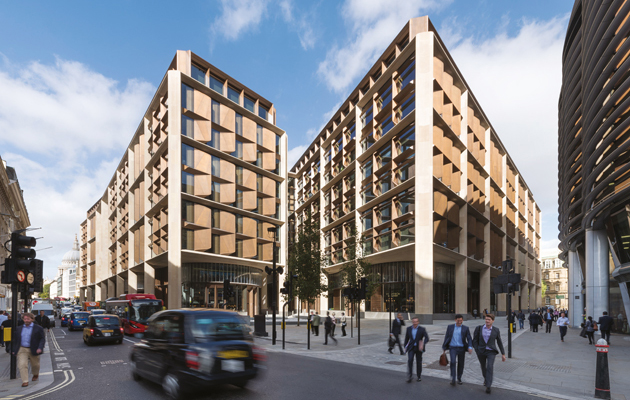 Foster + Partners' £1bn HQ for Bloomberg has picked up the 2018 Stirling Prize, though the reaction from the public has been mixed, writes
Rita Lobo
Foster + Partners' lavish European headquarters of financial tech and media giant Bloomberg scoop up the top accolade at this year's Stirling Prize.
The building's reported sustainable credentials help it beat the competition including Bushey Cemetery and the New Tate St Ives.
.@Bloomberg's European HQ was designed to push the boundaries of what an office building could be – setting new standards for openness & sustainability. It's an honor to receive the @RIBA Stirling Prize & we're grateful to all – especially @FosterPartners. https://t.co/sMhWPRNXu9 pic.twitter.com/zbo62CHLWR

— Mike Bloomberg (@MikeBloomberg) October 10, 2018
It's the third time that Foster + Partners are awarded the top prize by Royal Institute of British Architects (RIBA).
RIBA President Ben Derbyshire, said: "After vigorous debate, the jury reached a unanimous decision – Bloomberg's new European HQ is a monumental achievement.
"The creativity and tenacity of Foster + Partners and the patronage of Bloomberg have not just raised the bar for office design and city planning, but smashed the ceiling.
"This building is a profound expression of confidence in British architecture – and perfectly illustrates why the UK is the profession's global capital."
However, not everyone agreed with the decision made by the RIBA jury, which was chaired this year by Sir David Adjaye. Here are some reactions.
Despite, or even because of, its sustainable tech innovations (which serve merely to lessen the impacts of a system that effects harm on a much greater scale), the Bloomberg building is architecture of a previous era.

— Daisy Froud (@daisyfroud) October 11, 2018
Hot take: Bloomberg won because it was the beigest of them all. https://t.co/6etZ4kWukR

— Peter Smisek (@psmisek) October 10, 2018
Bloomberg. A technical marvel, and you can see where each one of those £1.3bn were spent. But one can't help feeling like the whole building is one from another era, where more really was more, but the world has moved on. #stirlingprize

— I'm not here (@Piers_Taylor) October 10, 2018
Though not everyone was dismayed by the result.
I was surprised that Bloomberg won the Stirling – my preference was MUMA's Storey's Field in Cambridge though I expected Bushey Cemetery to win. But it doesn't anger me at all because Bloomberg is a thoroughly remarkable building. It cost lots because it's a palace. I like it.

— Hugh Pearman (@hughpearman) October 11, 2018
Congratulations @FosterPartners on winning the @RIBA#stirlingprize, & well done to those shortlisted.

We're proud to have been nominated & hope that we'll get another chance one day!

Back to fighting #climatechange tomorrow. ??????#constructionrevolution

— Waugh Thistleton (@WaughThistleton) October 10, 2018
And Olly Wainwright had a unique take, indeed.
Too bad that Norman Foster's 'non-resident in the UK for tax purposes' status prevented him from picking up the award in person ¯_(ツ)_/¯ https://t.co/X6MqneON3L

— Olly Wainwright (@ollywainwright) October 10, 2018
---