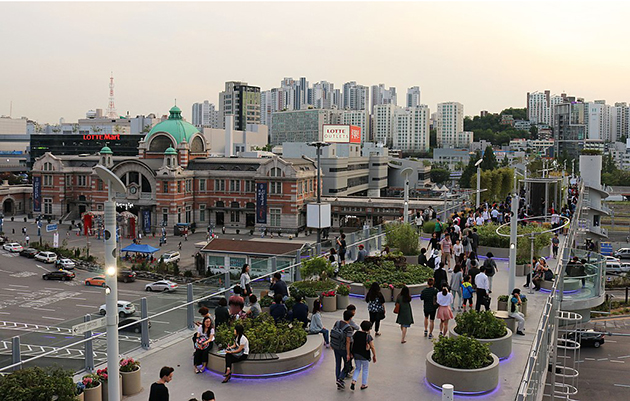 Seoullo 7017 Skygarden designed by the Dutch practice MVRDV
Seoul has long been built around cars, but now a stretch of 1970s motorway has been turned into a park. Seoullo 7017 Skygarden sow the seeds of change in the South Korean capital, asks
Joe Lloyd
No-one would ever accuse Seoul of being beautiful. Though the South Korean capital holds many delights, from restored palaces and temples to neon- lined strips of nightlife, its overall comportment is a muddle.
This is partially the result of the scars of history: it was severely damaged under Japanese occupation and the Korean War. It owes something too to geography, as Seoul spills out to hills and mountains.
Car is king
Its present built environment owes much to the prodigious economic spurt that began in the 1960s and saw the country move from one the world's poorest to one of its richest in a single generation. Under a series of authoritarian leaders whose human rights records were not so far removed from those in the North, Seoul was swollen with swaths of characterless tower blocks, shopping malls and thundering boulevards. The car, especially when produced by the state-backed manufacturers Hyundai and Kia, was king.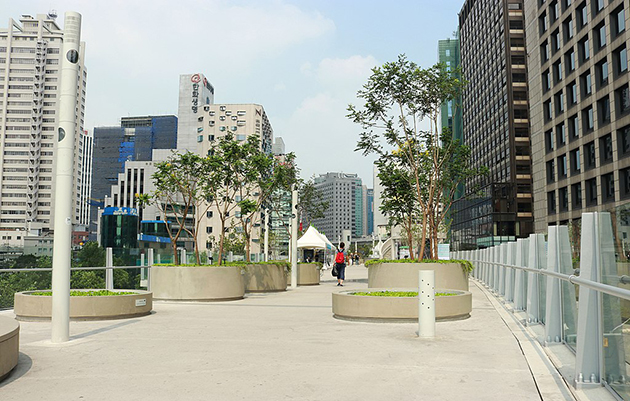 Now, near the geographical centre of this accumulation, runs a rare belt of pedestrian-only land, garlanded with greenery and perched atop a 1970s motorway that, only two years ago, still bore traffic. It feels almost a provocation.
This is the Seoullo 7017 Skygarden, designed by the Dutch practice MVRDV and opened last year. It stretches for just over a kilometre, from near the shopping area of Myeong-dong to the traditionally residential neighbourhood Malli-dong, centring on Seoul Central railway station.
Paris Promenade Plantée and New York's High Line
It contains over 24,000 plants from 228 indigenous species, ordered alphabetically into a sort of archive of Korean ora. Along the route, there are cafes, public sculptures, child- only trampolines, an art gallery and a foot pool that's regularly refreshed with clean water. Raised on a concrete structure above indeterminate urban sprawl, it is not classically idyllic. But it is a very pleasant place to stroll, and comes as a great relief after the choked highways below.
The pioneer of this sort of reuse was Paris's Promenade Plantée in 1993, followed with much fanfare in 2009 by New York's High Line. But whereas these are essentially leisure experiences, the Skygarden is at heart a piece of infrastructure. Looking down from the walkway is a sobering experience: a clotted tangle of roads and train tracks, choked with traffic and crossings to bring a gulp to the throat of even the most con dent pedestrian.
Four international and three local architects were asked to submit plans. MVDRV's stood out for two reasons. While the other submissions aimed to sheathe the road in a low green lawn – 'almost like a golf course,' says Lee – MVDRV proposed a concrete pathway dotted with plant pots, allowing for greater biodiversity. Secondly, MVDRV conceived the Skygarden not as a park apart from the city but as a functional part of it. 'Instead of the landscape design of the bridge itself,' explains Lee, 'we planned a network, what we call an octopus design.'
A canny compromise
Seoullo 7017 is named for the year of the road's erection and the year of its opening, but the 17 also corresponds with the number of buildings that it connects to. 'The hotel and shopping mall were willing straight away. Then we talked to some offices, which were half-empty, and made a gentleman's agreement,' says Lee.
'The city would partially pay for the connection, and in return the buildings would grant partial public access for facilities such as toilets.' The value of these o ces shot up once the scheme was made public, and more and more of the surrounding structures asked City Hall to be connected. It's a canny compromise, involving private interests without allowing them to dictate on the public space of the main walkway itself. 'We wanted to avoid a complete commercialism of the area.'
Read the full story in ICON magazine. Subscribe here.
---