After news that Christo, perhaps best-known for gift-wrapping the Pont Neuf and Reichstag, has died of natural causes aged 84, we revisit Christopher Turner's portrait of the Bulgarian artist from the ICON vault.
I first met Christo and his late wife Jeanne-Claude – or Mrs Christo as she referred to herself – in January 2005. Already famous for having mummified the Pont Neuf in Paris, outlined an archipelago in Miami with what one critic called a "giant Pepto-Bismol spill", and turned the German Reichstag into a huge aluminium inflatable, they were installing the Gates, a million square feet of saffron banners that snaked through Central Park for two weeks that February.
The Christos were dressed in matching jackets and white fur hats to protect against the bitter cold. Jeanne-Claude, with an omnipresent cigarette and lipstick that matched her dyed-red shock of hair, did almost all the talking. As we prepared to leave the caravan that served as their temporary field office, the reticent Christo struggled with the zip of his coat before giving up and asking me helplessly: "Do you know how to work these?" I found myself crouched before him, wrapping up the man who wrapped the Reichstag.
This summer I met Christo again in his home in Soho, New York, to where the couple emigrated from Paris in 1964 (his wife died in November 2009 from complications following a brain aneurysm). Back then, Christo stood on the prow of the SS France, as it approached the Manhattan skyline, took Jeanne-Claude in his arms and said excitedly: "Do you like it? I give it to you, it's all yours!" But despite proposals to gift-wrap the Museum of Modern Art and several skyscrapers, the Gates is the only public project they realised in their adopted city. The couple and their young son moved into a derelict loft above a roofer's shop and, a decade later, were able to buy the building. It now houses a gallery of Christo's work, where our interview takes place. Above this is his apartment and, on the top floor, his studio -– an inner sanctum into which only a select few are allowed.
Christo, 76, appears in a heavy work shirt and worn, ripped jeans, through which protrude hairless knees. I had expected him to be taciturn, as he seemed in Central Park, but he talks with enthusiasm in a thick eastern European accent – he was born in Bulgaria on the same day as his Jeanne-Claude ("Both of us at the same hour," she liked to say, "but, thank God, two different mothers") – and squints good-humouredly through heavy glasses.
Christo began to parcel objects in the late 50s, influenced by Man Ray, who in 1920 bundled a sewing machine in a blanket, bound it with string and photographed it to illustrate the poet Lautréamont's surrealist definition of beauty: "the chance meeting on a dissecting table of a sewing-machine and an umbrella". The simple, well-lit space is full of these signature works: there are wrapped and varnished packages, paint tins, stacked oil barrels and even a wrapped payphone. The artist embraced increasingly bigger objects: a nude model, a car, a tree, a bridge, a parliament, a cliff, an island. Wrapping, Christo has said, helps you to see familiar things afresh.
The walls are hung with Christo's detailed preparatory drawings and collages, visualisations of his large-scale schemes, fabric swatches and architectural plans. Most depict the two projects he is focused on at present: Over the River, a plan conceived in 1992 to cover six miles of the Arkansas river in Colorado with shimmering waves of metallic, translucent material (he got the idea when installing the fabric that covered the arches under the Pont Neuf); and the Mastaba – a project started in 1977, but stalled by the Iran-Iraq war – a 500ft-high trapezium of 410,000 stacked oil barrels that he hopes will soon be erected in the Abu Dhabi desert at a scale to dwarf the pyramids. A steel frame full of the colourful cylinders will be raised hydraulically on 150ft-high towers.
Christo doesn't accept commissions or sponsorship and funds his projects exclusively through the sale of his work – the biggest of his drawings fetch over a million dollars.

Wolfgang Voltz
In the early 1960s, to coincide with his first gallery shows, Christo took his wrapping into the street, draping a series of oil barrels and dockside packages in heavy tarpaulin to create an installation in Cologne, and blocking off the Rue Visconti in Paris with a barricade of oil barrels (a response to the Berlin Wall that went on to inspire the Mastaba).
Christo relished the fact that in the public realm he was not in absolute control of the aesthetic experience, as he was in the gallery. "Physically, 24 hours a day, we live in a highly-regulated space, designed by urban planners, with lots of meanings and jurisdictions things we don't normally think about," he explains. "We borrow space and create a gentle disturbance in it for a few days. And we inherit everything that is inherent within that space – the politics and ecology. There is a great story there."
The Christos have spent years in public hearings, courts and parliamentary sessions, in their determination to see their concepts realised. It took them 25 years to get permission to wrap the Reichstag (the German Bundestag voted on it), 26 to erect the Gates and ten to wrap the Pont Neuf.
"Opposition enriches the process," Christo says. "Through the permitting process and public hearings, the work of art gathers its own identity. When we started Over the River in 1992, we hadn't the slightest idea we'd have to commission a $10m, 2,029-page environmental impact report or negotiate all that federal red tape. In some way, the project was enriched – it expanded on all kinds of interpretations. We benefit from something that no other artist could. Nobody discusses a sculpture before it is sculpted, but everybody discusses our works for years before they exist physically."
At the end of September, the Bureau of Land Management, part of the US Department of the Interior, is due to give a final decision on whether Over the River can go ahead. "We'll hear yes or no," says Christo, squeezing his hands between bouncing knees. "It's very dramatic, very exciting. Very, very exciting."
Is he nervous? "We always try to be optimistic," he says. "We try to be cautious. But we work hard to be optimistic." Does he ever get frustrated by the process? "No, no – it's part of the work. It's very much like mixing colours. You mix red and yellow and you get orange. You enjoy the chemistry – of course you do."
If they say yes, does he have the money to complete the project? "Money is always a nightmare," he says, "but it's not catastrophic like the permission. It's workable because we are blessed with so many things to sell." (He sells his work from his home and studio to private collectors, galleries, dealers and museums.)
He estimates the total cost of the project, which would appear for just two weeks in 2014, to be about $60m-70m. "The world can live without these things," Christo says, "We like to have them. When they appear for a few days they carry this tremendous freedom of irresponsibility."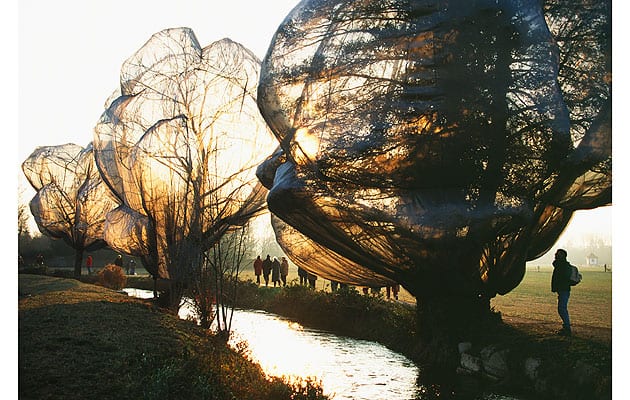 Wolfgang Voltz 
The documentarian Albert Maysles(of Gimme Shelter and Grey Gardens fame)has made six films that document the Christos' dogged determination to see their ideas realised, the exhilarating process of the construction of their artworks and the workers' and onlookers' arguments as to whether or not the finished product is actually art.
The first of these, Christo's Valley Curtain (1974), about the massive orange fabric dam they built in Colorado, was nominated for an Oscar. These stylish films are, in a way, also records of a kind of bureaucratic performance art. We see how Jeanne-Claude spearheaded the long campaigns for permits with almost military discipline. "You're going to take a pill now," she orders her neurotic husband – who bears an uncanny resemblance to Woody Allen – when Jacques Chirac threatens to withdraw support for the wrapping of the Pont Neuf."Do what I tell you!"
"I miss her all the time," Christo says, when reminded of that scene, "She was a very critical lady. She was argumentative and very critical and that I miss tremendously." Most of the time he talks about her in the present tense, as though she were still alive. "I talk to her in my head all the time," he explains.
They fell in love in 1958 – their first kiss was apparently so passionate Christo lost a tooth – and their relationship lasted for 51 years. She was more than his muse or manager – in 1994, Christo retrospectively co-credited her for all the site-specific installations completed since 1961. Surrounded Islands, he says of their envelopment of a series of Miami islands in flamingo-pink nylon, was completely her idea.
Before I leave, Christo gives me a bag, designed by their friend Issey Miyake for Jeanne Claude's memorial service, on which there is a photograph of his 1963 "wrapped portrait" of her. She smoulders, her red lips an open stain behind a plastic shroud bound with string.
Christo praises the way in which Jeanne-Claude managed, just before she died, to get both Republican and Democratic senators and members of congress to sign a letter to the minister of the Department of the Interior in support of Over the River. I ask if he thinks of the works they collaborated on for so many years, which he hopes will soon be realised, as memorials to her. "I don't like memorials," Christo replies. "She didn't believe in that, in anything. I remember she said she only believed in the sun. Why? Because without the sun we would be dead."
In the late 90s, Christo and Jeanne-Claude conducted life-size prototype tests for Over the River on a rented ranch in Colorado,
 where they covered a gorge in swathes of metallic cling film. "In the early morning the fabric became rosy," Christo recalls. "And,
in the middle of the day, it became platinum. And, in the afternoon, with the gorgeous sunset, it would be golden".
This article was first published on ICON in 2011. 
---