The new museum for the Academy of Motion Picture Arts and Sciences comprises a renovated art deco building and massive 'floating' sphere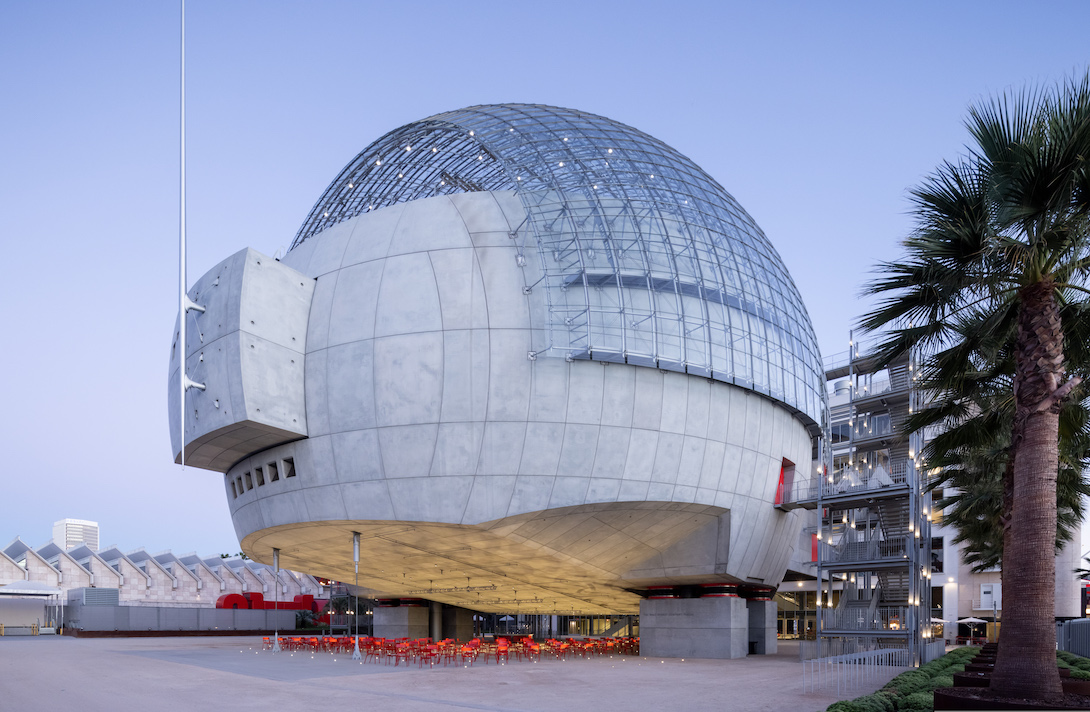 Words by Francesca Perry
The new Academy Museum of Motion Pictures in Los Angeles, designed by Renzo Piano Building Workshop (RPBW), has opened to the public. Dedicated to the art, science and culture of filmmaking, the museum is set across a 27,870 sq m complex which hosts exhibition galleries, theatres and public spaces. Run by the Academy of Motion Picture Arts and Sciences – which organises the annual Academy Awards (The Oscars) – the museum houses a core permanent exhibition as well as a roster of temporary exhibitions and screenings.
Designed by Pritzker Prize-winning Piano and his practice RPBW in collaboration with executive architect Gensler, the museum comprises two structures: the renovated and expanded May Company department store – a landmark building from 1939 built in the art deco Streamline Moderne style and now renamed the Saban Building – and a large new glass-and-concrete spherical building that Piano refers to as a 'bubble', and which appears to float over the ground.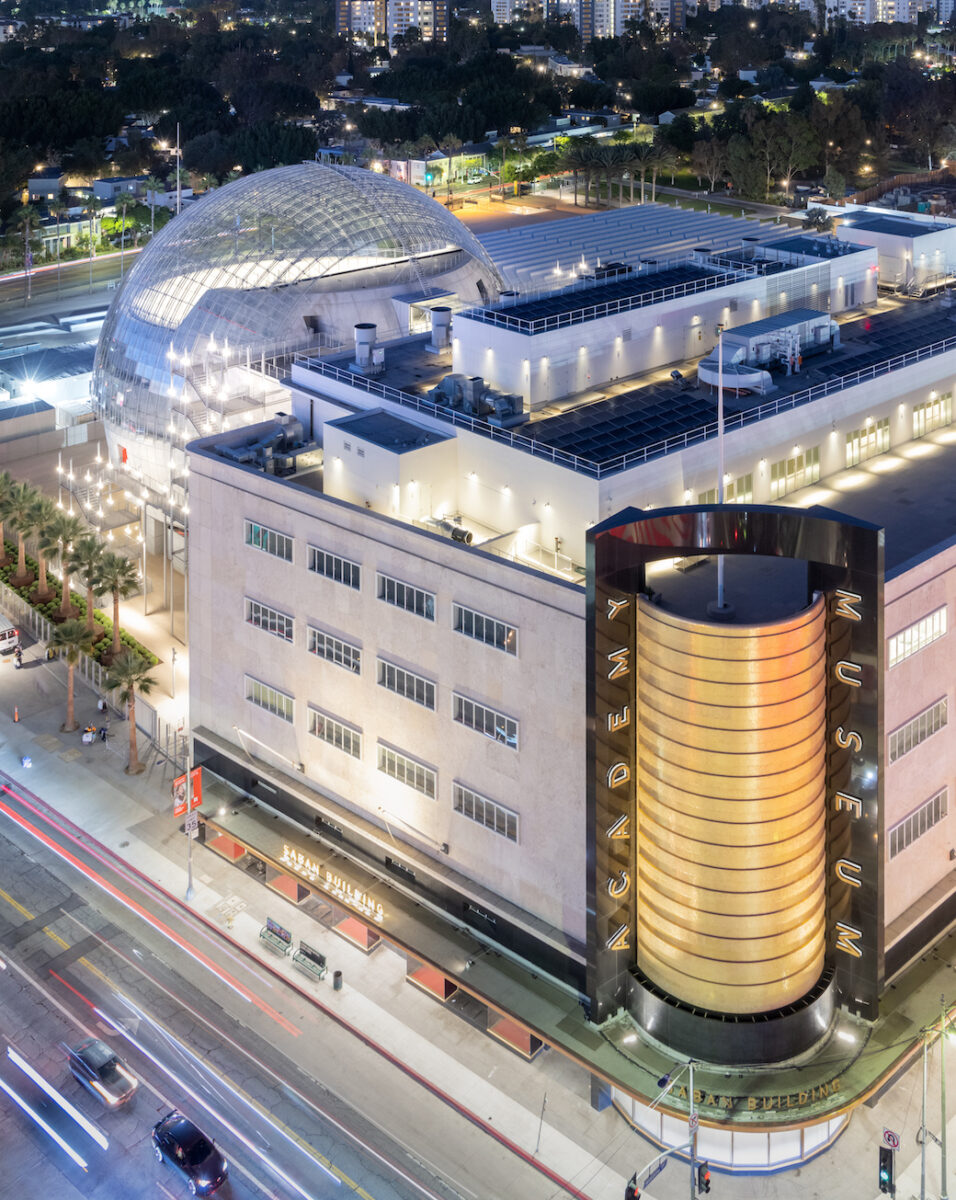 The 23,225 sq m Saban Building houses the double-height concrete lobby, the museum's exhibition galleries, a 288-seat theatre, education studio, conservation studio, restaurant and store. The building's original gold mosaic-clad cylindrical corner, at the intersection of Wilshire Boulevard and Fairfax Avenue, has been restored, including the replacement of a third of its 350,000 golden tiles with new tiles from original Italian manufacturer Orsoni.
The building's north facade, meanwhile – which opens on to the Sphere Building, to which it is connected by pedestrian bridges decked out with red carpets – has been completely refaced with a new glass curtain wall, reflecting Piano's focus on transparency. Architecturally, this transition space hints at Piano's high-tech legacy, but seems strangely cold and back-of-house.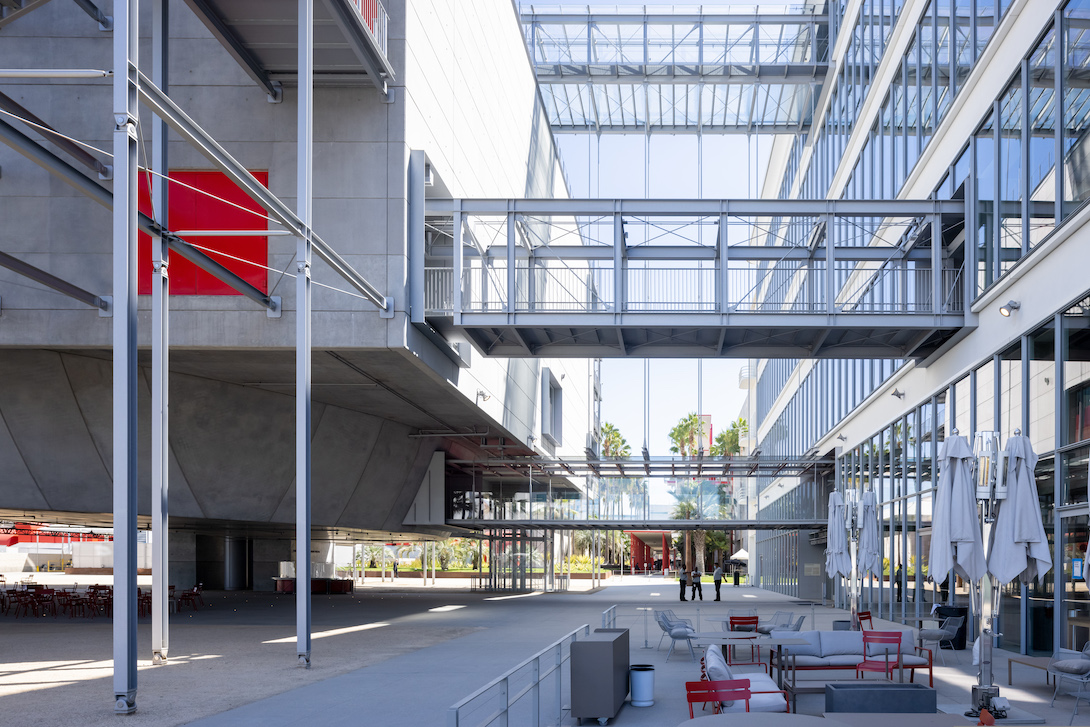 The 4,180 sq m Sphere building – constructed from concrete, glass and steel, and with an arresting spaceship-like appearance – hosts a grand 1,000-seat theatre and a public rooftop terrace above, which sits under the domed glazed roof and looks out on to the Hollywood hills. The truncated bottom of the spherical volume cantilevers strikingly over the ground, creating a sheltered piazza that opens into the city.
The museum's core exhibition, Stories of Cinema, is set across three floors and designed by WHY Architecture; it explores all aspects of the history, arts, and sciences of moviemaking. The museum's opening temporary exhibition focuses on filmmaker Hayao Miyazaki, co-founder Studio Ghibli, and features approximately 400 objects from each of Miyazaki's animated feature films.
The project has been certified LEED Gold, no doubt short of the Platinum certification due to the amount of high-embodied-carbon materials used. Costing $482m, the museum was commissioned in 2012 and its opening on 30 September 2021 delayed by the pandemic, but its genesis goes much further back. 'The dream of building a museum dedicated to movies has been 90 years in the making for the Academy,' explains Academy CEO Dawn Hudson. 
Photography by Iwan Baan
Get a curated collection of architecture and design news like this in your inbox by signing up to our ICON Weekly newsletter
---