With designs from practices including Tatiana Bilbao and Serie Architects, the development embraces the use of CLT, terracotta, hemp and raw earth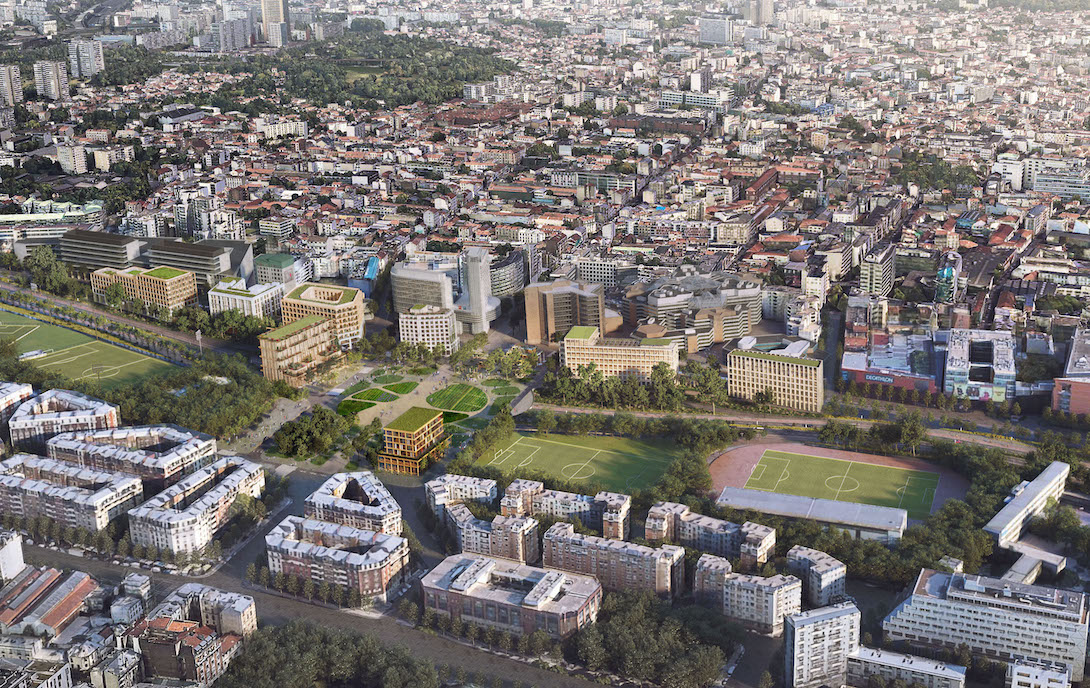 Words by Sabrina Syed
Paris is gearing up to build its first 'zero-carbon' neighbourhood. Located at Porte de Montreuil, a district on Paris' eastern outskirts, the 35ha strip running alongside the Boulevard Périphérique ring-road is set to undergo an estimated 60,000 sq m of development.
The pilot project will test ecological building strategies at scale, formed as a collaboration between architectural design firms Serie Architects, Atelier Georges, Tatiana Bilbao Estudio and Bond Society which won the international Reinventing Cities competition with their joint proposal. Each will be designing prototypes of what will be eight new mixed-use buildings and a public square, with construction run by developers Nexity, Crédit Agricole Immobilier and Aire Nouvelle.
'Zero-carbon' here means that the carbon emitted from the construction of the neighbourhood development is equivalent to the carbon it will absorb or remove from the atmosphere, offsetting its creation (what developments in the UK would call 'net-zero'). Instead of lingering heavily on simply covering the buildings in greenery – which can dangerously veer into greenwashing territory (though it is still present) – there is a concerted focus towards using materials to achieve the net-zero goal.
100% of the facades – excluding glazing – will be composed of natural materials including terracotta bricks, hemp and raw earth which come from the local region of Île-de-France. 80% of the superstructures for all buildings are set to be built with cross-laminated timber (CLT) and stone of French origin rather than metal or concrete.
This follows a rising trend of mass timber as a building material, chosen for its carbon-sequestering benefits – cities in France already have numerous examples including Atelier Du Pont's Woody office building (2019) in Paris and Odile Guzy Architects' all-timber social housing scheme in Chalon-sur-Saône (2017). The use of structural timber at increasingly larger scales – including for the upcoming Paris 2024 Olympics aquatics centre – reflects France's commitment that construction of all new public buildings by the state be composed of at least 50% timber or bio-based materials by 2022.
While common tropes of commercial sustainable development do persist in the new Porte Montreuil design, with so-called 'oases' using natural vegetation and 'water-based solutions' planned to cool the site, the 7000 sq m of new vegetation and bike paths will help pedestrianise its presence near the busy Boulevard Périphérique (though the City's efforts towards sustainability must surely address the carbon emissions of that road infrastructure longer term).
Committed to reducing 85% of total emissions through a range of approaches including setting up a carbon fund for the project, there is a consideration of the lifecycles of building post-construction with office spaces designed as modules so they can easily be converted to apartments, reducing the need for demolition. On-site geothermal and photovoltaic energy production will be implemented, which is planned to expand its resources to benefit the larger district.
Though the project's design can easily be dismissed as placeless – familiar to proposals for any satellite town of similar climates – perhaps it's in its replicability that the project is made persuasive to more clients. This is relevant in a landscape where pushing ecological construction materials is still in its relative infancy.
While nations convene in the coming months for COP26, it's important that the built manifestations of their aims come up and come up often. To truly measure the extent of carbon neutrality, having data shared transparently on building performance will tilt the favour towards celebrating promise rather than pretence. It takes a neighbourhood to measure – this one compels us to wait and see. Construction is forecasted to complete by 2026.
Sabrina Syed is an architectural designer and writer
Images courtesy of Atelier Georges, Tatiana Bilbao Estudio, Bond Society and Serie Architects
---