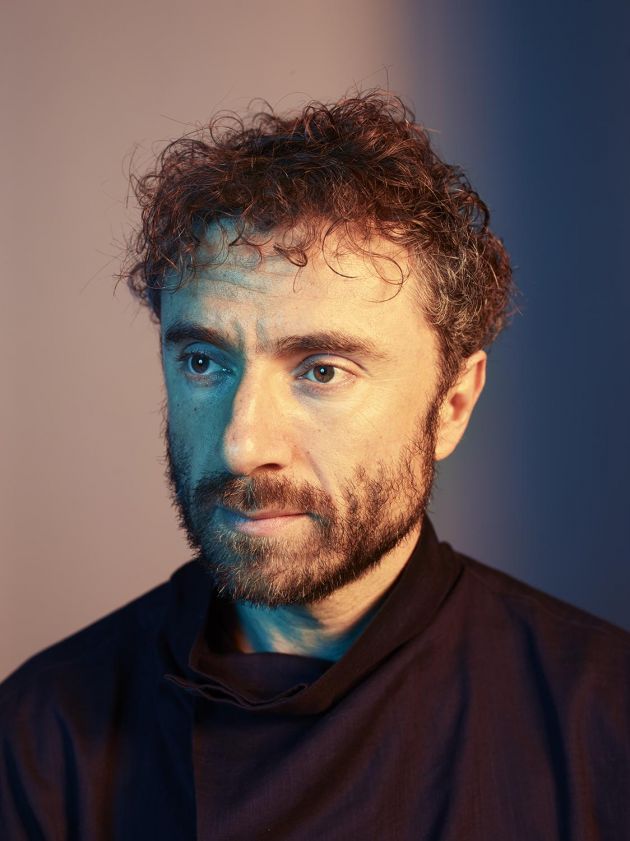 Icon met Heatherwick in 2017. Portrait: Felicity McCabe.
In the lobby of Thomas Heatherwick's studio, a coffee table is being erected at impressive speed, its opposing legs stretching to create an elongated ovoid. It is part of a new range of extendable furniture that is set to launch next month and seems, in its clever, illusory nature, a fitting preamble to an audience with the man himself.
As I observe, Heatherwick enters soundlessly, clutching a book. He looks a little less tousled than usual, and wears an expression that mixes weariness with intent. 'This just arrived,' he announces. Anyone following the designer's career over the last few years, and his work has been scrutinised like few others, would recognise the photograph on its cover as Zeitz MOCAA – a derelict 1920s grain silo on Cape Town's waterfront that the studio has been converting into an art gallery for the last three years. The building is the country's first art gallery of any notable scale, and will house billionaire philanthropist Jochen Zeitz's collection of African art. It is Heatherwick's most important project to date – its tubular form is charged with nurturing a nascent and nomadic art scene that, in the absence of a significant vessel to display its work, has hitherto spent too much of its time focused on Europe.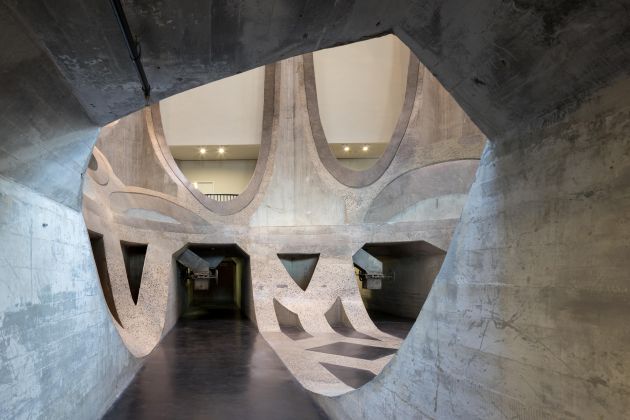 The Zeitz MOCAA was converted from a grain silo. Credit: Iwan Baan.
Revealing the project back in 2014, Heatherwick seemed almost overcome with emotion as he talked a wide-eyed audience at Design Indaba through his plans. To build a 'European spaceship' of the Guggenheim Bilbao variety, he argued, would be a failure. Instead, the studio directed its energies towards creating an interior striking enough to pull people inside.'We didn't want a building where people would come along, take a selfie, buy a postcard and go home saying they visited the museum. That approach – it is a building for art so let's make it artistic – is such a clichéd format. I was interested in how you create something compelling on the inside to get people over the threshold.' Presented with a building that was essentially a concrete box composed of 42 tubes, Heatherwick found his answer in an architecture of reduction, slicing away at the cylinders as you would a forest of bamboo to create a series of galleries defined by the remnants of what once was. As the wraps come off, there must be a hope that this impressive project will someway dispel the clouds of negative press currently surrounding the studio. And from a distance, it looks like Heatherwick has achieved something rather special.
A lot has happened since the designer first clapped eyes on the grain silo in 2005. There have been spectacular successes and some highly public slip-ups. As such, it is an odd moment for the studio. The shadow of the Garden Bridge may loom long, but the Zeitz is just one of a slew of remarkable buildings under construction or on the verge of completion. As it opens, Coal Drops Yard on Heatherwick's home turf of King's Cross is slowly emerging. It forms the retail element of Argent's vaunted mixed-use jigsaw currently coalescing behind the station, and on first impressions the project seems a wanton slice of gesturalism. Yet the underlying rationale is hard to fault – the renders depict the two elongated warehouses joined by a rippling carpet of roof tiles that meets to create a third floor of shops. What seems overtly theatrical is in fact a logical way of pulling together the two buildings – each longer than St Paul's – thereby countering the unappealing 40m slog between shop fronts. 'At the very least, you will be able to tell your mum where to meet you,' he jokes..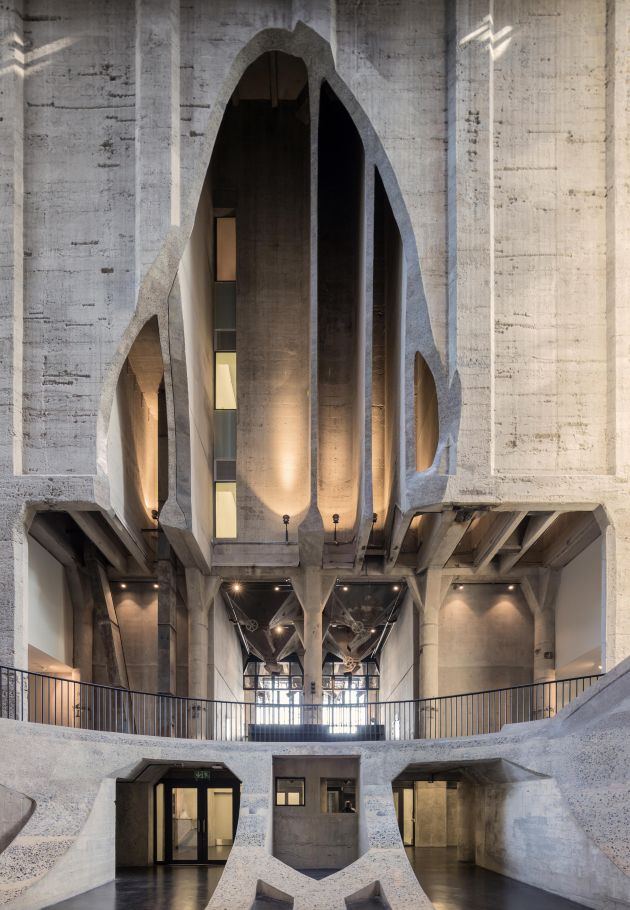 It is South Africa's first major museum of contemporary art. Credit: Iwan Baan.
Among the buses, spinning chairs and supernova sculptures, it is easy to forget that Heatherwick has pedigree when it comes to Victorian-era buildings: the steam-punk glass volumes of the gin distillery for Bombay Sapphire come immediately to mind. The big engineering of the era is catnip to Heatherwick, a progenitor of equally big ideas. But Britain is losing its appetite for bold thinking, according to the designer. Determinedly apolitical, he nevertheless pinpoints Brexit as symptomatic of a wider loss of confidence in the country. Not that he saw it coming. 'Personally, I believe in togetherness and working with people, so if we are shutting down or there is an implied superiority, that to me is a very negative thing.' He continues: 'We are unnecessarily scared and nervous at the moment. There is a tight, slightly mean- spirited approach to making buildings here that is too prevalent. '
Heatherwick's architecture is nigh on impossible to categorise. The glitzy rose-gold pipe organ that is his new arts and cultural centre in Shanghai is worlds away from the timber-mullioned Google groundscraper, which bears little resemblance to its Californian cousin or the concrete cylindrical forest of the Learning Hub in Singapore. The designer argues that his work is characterised by responding to context, but you would be hard pressed to describe this output as contextual. Indeed, he demonstrates November 2017 little inclination to just blend in. Instead, Heatherwick talks about 'interestingness'. 'I think there's been a lot of failure in city design. Big cities are becoming less interesting than they used to be. Despite having impressive office buildings, the streets are becoming less interesting. Interestingness sounds like a banal thing to say, but I feel that by deliberately framing it in a dumb way, that will push the urgency of it somehow.'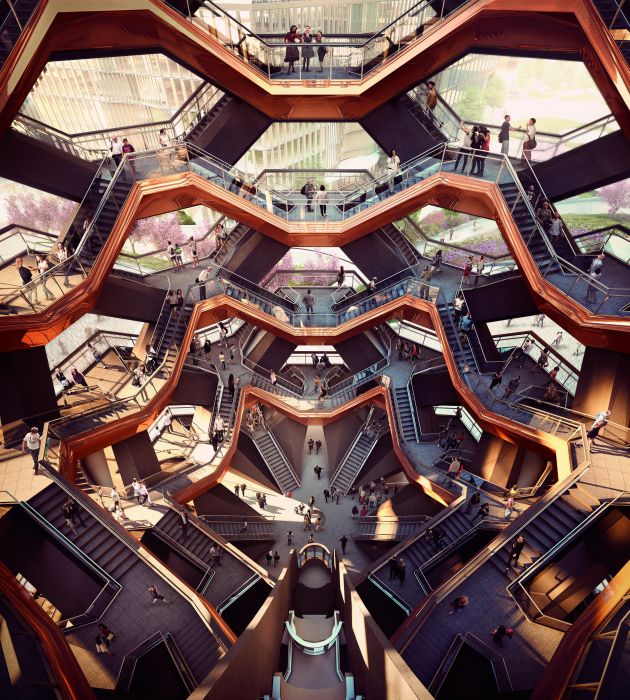 Vessel serves as a centrepiece of New York's contentious Hudson Yards development. Image courtesy of Heatherwick Studio.
Perhaps it is telling that many of the studio's larger projects have found favour overseas. Ever since the stunning and well- deserved success of the Seed Cathedral at the Shanghai Expo in 2010, the Far East has been particularly besotted. In a part of the world where new cities seem to spring up overnight, the region affords a scale impossible to replicate at home. His efforts in Shanghai – the Bund Finance Center with its associated arts hub, and the 1000 Trees project – have studiously rejected the globalised, glassy architecture that tends to be the default response. 'It surprises me how many architects get stuck duplicating themselves in different parts of the world,' he says. 'I remember going to one city and seeing a building going up in the distance and I could tell exactly who it was by. I just thought, "What a shame."'
Heatherwick sees his role as drawing out the idiosyncrasies of a place. The aforementioned 1000 Trees project – a gargantuan 300,000sq m housing scheme on the Suzhou Creek – is a case in point. The studio designed the building as a pair of leafy ziggurats, supposedly inspired by mountains, in stark relief to the graveyard of concrete towers surrounding them. The 1,000 structural columns become the architecture, forming a series of terraces that act as outdoor spaces, and also as plinths for the trees from which the project takes its name. The resulting green veil moderates the unrelenting greyness of the environment. 'It is fashionable to scorn nature integrated into buildings. It sounds like greenwash, but there is a brutality that comes with a 400m-long building. I don't go out and hug trees at the weekend, but there is a delicacy and fragility to the trees that is a complement to the hardness.' The project has all the ingredients of a typical Heatherwick project – a heartfelt idea executed at scale with spectacular results. The designer bristles slightly at this 'spectacular' label. 'The projects have to work on many, many levels. Most of our work at the Gin Distillery was about restoring 40 historic buildings. There is one bit that is deliberately more memorable, but we are not doing things just for the sake of it – it is part of solving a design brief.'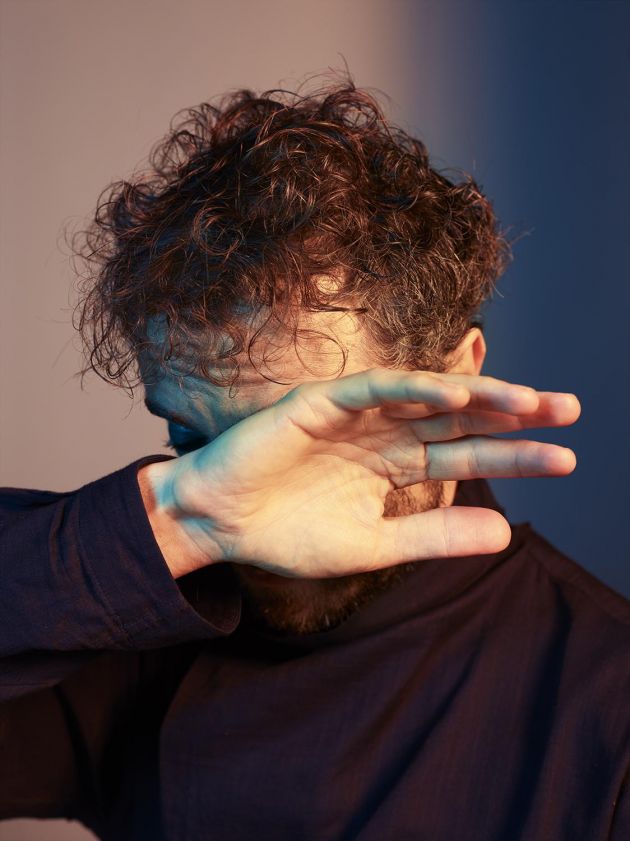 In recent years, projects such as Vessel and the Garden Bridge have courted controversy. Portrait: Felicity McCabe.
Whereas many architects tend to continually refine an architectural language until it ends up defining them, Heatherwick appears to approach everything with a blank piece of paper, conjuring up surprising solutions to hitherto undiagnosed problems and then convincing clients of the righteousness of the cause. 'We pin up [ideas] and take them down, pin them up. It is a rigorous cycle of trying, trying, trying. I am doubting Thomas, I assume failure.' He pauses. 'Maybe I said that too seriously.' The studio is currently working with Foster + Partners on the Bund Finance Center masterplan. The project is Heatherwick's largest commission to date and requires the studio to mesh 21st-century mixed- use buildings with Shanghai's historic waterfront. 'Shanghai's government had a pretty fixed idea of what they wanted: twin towers on a podium – the typical 1980s model,' he says. 'This was the gateway to China. We felt allergic to that out-of-town scale so we broke it down into smaller, squat towers. The Bund has all these colonial granite buildings, which were going to suddenly meet this shiny new office development, so we are expressing the structures with hand-carved stone. You will have this rustic framing combined with the most high-tech self- cleaning glass facades.' Partnering with a practice renowned for its machine-like meticulousness seems a sensible move, but Heatherwick quickly dispels the suggestion that his studio could swell to a similar size. 'We are led by projects. Slavishly led by them. If we need to be small for some we will be small. If we need to be big, we will be big.'
For all his virtuoso moments, the list of misfires is a long and oft-recited one: B of the Bang threatened to harpoon passersby when its spike fell off; the new London Routemaster cooked its occupants in summer thanks to ineffective air- conditioning; and the Blue Carpet failed to retain its blueness. But the animus the studio encounters among the cognoscenti runs deeper than mere failure. For a profession given to endless intellectual flagellations, the apparent ease with which Heatherwick summons imaginative responses comes as an affront. A common epithet lobbed in his direction is that the designer is 'not an architect' – as if cock- ups are more forgivable when committed by someone better qualified.
1,000 Trees is a plant-covered multi-purpose development in Shanghai. Image courtesy of Heatherwick Studio.
Even the scene of his greatest triumph, the Olympic Cauldron, was tainted by the emergence of a studio claiming some kind of ownership of the idea. Although the antagonists soon retreated from their accusations of plagiarism, for some the niggling question over authenticity remains. It is part of the challenge of working almost exclusively in the public realm, Heatherwick reasons. 'Those bonkers things are part of the territory, but it was nonsense. I remember going to a talk by Nile Rogers from Chic who said whenever he had a hit, that was when he got letters claiming he had copied their songs. Never got them when it wasn't a hit. Strange that.'
And then there is the bridge. Even before its murky procurement process was exposed, the project summoned a dedicated and vocal opposition outraged at what they saw as an unnecessary bauble. Last month, it was put on permanent hiatus. If the experience has chastened Heatherwick, he is not about to admit it. There is an undeniable note of defiance when he talks about the project. In part, he believes it was a victim of circumstance. 'It is a shame when politics kick in around something. I think, had there not been a change of government and Brexit, we might be at a different stage with it. The climate shifted and values and associations were projected onto it that were not actually there.' It sounds like the book on the Garden Bridge may not yet be closed? 'A vast number of people thought it was the right project for London. Good ideas take time and I am in no hurry.'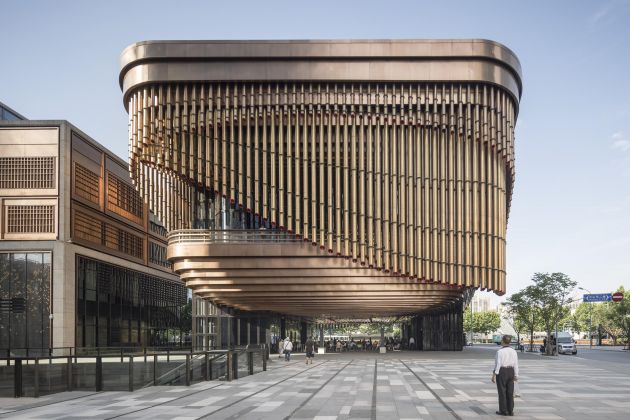 Heatherwick Studio collaborated with Foster + Partners on a pair of skyscrapers in Shanghai. Image courtesy of Heatherwick Studio.
Whatever your position on the bridge – it was backed by some well-respected figures – Heatherwick is probably right about the current climate. His flamboyance, no matter how rooted in problem-solving his designs might be, feels out of step with the sober brick backdrop of the UK's architecture scene today. Still, he remains one of this country's brightest stars – one of a handful of designers in the world who can deliver something extraordinary. 'We are just focusing on our work – on public projects – and in a way I am determined as ever that it matters. There are huge lessons to learn about the world around us and you are forever learning. All you can do is carry on doing the things that you believe will be contributions to society.'
This interview was originally published in Icon 173, November 2017.
---