Designed by new practice Colab-19, La Concordia: Amphitheatre continues an initiative in the Colombian capital to support struggling businesses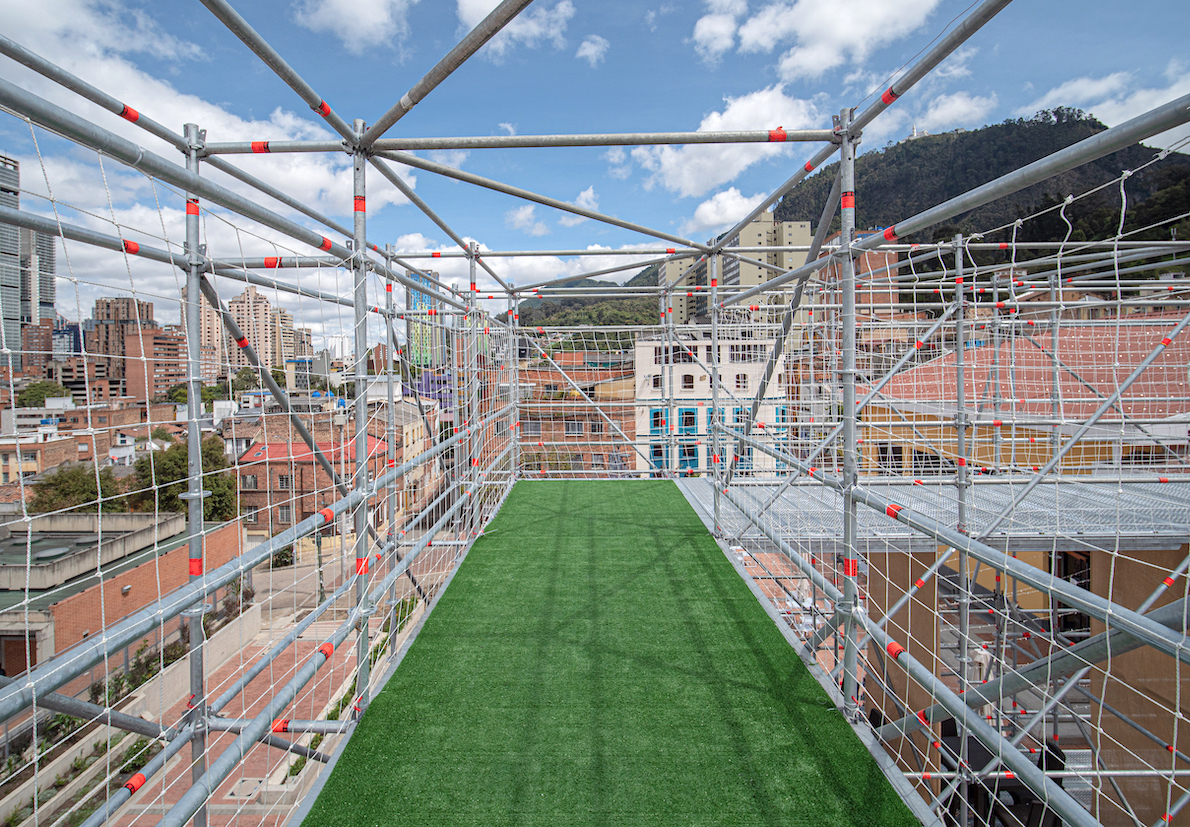 Words by Francesca Perry
Colab-19, a practice established in 2020 by Colombian architects Alejandro Saldarriaga and German Bahamon in direct response to the pandemic, has delivered the La Concordia: Amphitheatre project in the heart of Bogotá. Harnessing a rapid-construction scaffolding approach, the architectural intervention hosts a market and restaurant functions as well as an open-air theatre for music concerts and other performances.
La Concordia builds upon a project Colab-19 delivered last September in south-eastern Bogotá, named La Perse, which provided an outdoor structure for dining in the La Perseverancia market plaza. Back then, like many cities around the world responding to the limitations of pandemic-induced social distancing, the streets of the Colombian capital began to be activated with outdoor dining, thanks to a city initiative called 'Bogotá A Cielo Abierto' (Open-air Bogotá).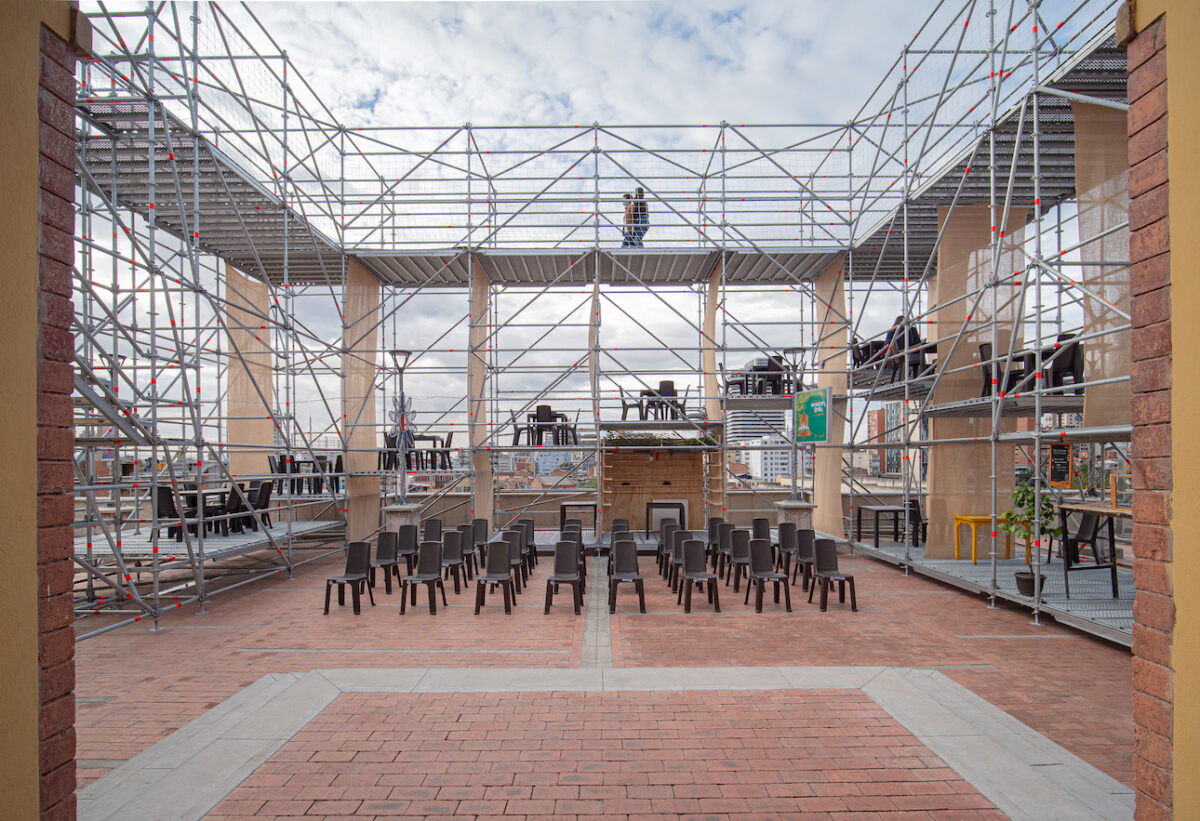 While in places like London or New York it may have since become too cold for such outdoor set-ups, Bogotá's location near the equator has allowed open-air initiatives to continue year-round.
After the success and lessons of La Perse – which remains open – the city asked Colab-19 to transform the nearby La Concordia market plaza in a similar way to enable socially distanced, open-air public activities.
The use of scaffolding, explain the architects, enabled a modular approach 'to assemble a structure that allows us to densify the public space vertically in order to bring back the same occupancy'. Colab-19 learned lessons from La Perse, and so in this new project focused on ensuring the space was open to all and not just paying diners, and that it was safe for children – thus ensuring inclusivity of use.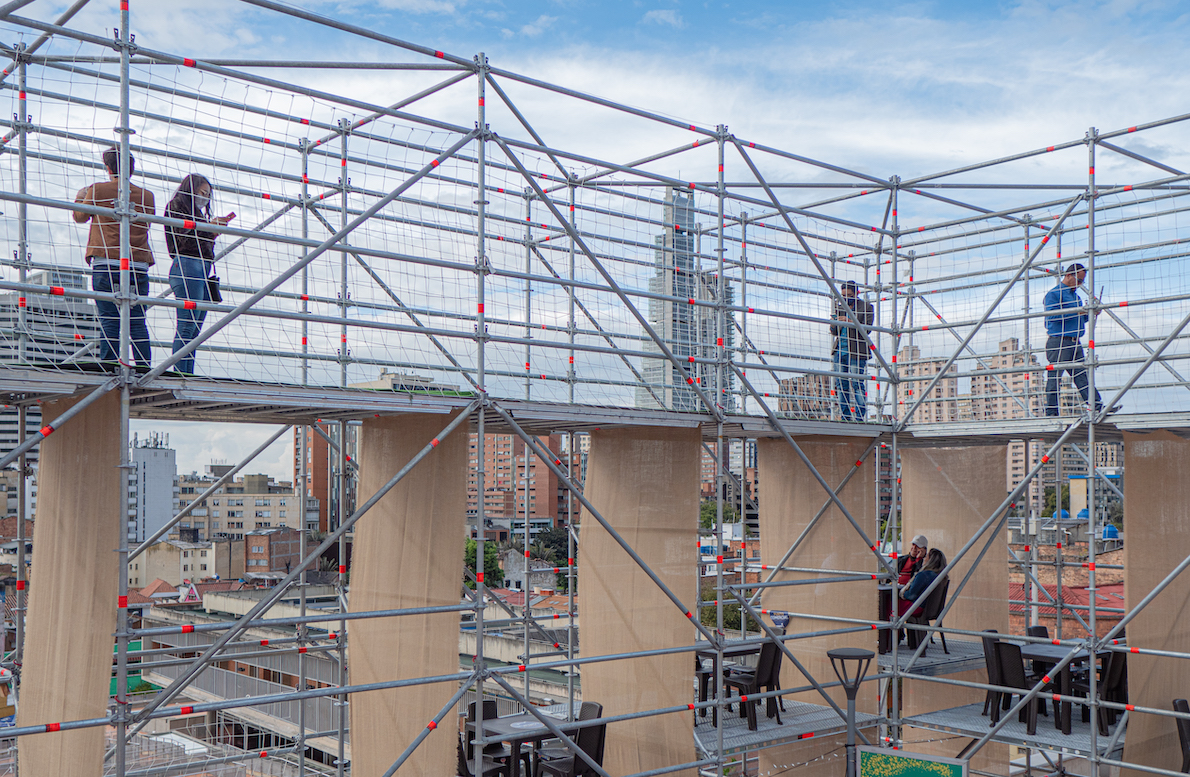 A central 'amphitheatre' was created, surrounded by retail, dining and public space across multiple levels of scaffold structure. The top level functions as a public 'green roof' viewing platform. The metal scaffolding was mixed with translucent natural fabric called 'yute'  – a typical Colombian fabric which is used to create bags for packing potatoes – which functions as space dividers. 
Colab-19 describes itself as 'a laboratory of architecture dedicated to designing sustainable spaces for post-pandemic situations', specifically harnessing low-cost architectural solutions. 'We consider these interventions must be coordinated and connected with the vision and needs of the city. In doing so, the collaborations between public, private and academic sectors are necessary to empower our cities in a more resilient way.'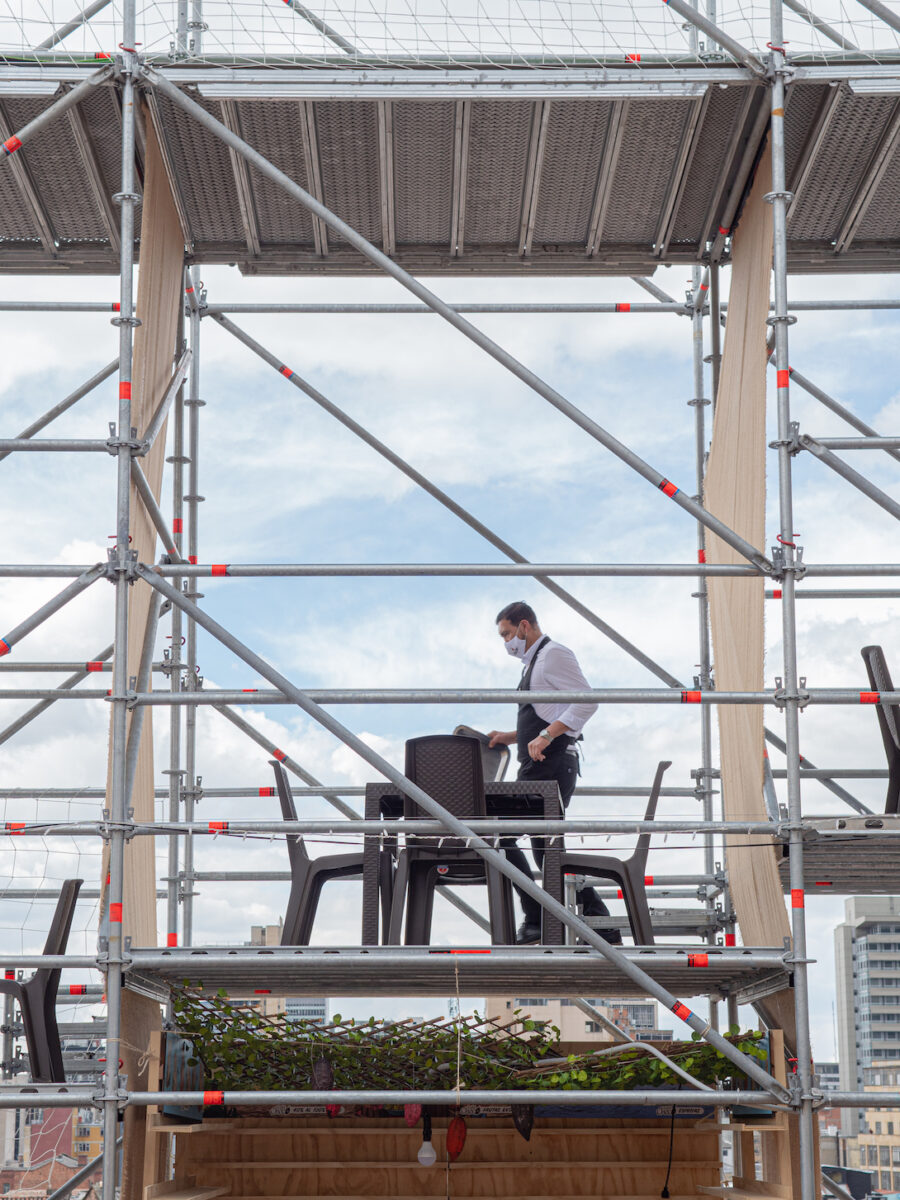 La Concordia was opened in mid-December and remains open. Collaborators on La Perse and La Concordia include Colombian Society of Architects, Layher Scaffolding, Alcaldía de Bogotá, Secretaría de Desarrollo Bogotá, IPES Bogotá, Taller Architects and Diseño Publico.
Photography by Alberto Roa
---