Inspired by Mexican modernism, Young & Ayata collaborated with Michan Architecture to create an unexpected concrete apartment block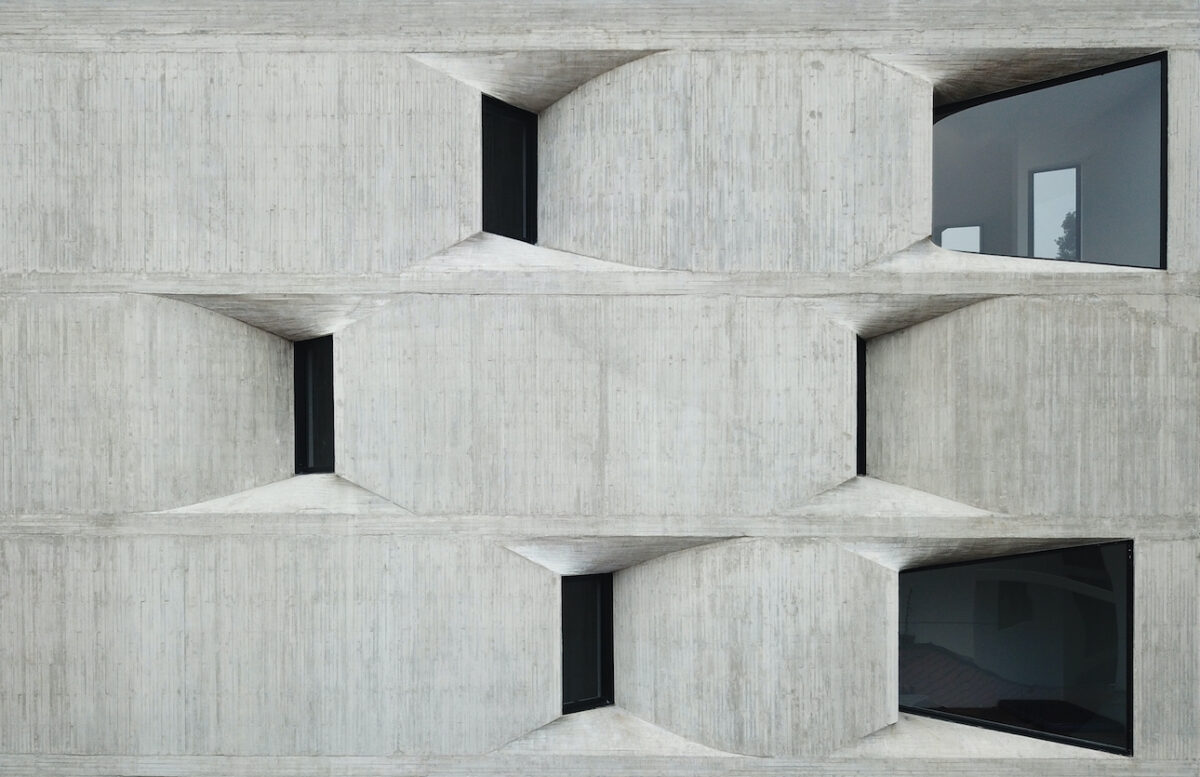 New York-based practice Young & Ayata, in collaboration with Mexico City-based Michan Architecture, has completed an eye-catching concrete housing block on the outskirts of the Mexican capital.
Named DL1310, the four-storey, 960 sq m project contains seven apartments. As well as the materiality of the fair-faced, board-formed, cast-in-place concrete – which nods to local building techniques as well as the work of 20th-century Mexican architect Félix Candela – the architecture is defined by distinctive recessed window apertures, which rotate at irregular intervals, creating an undulating facade.
Initially, lot constraints drove the design decisions. DL1310's mid-block, sloped site in the Tetelpan neighbourhood is sandwiched between two existing houses. The team decided to reduce the building's footprint and set back side-lot walls, thus making room for windows on all four sides.
This slightly shrunken footprint allowed for the application of the building's distinctive fenestration. 'In order to allow light, view, and ventilation to all sides of the building, a scheme was developed to manipulate the windows into something familiar yet subtly strange,' says Kutan Ayata, co-founder of Young & Ayata along with Michael Young.
22 rectangular apertures in five different sizes rotate into the facade, resulting in a patchwork of ruled, inverted trapezoidal bays across all sides. 'On the exterior this softens the blunt raw concrete and glass with a rhythmic movement of shallow depth,' says Young. 'On the interior, it creates unexpected oblique views in multiple directions and pockets of space near the windows that can be inhabited in unique ways.'
The primary material of board-formed, cast-in-place concrete was chosen because its plasticity enabled the transition between flat wall and curved apertures. It also realised the architectural team's desire to achieve a monolithic form. It was influenced by the board-formed, cast-concrete ruled surfaces of 20th-century Mexican architect and structural engineer Félix Candela.
'We had a chance to see several of [his] projects up close on trips to Mexico and study both the construction techniques and the different aesthetic effects that the casting left on the surfaces,' says Ayata. 'It was interesting to see when and how decisions were made that had as much to do with the final appearance as it did with underlying geometry of the pragmatics of construction.'
Inside DL1310, polished limestone and wood floors complement white painted walls and fit-outs.'The interiors were designed in high contrast to the raw exterior of the building,' says Isaac Michan, founder of Michan Architecture.
'Rather than blend the smooth interior finishes with the cast concrete facade, we inserted white walls with travertine and wooden floors. My favourite viewpoint is when you're standing inside the building and the recessed aperture punctures the individual apartments and raw concrete is exposed in clear opposition to the smooth clear interiors.'
Photography top to bottom: Rafael Buzalo, Rafael Gamo, Young & Ayata + Michan Architecture
---