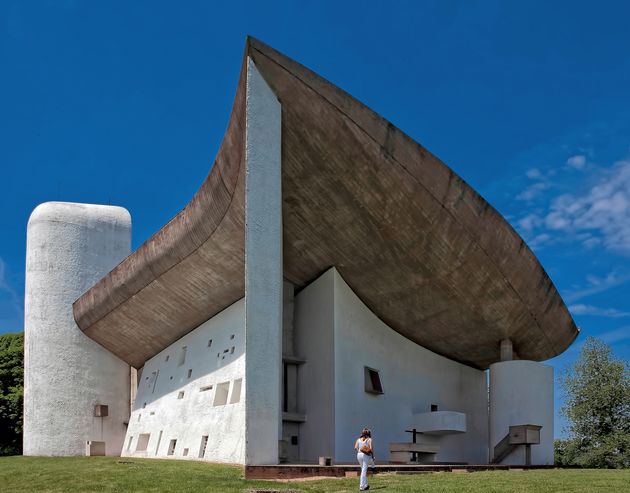 Notre Dame du Haut, built in Ronchamp, France, in 1955. Photo by Ricardo Gomez Angel
A century since Le Corbusier began his journey as an architect, he remains one of the profession's most influential and controversial figures. Here, Joe Lloyd explores how he got there
No modern architect is as simultaneously acclaimed and despised as Le Corbusier (1887-1965). To his admirers, he was the ultimate modernist visionary, redefining how a building could feel, be formed and function in the 20th century — as well as the artful creator of a suite of architectural masterpieces across the world. To his detractors, however, he represents the paradigm of the hubristic megalomaniac, treating people, buildings and even whole cities as test subjects for his top-down reorganisation of society.
The truth naturally falls between the two, and in the disjunct between his activities as an architect and his ambitions as an urban planner. Both sides might agree that he possessed an extraordinary sense of self-definition. His very name, which translates into English as 'the crow-like,' was a nom de guerre chosen aged 30. He was born Charles-Edouard Jeanneret-Gris in the Swiss watchmaking city of Le Chaux-de-Fonds.
Unité d'habitation in Marseille. Photo by Yisris via Flickr
He did not initially intend to become an architect, but rather studied applied and decorative arts the local art school. There, his painting tutor Charles l'Eplattenier pushed him towards his future profession. 'I had a horror of architecture and architects,' he later wrote, 'I was sixteen, I accepted the verdict and obeyed.' He instead taught himself through reading and sketching, and between 1908 and 1910 worked as a draughtsman for Auguste Perret – one of the first practitioners to use reinforced concrete – in Paris.
In 1912, he embarked on his first major project: a house for his parents. The resultant Maison Blanche had a not dissimilar profile to the historicist residences build by the Swiss bourgeoise at the time, but was denuded of ornamentation and painted white, and organized around four load-bearing pillars. Five years later, he moved to Paris and took the name Le Corbusier. He eventually set up practice with his cousin Pierre Jeanneret, a partnership that, beyond a rift over wartime activities, would endure until Le Corbusier's death.
Read more: The rare example of successful British modernism – and why we need to save it
In Paris without commissions, Le Corbusier threw himself into the artistic avant-garde. In 1918, with the painter Amédée Ozenfant, he found the Purist movement: a simplified spin-off of cubism that embraced contemporary technology. His 1923 essay collection Towards an Architecture – almost certainly the most influential architecture book published in the 20th century – established several ideas that would reverberate through his later career. His Five Points of Architecture provided a blueprint for the open plan modern house, while his phrase 'a house is a machine for living in' came to epitomize the modernist notion that houses should be functional, identical and mechanically produced.
Villa Savoye in Poissy, near Paris. Photo by August Fischer, Flickr
He knew what he was doing. Buoyed by his growing profile as a provocative writer, he was commissioned to design a pavilion for the 1925 Paris International Exhibition. The success of this structure led to a string of residential projects, all of which have become classics of modernism. The most acclaimed of all, Villa Savoye (1928-31), might be the archetypal modernist house. Constructed from reinforced concrete and raised above the ground by load-bearing piloti, it featured a free floor plan, a roof terrace and horizontal strips of window.
If Le Corbusier had solely continued as a creator of elegant minimalist villas, he would likely be an uncontroversial figure to everyone but the most dogged traditionalist. Where the waters start to muddy is with his full pelt gallop into the burgeoning field of urban planning, most notoriously with the Plan Voisin (1925). Funded by the aeronautical pioneer Gabriel Voisin, this scheme would have seen the Marais – one of Paris's oldest and most architecturally rich districts – replaced by 18 cruciform-shaped concrete towers, 60 storeys apiece, set in parkland.
Plan Voisin, Le Corbusier's plan to raze Paris and replace with cruciform skyscrapers. Photo by Amber Case via Flickr
In 1928, Le Corbusier entrenched his reputation by co-founding the International Congresses of Modern Architects (CIAM). From 1928 to 1959, this saw leading architects meet to discuss the problems facing the modern city and their solutions. In doing so, they helped define a rationalist, functionalist view of modern architecture that would — for better or worse — come to thrive the world over.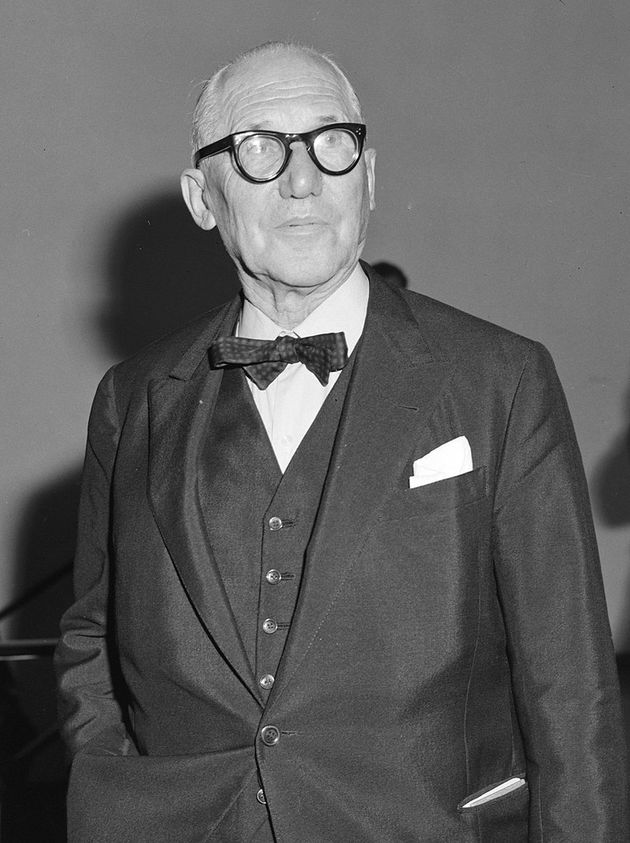 As prominent as his ideas were becoming among the architectural intelligentsia, demand for bespoke villas cooled down in the depressed 1930s, and the years leading up to the Second World War saw him work in a piecemeal manner; one particularly diverting episode saw him court the communists in Moscow, where he built a major public building and entered the competition for the Palace of the Soviets. The war itself represents a particularly murky patch: while his cousin Pierre joined the French Resistance, Le Corbusier tried (and failed) to ingratiate himself with the Vichy government.
Who or what is the Modulor Man?
Nevertheless, in 1947 he received his first public commission from the Fourth Republic, an experimental housing block in the southern suburbs of Marseille. Named prosaically Unité d'habitation de grandeur conforme ('Standard size unit of housing'), and more poetically Cité Radieuse ('Radiant City') after an earlier utopian scheme, it was meant to provide a template for redevelopment across the country. This didn't quite happen – Le Corbusier's sculptural use of concrete and his custom-designed fittings did not come cheap – though four identical structures were built in France and Germany.
Glowing white in the Mediterranean light, it remains a marvel: a vast concrete superstructure into which modular apartments were slotted, it housed 1,600 people over 337 two-storied apartments, and included shops and a hostel. It was scaled according to Modulor: an anthropomorphic set of proportions developed by the architect himself, supposedly based on the height of detectives in the crime novels Le Corbusier read, as well as the golden ratio.
Inside, there was furniture by Charlotte Perriand and Jean Prouvé, while on top, Le Corbusier expanded his earlier roof terraces into a sublime assemblage of abstract forms centering on a glistening pool. Although some locals nicknamed it 'La Maison du Fata' ('House of the Crazy'), it immediately became a landscape of modernism. 'Any architect who does not find this building beautiful,' said Walter Gropius, who attended the opening ceremony in 1952, 'had better lay down his pencil.'
The Unité is perhaps the most conflicted aspect of its architect's legacy. It has often been claimed the progenitor of brutalism, the most controversial architectural style of the 20th century. As radiant as the Cité is, it has been argued that it created a template for the thousands of low-cost mass-housing blocks created across the world in by architects who lacked both Le Corbusier's talent and temerity.
Le Corbusier's late works in Europe, including the neo-expressionist chapel, Notre Dame du Haut (1950-4), built in the otherwise unremarkable village of Ronchamp, saw him achieve a remarkable poeticism in his manipulation of concrete. Elsewhere he worked on major projects, including the United Nations headquarters in New York, where he collaborated with the Brazilian architect Oscar Niemeyer.
In 1951, he was finally given the chance to create his own city. The recently independent Indian government commissioned him, along with the British duo Janet Drew and Maxwell Fry, to design a new capital in Chandigarh for the states of Punjab and Haryana. He produced a rigid grid centered around monumental municipal structures. Over half a decade later, it regularly ranks as the Happiest City in India, though many have questioned its relegation of the poorest residents to external shanty towns.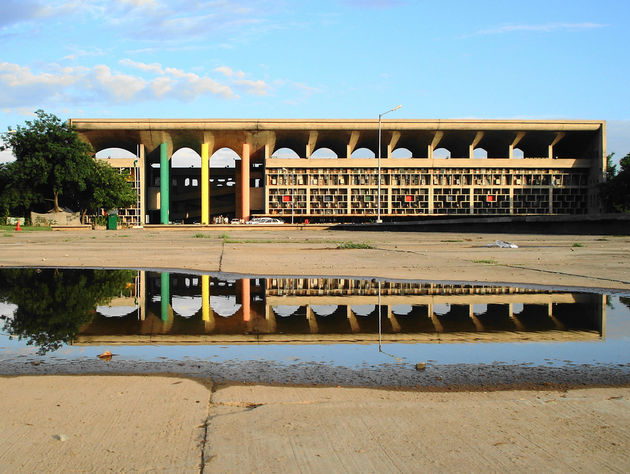 Chandigarh High Court in India. Photo by Duncid via Wikimedia Commons
He died aged 77, after suffering a heart attack while swimming in the Côte d'Azur. Many of the architects that immediately followed him took his ideas to heart. The likes of the Plan Voisin, which seemed ludicrous in the context of 1920s Paris, looked very different when in the late 1960s and early 1970s, where planners the world over sought, for various reasons, to replace dirty old towns with rationalist modern structures. Several of the ills of late 20th century planning – the demolition of historical structures, a fixation with cars, vast housing estates that ignore the fabric of the streets, the quashing of individuality in favour of identikit units – became intractably associated with Le Corbusier's name, though he had little opportunity himself to enact them.
This afterlife has significantly complicated an already convoluted legacy. For the urbanist Peter Hall, Le Corbusier represents 'the counter-tradition of authoritarian architecture, the evil consequences of which are ever with us.' As an architect, however, he remains adored, and in 2016 a string of his buildings were accredited a UNESCO World Heritage Site, making him the first modernist architect to be so recognised. Whether as brutalist bogeyman or mastermind behind sublime spaces, Le Corbusier's importance remains immense.
---