Kunsthaus Graz by Peter Cook. Image by Markus Schieder/Alamy
The 'friendly alien' was something of an Archigram reunion that proved a showcase for ideas around connection, technology and reality, writes Matthew Barker
When the curvaceous, biomorphic Kunsthaus Graz first appeared back in the early noughties there was, unfairly, much talk of Austria's second-largest city trying rather obviously to 'do a Bilbao' and open a calculatedly whimsical art museum as tourist magnet. However, Peter Cook's creation has a logic and grace and balance; it's a building born of constraints (not least budgetary) as much as imagination.
Of course, this being Cook, there's an emphasis on movement and energy, a wit and style and connection with surroundings, most obviously the neighbouring listed Eisernes Haus, with its cast-iron facades creating an entry and foyer. The design chimes nicely with the architect's own working practices and philosophy. He took an instant liking to Graz, would sit in its bars and cafes getting to know the city, noting how, in a very Austrian way, its art scene was both progressive and posh, cutting-edge and a little conservative. Cook also turned to his oft-favoured method of collaboration, this time teaming up with an old friend from his fabled Archigram days, Colin Fournier.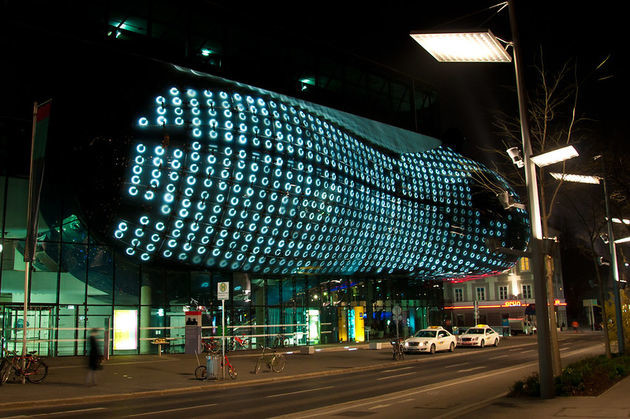 Kunsthaus Graz. Photo by Horst Gutmann
Conceived as an exhibition space for contemporary installations and photography, the design duo looked to open things up as much as possible. The distinctive mould shape alters the traditional white cube dimensions, while an airport-style travellator takes visitors deep into the building, slowly progressing up the two levels and providing a focal point for this most fluid of venues.
The Archigram influence
There's a lot of that original Archigram spirit in the Kunsthaus. Fournier first met Cook in the late 1960s and the pair share a sense of adventure and inventiveness that has remained undimmed over the years. Their thinking continues to be fed by ideas from that swinging post-war age; most famously the Plug-in City from 1964, a plan for ever-evolving urban structures that combined living and work spaces (a concept that has an obvious echo with today's flexible co-working arrangements), moved by a system of massive cranes. Some of those original schemes and notions may have dated over the intervening decades, to the point of almost being pop art retro-kitsch in some examples, but there was always a boldness and embracing of technology and change, which is increasingly worth reflecting on.
Cook and his colleagues were seeking to find an 'anti-heroic' architecture; one literally with a softer edge, that would be undaunting and welcoming. It was an approach that looked to give modernism a bit of a gee-up, free it from some of its self-imposed stylistic shackles and update its tenets for the new media age (Archigram's co-founder David Greene would argue that form doesn't follow function, 'it follows ideas'). Being anti-heroic meant breaking down barriers, both with the surrounding physical space and the people and objects within.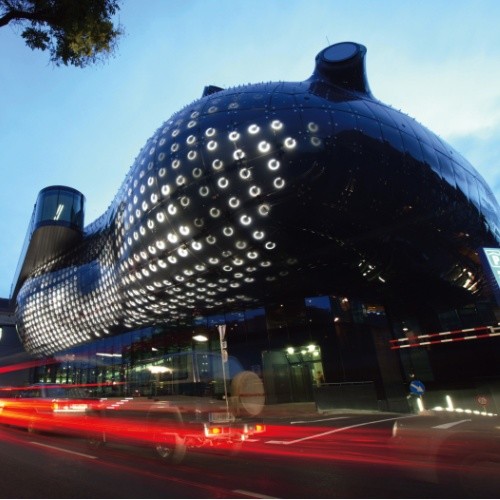 The facade of Kunsthaus Graz. Image by k-tec GmbH
Dubbed by Cook 'the friendly alien', the Kunsthaus is something of an Archigram reunion project (and there was initially talk of long-time Cook collaborator Christine Hawley joining the Graz team), akin to a stadium tour by feted rock bands from the same era. It's very much a celebration of those ever-optimistic theories around the leisure society, technology and urban living, as well as an all-too-rare opportunity to see and interact with an actual physical manifestation of one of their designs.
The roof as display
The media system used in the venue's roof was deliberately chosen to be low-tech and low-res nearly two decades ago. These days it comes across as wonderfully old school; a reminder of the not-so-distant days when such developments in communication pointed to a future full of promise. Berlin-based studio Realities:United came up with a bespoke Bix (a combination of 'big' and 'pixel') light and media facade that was reportedly added at a very late stage in the project's development. There are 930 fluorescent light bulbs dotted along the shimmering blue Plexiglas panels, operating like pixels. An early prototype of one of the pixels now sits in MoMA's permanent collection in New York. The roof's encasing works as a content platform for animations, still images and film, frequently spilling off the Kunsthaus and on to neighbouring buildings, shifting and free of boundaries. Earlier this year, the venue ran a scheme that allowed visitors to have their names spelt out across the platform, illuminated and pulsing in the centre of the city.
Archigram was all about connections. It was about how we can harness technology and interact with it to improve our daily lives and become more inclusive. In these days of digital disinformation and data hacking, such thinking could come across as naïve, but Cook and Fournier's big-hearted Kunsthaus Graz stands as a timely, potent reminder that our experiences and relationships with tech should always be more about light than darkness.
---