MIT has received a $1 billion donation to research AI
Get a bitesize overview of the week's headlines and events with Icon's round-up
SCENE
WELL-ENDOWED
Massachusetts Institute of Technology (MIT) is set to open a new college that combines 'AI, machine learning and data science with other academic disciplines', according to MIT Technology Review. The new college will come from a $1 billion endowment, courtesy of Stephen Schwarzman, the CEO of financial firm Blackstone Group and is meant to research both possible innovations, as well as ethical implications of AI.
BORING TRANSIT
The Boring Company, ostensibly set up by gazillionaire Elon Musk to help him bypass LA traffic by zooming around in pods in underground tunnels, has broken ground on its first major project in Las Vegas. The 1.5 mile tunnel will serve a tram that will shuttle 4,400 passengers an hour around the city's convention centre, although it is unclear whether Musk would ever be among its users. In 2017, he spoke out against mass transit, saying 'It's a pain in the ass… and there's like a bunch of random strangers, one of whom might be a serial killer.'
SELLING OUT
Marie Kondo, the Japanese cleaning guru who became famous for encouraging the masses to chuck anything that doesn't 'spark joy' is back with a new online store. While most of the wares are of the crafted, Kinfolksy variety, some commentators have expressed their scepticism at the inclusion of quartz crystals and tuning forks. Hitting the former with the latter is said to produce 'pure tones that help to restore a sense of balance,' which, one would assume, also sparks joy.
Construction in the US suffers a downturn as UK architects report they expect less work
CONSTRUCTION SLOWDOWN
Construction activity in the United States is 11 per cent lower than this time last year, according to a report from Dodge Data & Analytics. While the residential sector dropped only 2 per cent, multi-family housing starts were up 14 per cent. Office projects fell 3 per cent and institutional ones experienced a 20 per cent downturn, while manufacturing schemes fell by 69 per cent. In the UK, RIBA announced that architects' predicted workloads had dropped by a further six points to -10, mainly as small firms (10 staff and fewer) expect their workload to fall by seven points to -15. Medium-sized and large practices (more than 11 and 51 staff respectively), however, expect their workload to increase by 31 and 25 points.
BEAZLEY WINNERS
Kate Crawford and Vladan Joler have won the Design of the Year awarded by the Design Museum and supported by Beazley. Crawford and Joler's project, the Anatomy of an AI System, explored the unseen material and intellectual resources needed to make an Amazon Echo. The architecture award went to Sameep Padora and Associates for their Maya Somaiya Library near Mumbai. Hans Ramzen won the product design category award for simple HIV-detector Catch, while Muji and Sensible 4's autonomous shuttle bus won transport design of the year.
DIARY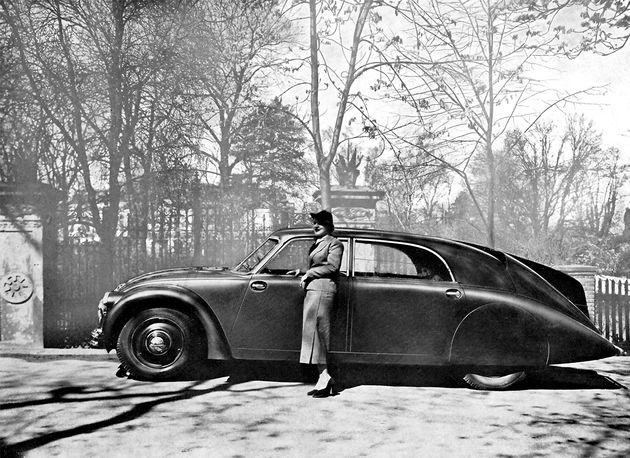 French advertisement for the Tatra 77 (1934)
Cars: Accelerating the Modern World, V&A South Kensington, London
For better or for worse, cars have changed the way we move, dress, live and think. The V&A has brought together 15 iconic vehicles and scores of paraphernalia, exploring how the car revolutionized manufacturing, urban design and our environment, while also offering some possible directions for the automobile's development in the future. 23 November 2019 until 19 April 2020
vam.ac.uk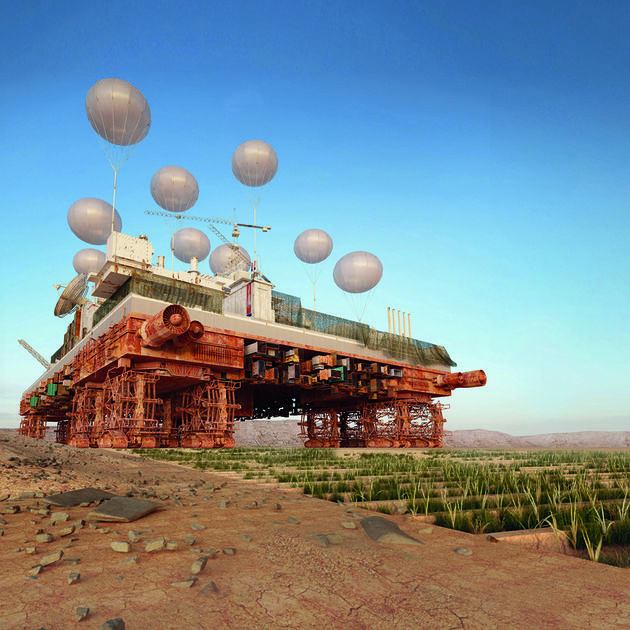 Malka Architecture, The Green Machine (2014)
Eco-Visionaries, Royal Academy, London
This new exhibition at the Royal Academy looks at how architects, artists and designers are responding to the multiple environmental crises facing humankind. 23 November until 23 February 2020
royalacademy.org.uk
10,000 Years of Luxury, Louvre, Abu Dhabi
This exhibition in the Jean Nouvel-designed gallery looks at how our definition of luxury and opulence has changed and evolved over thousands of years. From precious materials and painstaking decoration on ancient temples, through to the excesses of the Versailles court, the exhibition will also look at intangible luxuries of the 21st century that 'money can't buy', such as personal freedoms and leisure time. Until 18 February 2020.
louvreabudhabi.ae
Dora Maar, Untitled (Hand Shell) 1934, Centre Pompidou, Musée national d'art moderne, Paris
Dora Maar, Tate Modern, London
Not just Picasso's muse, Maar was an artist and avant-garde surrealist photographer in her own right. This timely exhibition explores her early work in interwar Paris, as well as her later retreat into poetry and painting. Until 15 March 2020
tate.org.uk
40 Years of Humanising Technology: Art, Technology, Society, Design Society, Shenzhen
Staged in collaboration with Ars Electronica, this exhibition in the Chinese offshoot of the V&A look at how artists have been analysing, criticising and driving the digital revolution over the last four decades. Until 16 February 2020.
designsociety.cn
---