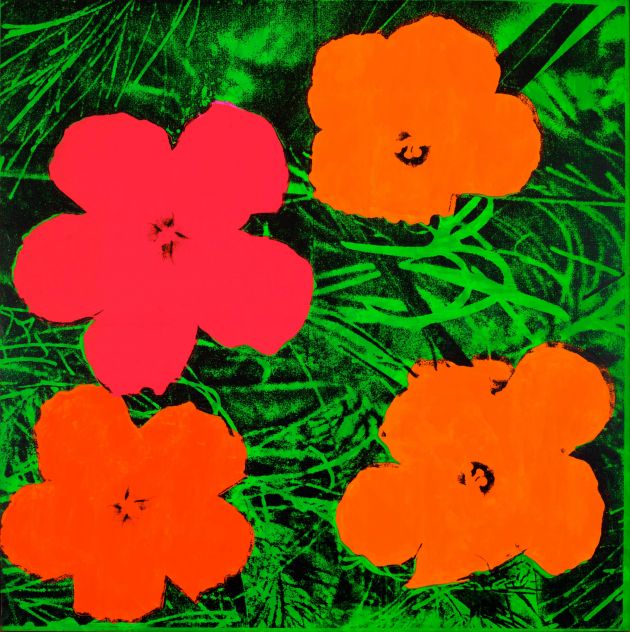 Flowers (1964), one of Andy Warhol's most identifiable images. Courtesy of Tate.
Get a bitesize overview of the week's headlines and events with Icon's weekly round-up
SCENE
PANDEMIC PANIC
This week, the World Health Organisation declared Covid-19 a pandemic. Governments and organisations across the world reacted with protective measures, employing varying degrees of stringency. The contagion has had an almost immediate effect on design, architecture and cultural institutions.
Salone di Mobile, initially delayed until the summer, will determine next month whether to go ahead at all, while the Venice Architecture Biennale is still planned to commence at the end of August. DesignMarch in Iceland, 3 Days of Design in Copenhagen, Southern Sweden Design Days in Malmö, and Romanian Design Week in Bucharest have all been postponed.
Museums in cities from New York to Lisbon have been temporality shut down, with the major openings of the Oslo Central Library and Albertina Modern in Vienna pushed back. And numerous schools and universities, including the Istituto Europeo di Design across Italy and the Harvard School of Design, have announced a move to virtual instruction over physical classes, a change that fundamentally alters the learning experience and removes students in creative subjects from workshops.
As many businesses have sent their employees home — including design studios Note and Ross Lovegrove — the architecture sector has been slower to respond. In part, this is because the predominance of CAD architectural drawing makes it difficult to work in places without a license to the required, and often costly, software.
SENSELESS SUNDERING
In Britain, almost 700 arts organisations and cultural figures have addressed a letter to new culture secretary Oliver Dowden protesting the government's plan to withdraw from Creative Europe, an EU-funded scheme of arts endowments. 'By ending our participation,' the letter reads, 'the UK government is erecting barriers to continued cultural exchange. Moreover, this decision makes no financial sense.' Although EU-funded, countries are not required to be members to join Creative Europe, making the government decision a case of dogged Brexit ideology over common sense.
FUTURE SLUMS
RIBA has spoken out against a British government plan to expand permitted development rights, which would allow developers to demolish vacant commercial and industrial buildings without planning applications in order to build new residential units. 'Rather than driving a 'green housing revolution',' explained RIBA's professional services director Adrian Dobson, 'the government's plans to allow the demolition and replacement of industrial and commercial property with housing under permitted development would make it easier to build the slums of the future.' In attempting to solve the housing crisis, the government might make matters even worse.
SURPRISING STONE
Groupwork, the London-based architectural studio founded by Amin Taha, has collaborated with engineers Webb Yates on a concept for a 30-storey office tower built using stone. According to Taha — whose stone-faced 15 Clerkenwell Close was spared demolition last August — a stone skyscraper would be cheaper than one built using more conventional materials such as steel or concrete. It would also enable a 90 per cent reduction of embodied CO2. 'Stone,' says Taha, 'is versatile, has strength, longevity, is plentiful, cheap and, with zero embodied carbon, well placed for a renaissance.' Maybe, just maybe, the days of the anonymous glass beacon are finally numbered.
Russian designer and artist Alissa Volchkova's Stone Age features in Kleureyck. Image courtesy of Design Museum Ghent.
Kleureyck: Van Eyck's Colours in Design, Design Museum Ghent, Belgium
As part of the Flemish city of Ghent's year-long celebration of the Jan van Eyck, the city's design museum takes a sideways glance at the great Renaissance painter. Kleureyck — Flemish for colour — connects the old master's mastery of colour, light and perspective to that of today's practitioners. 'If you look at the work of some contemporary artists and designers,' curator Siegrid Demyttenaere told Icon, 'you notice some parallel thinking. They research how and why colour is perceived in different ways.' Until 6 Sept.
Andy Warhol, Tate Modern, London, UK
Adored by some and despised by others, the Pop Art pioneer Andy Warhol was undeniably one of the most influential artists of his time, not least upon design. This retrospective at the Tate, the largest in Britain for two decades, explores every aspect of his career, from early erotic drawings and advertising illustrations to his late screen-printed self-portraits. It also includes a recreation of Silver Clouds, his installation of floating, pillow-like balloons that encourage interactive play. Until 6 Sept.
Lygia Clark's Stairwell (1951) came towards the beginning of a sustained engagement with architecture. Courtesy of 'The World of Lygia Clark' Cultural Association
Lygia Clark: Painting as an Experimental Field, Guggenheim Bilbao, Spain
The Brazilian modernist artist Lygia Clark is best known for her sculptures and participatory works from the 1960s and 70s, but in the decade beforehand she excelled as painter of joyous abstracts. A new exhibition at the Guggenheim amply surveys this febrile period, full of zigzagging patterns that make Missoni textiles seem muted by comparison. Again and again, it reveals Clark's preoccupation with architecture, from early industrial landscapes through to architectonic graphite drawings and meticulous maquettes of modernist interiors. Until 24 May.
Melbourne Design Week, Melbourne, Australia
One of Australia's premier festivals of design returns to ask 'how can design shape life?' Expanding to 300 events across the country's creative capital, highlights include a panel on digital surveillance in cities, a lecture on collective walking from architect and writer Francesco Careri, and an exhibition of speculative design works by Australian designers on the topic of life and death. Social entrepreneur Bas van Abel, whose Fairphone is the world's first sustainable, modular smartphone, will deliver a keynote lecture. Until 22 March.
---